Throw your eggplant on the grill and you're in for a real treat of a vegetarian muffuletta sandwich stacked high with pesto, olive tapenade, fresh mozzarella and more.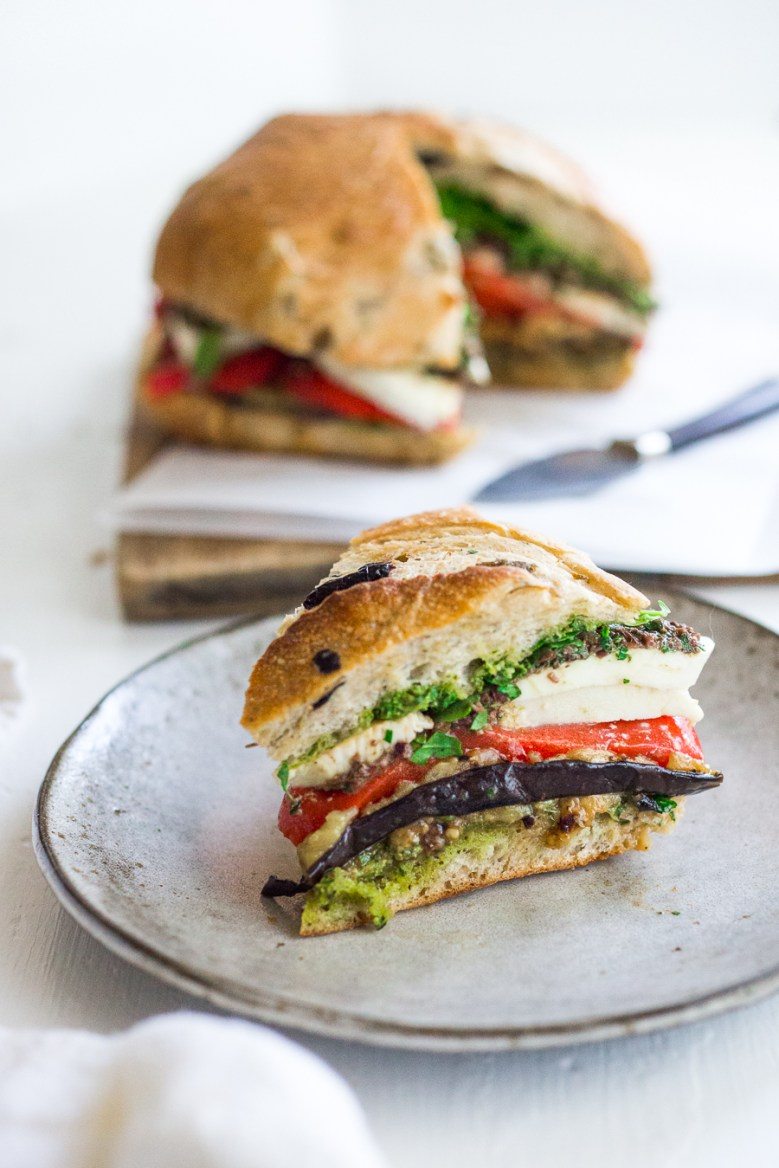 Hello… delicious bundle of summer! This Grilled Eggplant Muffuletta Sandwich is loaded up with grilled eggplant, pesto, roasted peppers, olive tapenade and fresh mozzerella cheese – a mouthful to be sure, but it's the perfect make-ahead meal for weekday lunches, picnics or lazy lake days. Make the giant muffuletta sandwich ahead and store in the fridge, slicing off pieces as you need them. If short on time, use store bought pesto and olive tapenade.
This recipe is really all about giving you ideas- so if you don't like eggplant, but love turkey breast, swap them out and create a Turkey Pesto Muffuletta. If you need more "meat", add cured Italian coppa, prosciutto, or salami. Change out the cheese, or leave it off. If opting for vegan, try adding a layer of humus or baba ganoush. The sky is the limit here so just have fun with it. I happen to really love grilled eggplant ( which can also be roasted) so that's why it's here.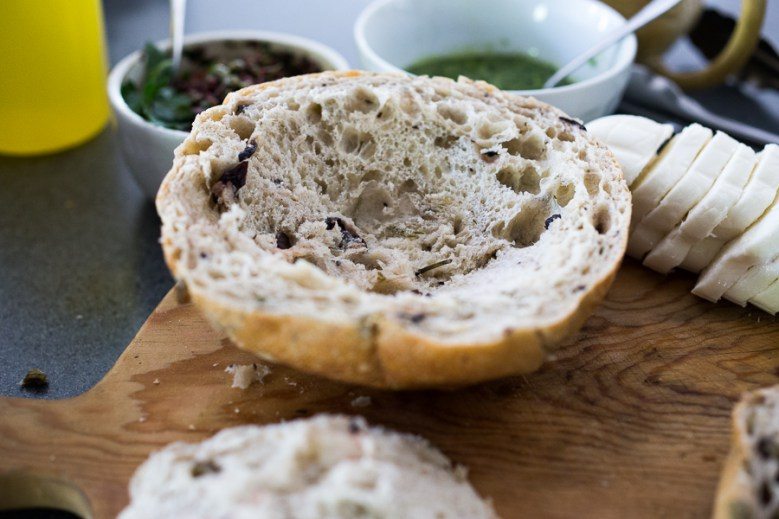 I'm using a round olive loaf about 10 inches in diameter. Feel free to use focaccia bread, french bread, or any other whole loaf of bread. Rustic loaves are great choice. Slice it horizontally, leaving about an inch of bread at the bottom, then hollow out the top. Slather with pesto and begin layering.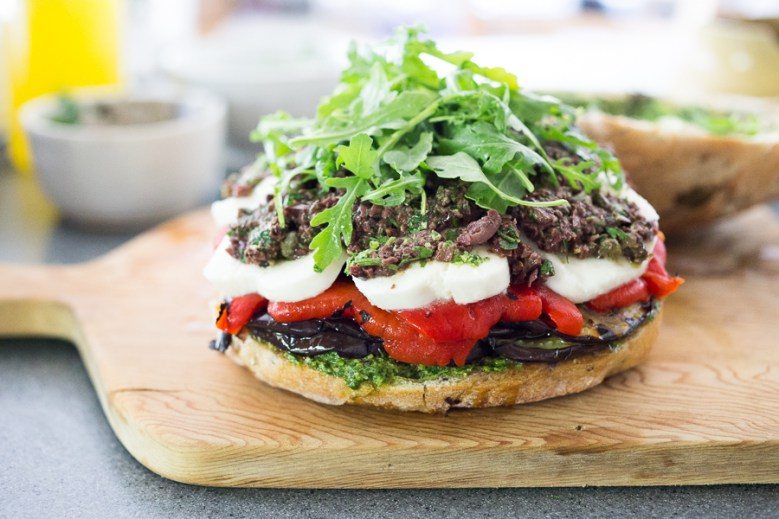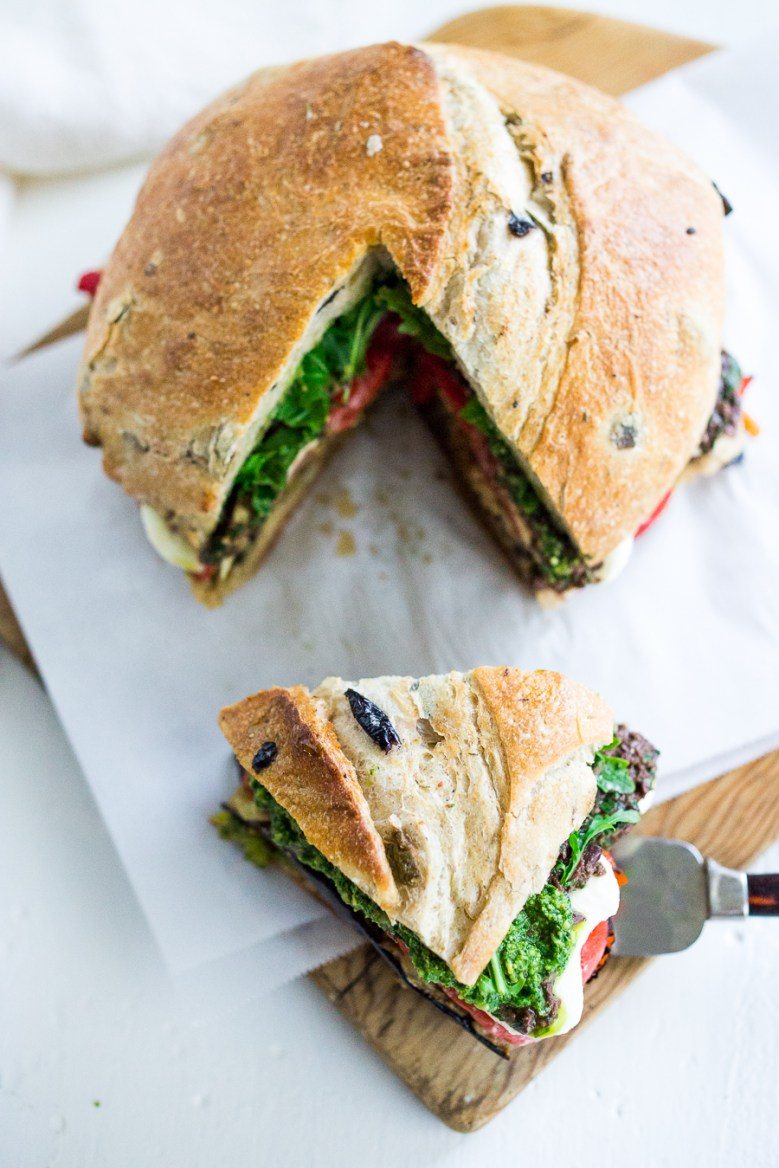 See Also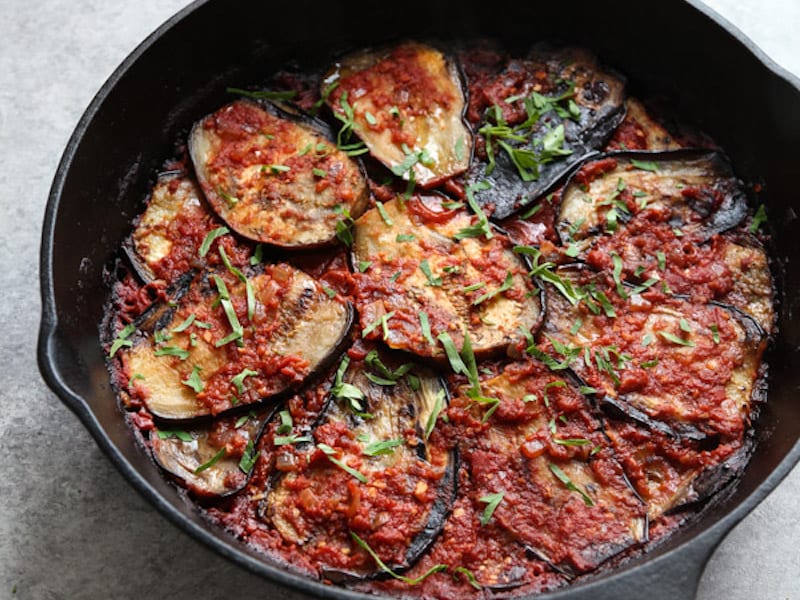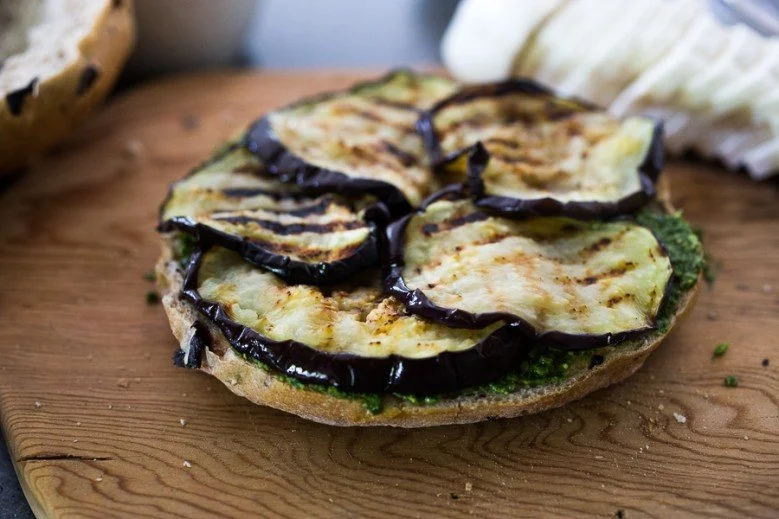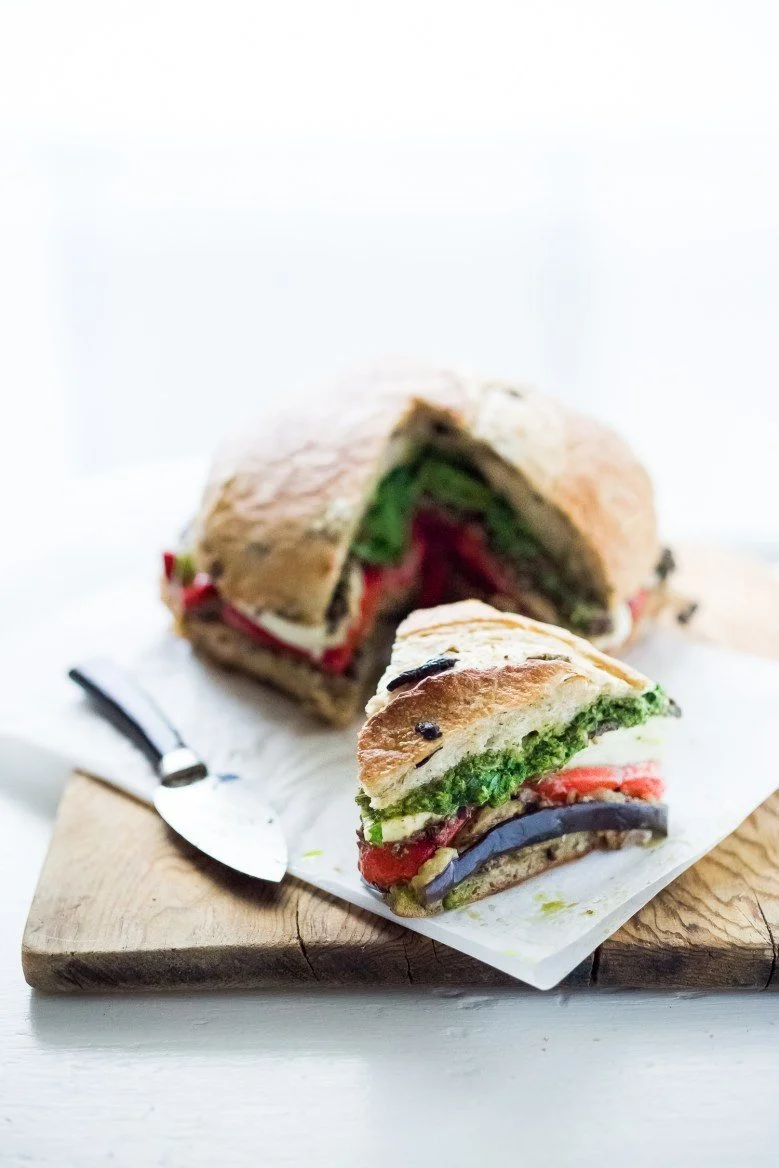 Click here for the olive tapenade recipe.

Eggplant Muffuletta Sandwich on the Grill
Sylvia Fountaine
Throw your eggplant on the grill and you're in for a real treat of a vegetarian muffuletta sandwich stacked high with pesto, olive tapenade, fresh mozzarella and more.
Ingredients
1

large eggplant

sliced into ¼ inch rounds ( see notes)

1

loaf of bread- rustic bread

french bread, focaccia bread ( 10 inch in diameter or equivalent)

1

jar roasted peppers

or roast your own pepper

½

cup

pesto

store-bought or home made, see below

½

cup

olive tapenade

store bought or homemade, see below

8

ounces

fresh mozzarella cheese

optional, sub other cheese, or hummus for vegan option

handful arugula

Other options – turkey breast

cured Italian meats, artichoke hearts, grilled zucchini, grilled portobello mushrooms
Basil Pesto ( vegan)
3

cloves

garlic

2

ounces

fresh basil leaves

about 1 cup packed down

¼

cup

plus 2 tablespoons olive oil

2

tablespoons

fresh lemon juice

¼

cup

toasted pinenuts

or sub almonds, smoked almonds are nice too

¼

teaspoon

salt
Olive tapenade:
Click the link above for the recipe.
Instructions
If using eggplant, preheat grill to med-high heat. ( Alternative you can roast the eggplant in 400F oven until golden and tender)

Slice the eggplant into ¼ inch disks, brush with olive oil and season with salt.

While grill is warming up, make the pesto. Place all ingredients in a food processor and pulse repeatedly until you achieve desired consistency. Scrape out into a bowl.

Using the same food processor ( no need to rinse) make the olive tapenade. Add the parsley and garlic first and pulse until uniformly chopped. Then add the remaining ingredients EXCEPT the capers, which you will stir in at the end. Pulse repeatedly until nicely chopped but not smooth. Place in a bowl, stir in capers. Add chili flakes if you like.

Grill the eggplant, searing both sides nicely 4-5 minutes each side, turning heat down if it's too hot, then place eggplant slices in a foil packet to steam for a few minutes to cook all the way through. It is imperative your eggplant is cooked through.

Cut loaf of bread horizontally in half, leaving a good inch on the bottom layer. Spread the bottom with half the pesto. Build the sandwich on a cutting board if possible. Top with eggplant (salt it now, if needed), roasted peppers, fresh mozzarella, olive tapenade (I used about 3/4) and arugula. Spread the top layer of bread with remaining pesto and place it on top. Press down gently. Either serve right away and cut sections with a sharp knife, or refrigerate it, placing on a layer of paper towels over a plate or platter. Cover with plastic wrap. Enjoy for the next few days.
Notes
I will often make this with sliced organic turkey breast instead of grilled eggplant during other times of the year. It saves time, because there's no grilling.
Sylvia Fountaine
Caterer and chef of Feast Catering Co., my blog Feasting at Home is where I share wholesome, seasonal recipes we cook at home.