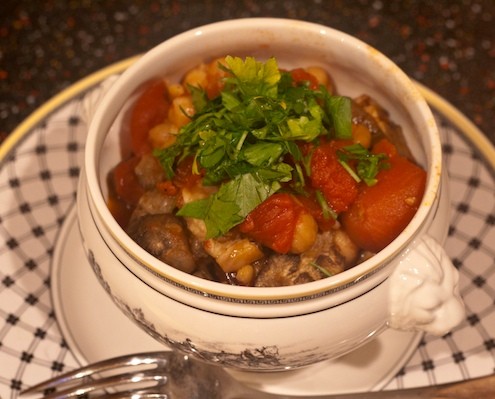 Full of meaty eggplant and savory chickpeas, this stew is brightened by red tomatoes and a pop of green parsley.
By Sara Clevering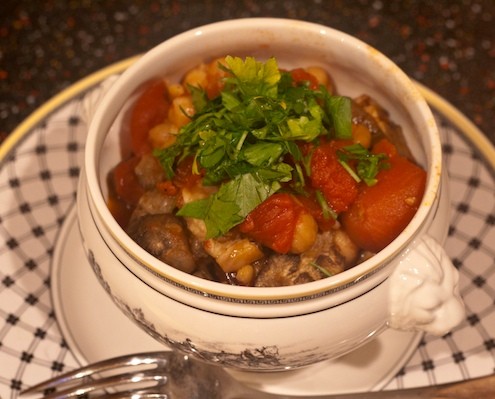 While my sisters and I certainly spend enough time talking about food, I also seem to find plenty of time for the topic with my sisters-in-law. (We do talk about other things too, really). And while the overwhelming tendency is to discuss dessert-themed matters (both with sisters by blood or marriage), this week saw my sister-in-law raving about a dinner her dad/my father-in-law made from the New York Times food section: an eggplant chickpea stew by Martha Rose Shulman. (Yes, of course I read the New York Times food section every week. I somehow missed it. In short, it's good to have helpful in-laws).
She enjoyed it with her parents Sunday night, we emailed the next morning, and I was cooking up my own version Monday night. We both decided it was a perfect workhorse of a recipe. Full of meaty eggplant and savory chickpeas, it's brightened by red tomatoes and a pop of green parsley. It's easy and relaxed for a summer evening, with a little zing of a "secret ingredient" — pomegranate molasses. It's one of those flavorful stews that only improves overnight in the refrigerator and is delicious the next day for lunch at work–reheated in the microwave or room temperature. (And so much better than getting another underwhelming pre-made sandwich after waiting in line at one of those lunch places that are always packed for no other reason than their convenience).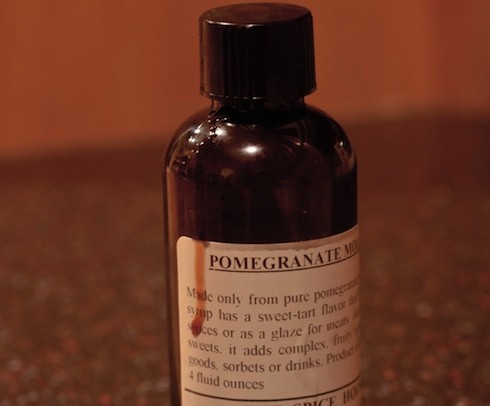 About that pomegranate molasses: if you don't have this (let alone know wha this is) you can still make this tonight! (I can already imagine that some of you shaking your head that you'll never locate it). My in-laws to the rescue again, who discovered that honey is a great substitute. (Although my sister-in-law was a little surprised when I told her I already had a jar of the molasses in the fridge, she quickly sighed "Of course you do"). The end result of pomegranate juice boiled down into a syrup, pomegranate molasses is a blood red so dark it's almost black, with a flavor that reminds me a bit of concentrated sour cherries with a tart acid undertone. I've used it before in babba ghanouj, and it certainly seems to play well with eggplant. You can, as you guessed, find it at middle eastern grocers, or online (I got mine here).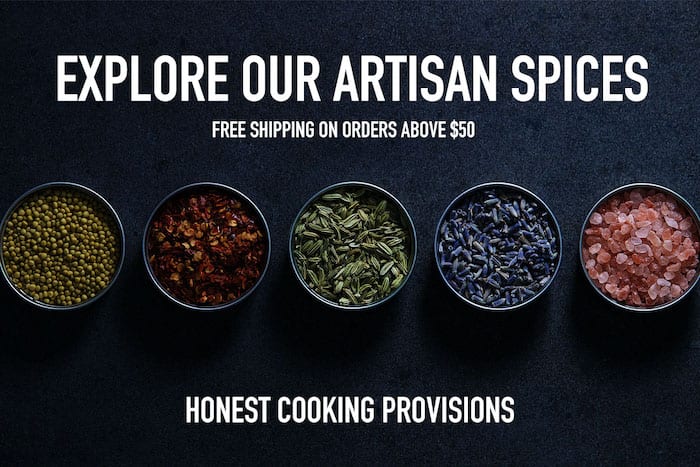 Make a big batch – double or triple depending on how big your supply of pots are – and enjoy around a big table of friends and family, or throughout the week — or both!
Author:
Sara Clevering, adapted from the New York Times
Ingredients
1 large eggplant (about 1½ lbs or 700g)
salt
3-4 T olive oil
2 large garlic cloves, minced
1 28-ounce (800g) can of tomatoes, drained
salt
pepper
2T pomegranate molasses or honey
1 12-ounce (425g) can chickpeas (or 1½ cups pre-cooked chickpeas), drained and rinsed
Chopped parsley to garnish
Instructions
Preheat the oven to 450 F (230 C).
Line a baking sheet with foil and brush with olive oil. Slice the eggplant about ½ inch (1.25cm) thick and arrange on the lined baking sheet. Brush lightly with olive oil. Bake for about 20 minutes until the eggplant starts to soften, then wrap in the foil and allow to cool, where they will continue to soften.
Heat 2T of olive oil and saute the minced garlic very briefly just until the aroma rises. Add the tomatoes, salt, and pepper and simmer for 5 minutes.
Add the eggplant, molasses, and chickpeas and simmer for another 20 minutes, stirring occasionally. When the eggplant is very soft, remove from heat, and garnish with parsley, and serve, or allow to cool to room temperature first.
Notes
This recipe can be made ahead. You can also bake the eggplant ahead of time, then bring to room temperature and continue with the rest of the recipe at a later time. Serve with grains to stretch the serving sizes.
Sara Clevering
Sara sees cooking and baking as a delicious way to connect with the past and travel the world from her kitchen. She is commited to preparing homemade, unprocessed meals for her family and is always looking for tricks to fit this into a busy schedule. Sara is currently in the Boston area after several years living in London, Spain, and the Czech Republic, and travelling extensively in Eastern and Western Europe, always making sure to experience local culture through food. She also blogs with her sisters at www.threecleversisters.com