Eggless Chocolate Cake with a Walnut Crust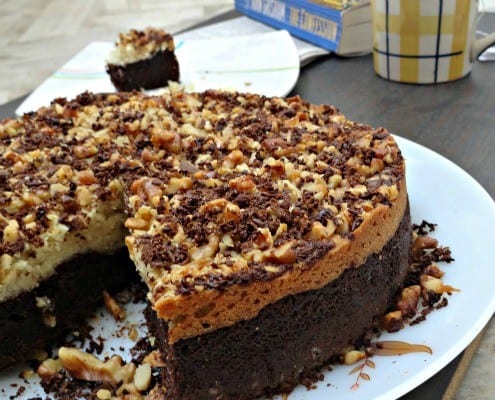 The soft cake, topped with a crusty nutty layer, gives this bake a different high, making it the perfect accompaniment to the afternoon tea.
By Priya Sreeram
Eggless Chocolate Cake with a Crusty Walnut Layer
The soft cake topped with a crusty nutty layer gives the bake a different high and is the perfect accompaniment to the afternoon tea.
Recipe Type:
Dessert,Tea Time Snack
Ingredients
For the cake:
Butter -50 grams
Condensed Milk- 200 grams
Milk - ½cup (approx 120 ml)
Flour - 100 grams
Cocoa Powder- 30 grams
Baking Powder - 1 tsp
Baking Soda - ½ tsp
Choco essence-1/4 tsp
For the crispy layer:
Granulated Sugar- 60 grams
Vanaspathi / Shortening - 60 grams
Vanilla extract - 1 tsp
All Purpose Flour- 120 grams
Baking Powder- 1 tsp
Milk - ½cup (approx 120 ml)
Walnuts - 4 tbsp
Chocolate (grated/chopped) - 4 tbsp
Instructions
For the cake layer:
Grease a cake tin and dust it with flour. Preheat oven to 175C.
Beat butter till soft and add condensed milk. Mix well.
Sift flour, baking powder and soda-bi-carb. Add to it the cocoa powder. Mix milk and essence. Add milk mixture and flour mixture little by little to the butter and mix it slowly.
Pour it into the cake tin and bake for 10 minutes.
For the crispy layer/cookie dough:
Beat sugar and vanaspathi until fluffy.
Add the vanilla extract and mix well.
Sift flour with baking powder.
Add it to the shortening/vanaspathi mix. Now add milk little by little and when the sticky dough consistency is reached stop adding milk.
To assemble the cake:
After 10 minutes, remove cake tin from oven and spread the cookie dough evenly on the half baked cake.
The cookie dough may penetrate the top layer of cake. Don't worry because that gives a nice merged cake.
Sprinkle the chopped walnuts and grated chocolate.
Bake it for 25-30 minutes or till the top is golden brown. Remove from oven and let it cool.
Invert the tin and remove the cake from the tin. Use another plate to invert the cake again.
Cut it to pieces and enjoy with your desired cuppa.
Priya Sreeram
Priya is an enthusiastic foodie who loves to experiment with different types of cuisine. She chronicles her heart and hearth adventures on the blog Bon Appetit, which has recipes ranging from simple to exotic.