The color of this loaf comes from molasses which lends a deeper, more complex sweetness than sugar alone.
By Radhika Penagonda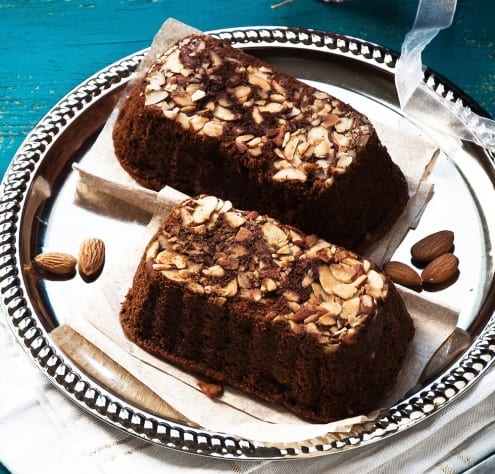 Eggless Apple Almond Bread
The color of this loaf comes from molasses which lends a deeper, more complex sweetness than sugar alone.
Author:
Radhika Penagonda
Ingredients
¼ cup almonds, coarsely crushed
2 tbsp slivered almonds, for topping
4-5 tbsp unsalted butter
3 tbsp cane sugar or raw sugar
⅛ tsp salt
⅔ cup whole wheat flour
2 tbsp unbleached all-purpose flour
¼ cup stone ground cornmeal
1 tsp aluminium free baking powder
1-1/2 tsp baking soda
1-1/2 tsp ground cinnamon
⅓ cup unsulphured molasses
1½ tsp pure vanilla extract
⅓ cup low-fat buttermilk
½ cup (4 oz) all natural unsweetened applesauce
1 cup or 1 Fuji or Gala apple, peeled, cored and finely chopped
Instructions
Grease two 5 inch mini loaf pans or one 8 inch loaf pan with oil or butter.
Preheat oven to 350°F.
Put slivered almonds in the bottom of pan and then rotate pan to distribute them around the bottom and sides so they'll stick to the greased pan and set aside.
In a large mixing bowl, combine the flours, cornmeal, baking soda, baking powder, ground cinnamon, salt and crushed almonds with a whisk.
Microwave the butter for 10-20 secs and not more to just soften slightly.
Whisk together butter and sugar until creamy in another mixing bowl. Now, whisk together the remaining wet ingredients – buttermilk, molasses, applesauce and vanilla extract.
Stir the wet mixture into the dry ingredients bowl and fold in chopped apples gently until just combined. Do not over mix. Spoon batter into the pan(s) using a silicon spatula for near zero batter wastage. If using two 5 inch pans, place them at least 2 inches apart for uniform hot air circulation.
Bake until cooked through and a toothpick inserted in the middle comes out clean, about 30 to 35 minutes for 5 inch pan and 45-50 minutes for 8 inch pan. Do not over bake.
Let cool on a wire rack for 30 minutes and then invert onto a plate.
Serve warm or at room temperature.
Notes
When buying molasses, make sure it has unsulphured molasses as the only ingredient. I have used Grandma's brand all natural molasses. Add an additional tbsp of sugar if need be. The cake was mildly sweet which is how I prefer mine. Skip the APF altogether and use whole wheat flour if you feel awkward about APF. You might have to up the buttermilk or applesauce by 1 or 2 tbsp if so. You could consider swapping baking soda and baking powder quantities as I felt that the loaf was a bit crumbly.
Radhika Penagonda
Radhika Penagonda is a vegetarian food blogger, ardent photographer and enthusiastic cook who loves to explore new ingredients and believes strongly in eating with our eyes first. Passionate about home-made food prepared from natural ingredients, minimally processed and close to nature, she shares through her blog how home style or not 100% vegetarian food can be lip smacking tasty and simply delicious.