[adrotate banner="39″]
Creamy mayonnaise, once mastered, can be made into a delicious sauce or spread for sandwiches, grilled meats, and vegetables. Try these three flavorful aiolis.

By
Lail Hossain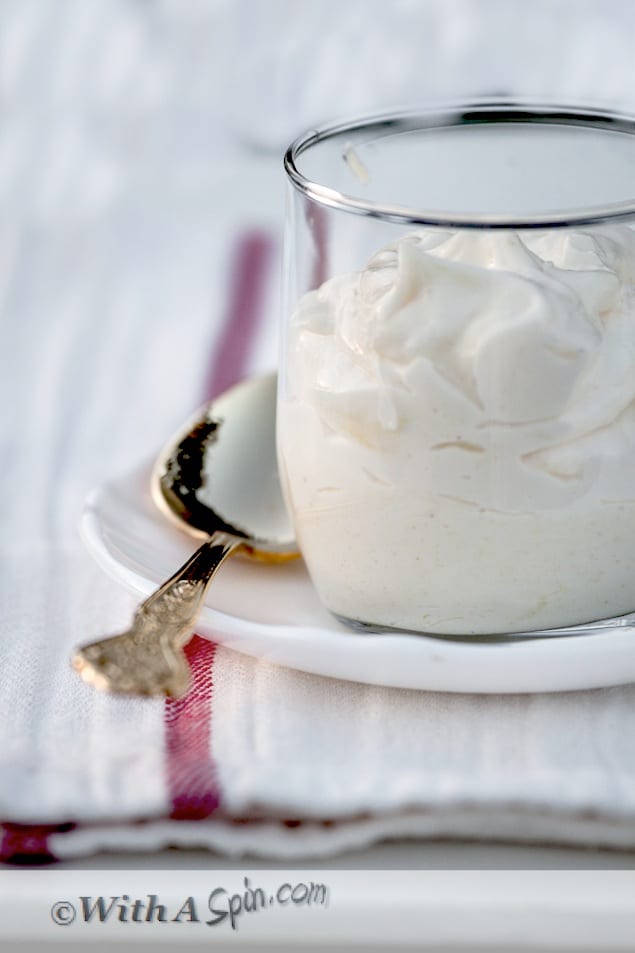 Mayonnaise a.k.a mayo, the thick, creamy white condiment can easily be made at home. Homemade mayonnaise takes a little time and patience to make, but the results are well worth it. I have stories trying to make mayonnaise with my father when we had no access to Internet to learn the tips and tricks of making mayonnaise in a small town in Bangladesh. As a result, all our attempts were failures. I am sure we would have figured it out together if we tried few more times, but I never had the chance to perfect the recipe with him before he passed away. Sometimes, the oil blended and solidified with the egg, and at other times it didn't, but the team that we were, we kept trying. No matter how hard, long or fast we took turns to whisk, the magic never happened.
Over the years, I shared the stories with few chef friends and they shared few tips and tricks. There are two factors in making mayonnaise. One, keep all the ingredients at room temperature. Two, mix the egg with very small drops of olive oil at the beginning. If you add too much oil in the beginning, the mayonnaise will be missed beyond repair. Add more oil, beat it harder, chances are it will remain liquid. The first drops of olive oil make the initial chemical bonds that solidify the sauce and set the foundation for the later product. You can add oil faster later, but not in the beginning.
Nonetheless, I just never got around the fear of eating raw eggs because I know even the most perfect-looking fresh egg can harbor Salmonella inside. However, when I heard about the Safest Choice eggs, I knew I had to try making mayonnaise again. The Safest Choice eggs are pasteurized by submerging in an all-natural water bath, and destroying all bacteria. With Safest Choice Eggs, this risk is eliminated, all without changing the nutritional content or flavor of the eggs. This means that pasteurized eggs from Safest Choice Eggs are safe for consumption before the eggs even enter your kitchen!
Mayonnaise, the classic sandwich spread, is the base for aioli. Mince your favorite fresh herbs and add to mayo and you will enter the versatile world of aioli. Let the sauce sit in the refrigerator for an hour or so to let flavors blend, and you have it. Besides the classic garlicky aioli, my other favorites are saffron Aioli, curry aioli and rosemary aioli. Aioli pairs very well to enjoy steamed fresh vegetables such as carrots, asparagus, cauliflower, broccoli, etc. I often pair aioli with salad, sandwich, fish, fries, and chicken. I often make different types of aioli to pair with different food. Mostly, I use store bought quality mayonnaise but this time I wanted to make Safest Choice, mayonnaise, at home.
With the mayo as the base, we made some saffron aioli as a sauce for broiled asparagus, curry aioli to dip some fries and rosemary aioli to slather over some sandwich.
Print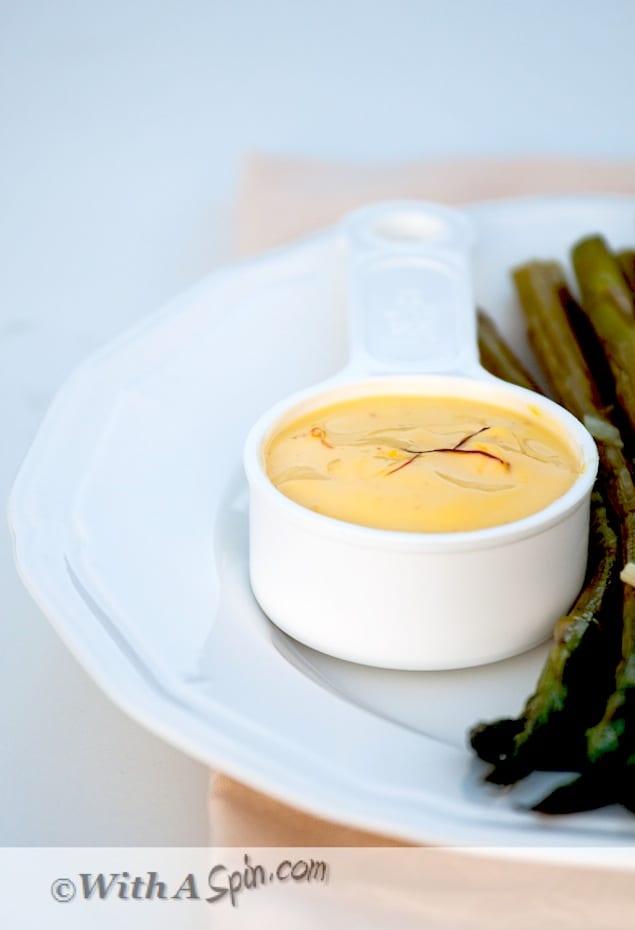 Print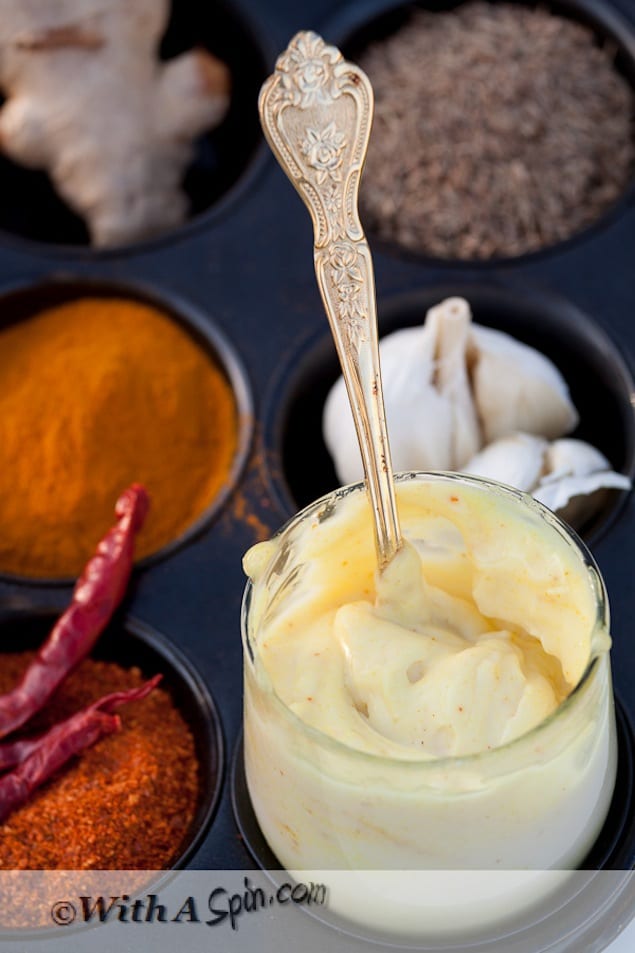 Print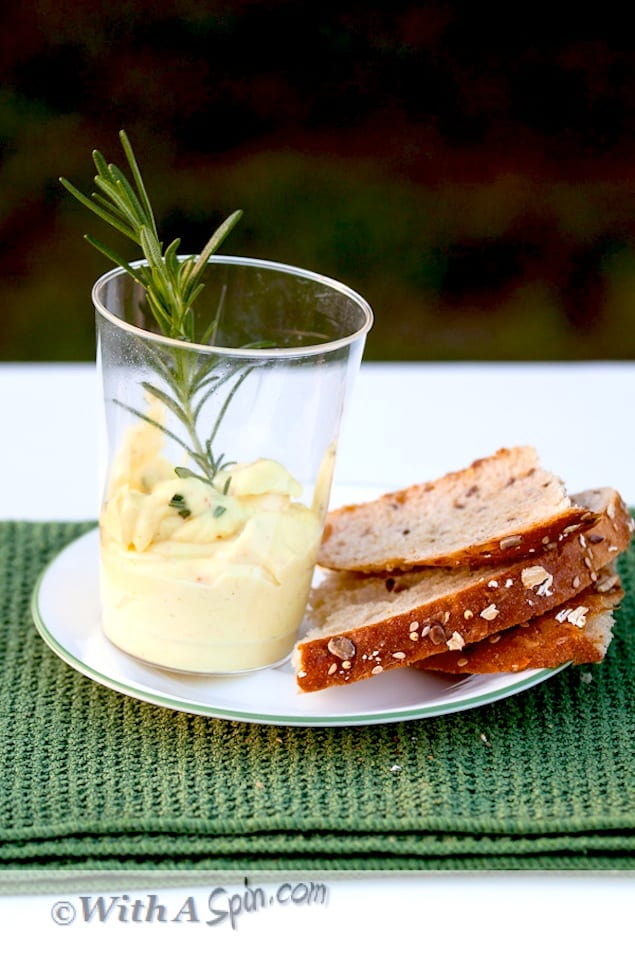 Print
[adrotate banner="38″]
Lail Hossain
Lail Hossain finds cooking to be an explosion of creativity. She is enthusiastic about modifying a laborious step of an old recipe, and experimenting with different ethnic recipes by adding her own spin to it yet keeping the recipes simple, healthy, and delicious. Originally from Bangladesh, Lail shares her journey of food, creativity and family in her blog "With A Spin". She is also very passionate about highlighting Bangladeshi cooking to the international culinary space.