An EGG For Every Occasion — Potato and Pepper Indian-Style Hash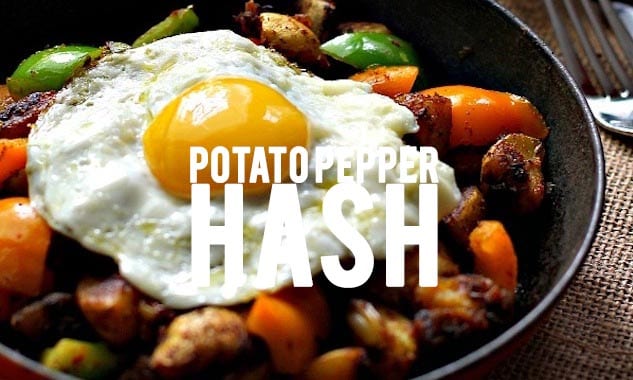 [adrotate banner="39″]
Bursting with cumin, garlic, chili and turmeric, this hash has spicy flavors to contrast with the buttery potatoes. Add a runny egg yolk to the mix, and you're in breakfast business.
By
Soni Sinha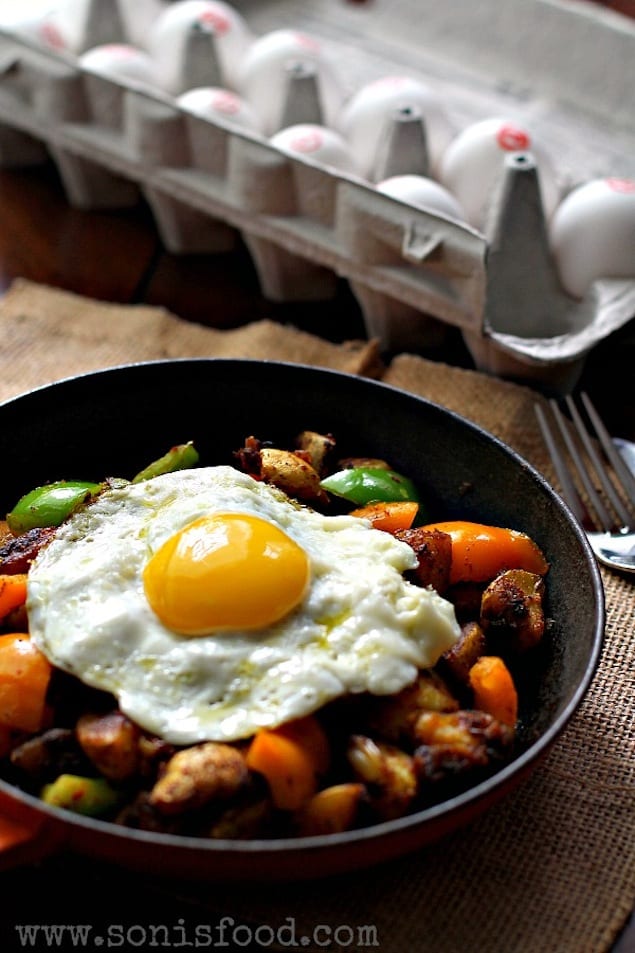 My current obsession is with Eggs. I love Eggs and especially fried eggs with a raw runny yolk are a staple breakfast most days of the week. I'm obsessed about cooking my eggs just the right way. Do you have that obsession too? Maybe not. I just cannot trust anybody and have to make them myself. Due to the fact that I eat raw eggs most days of the week, it's difficult to trust all the brands out there. So I always go with Safest Choice Eggs that guarantee that the eggs have been pasteurized and are safe to be eaten raw.
My favorite way to use them is in my Indian Inspired Breakfast Hash that compliments the fried egg on top and the flavors blend beautifully. It cooks in no time and a cast iron pan would be ideal for cooking. I've used a combination of Potatoes and some colored peppers and have flavored them with cumin, chili, garlic and turmeric. It's a family recipe and the fried egg on top makes this a filling breakfast, brunch, or even dinner. I love the garlic with the potatoes, that sharp pungent flavor cutting through the sweet peppers and the potatoes is just plain delicious.

An EGG For Every Occasion — Potato and Pepper Indian-Style Hash
Bursting with cumin, garlic, and chili, this hash has spice to contrast the buttery potatoes. Add an egg to the mix, and you're in breakfast business.
Ingredients
Safest Choice Egg-1
Potatoes-3 medium diced
Green and Orange Peppers-1½ cups diced
Onions-1 medium sliced
Cumin Seeds-2 tsp
Turmeric-1/2 tsp
Red chili powder-1 tsp
Fresh Crushed garlic-2 tbsp
Salt-to taste
Oil-4 tbsp
Instructions
In a cast iron pan heat the oil and add onions.
Once its golden add the potatoes along with turmeric,chili and salt.
Saute and stir every now and then until they turn golden around the edges and are almost cooked and hold their shape.
Add the crushed garlic and the peppers.
Mix and saute just until the peppers are slightly cooked and still maintain their crunch.
Check the seasonings.
In a separate skillet add a tsp or two of oil or butter.Crack an egg into a small bowl.
Gently pour the egg into the skillet.Cook until the white has set.Season and arrange on top of the hash. Serve hot!
[adrotate banner="38″]
Soni Sinha
Soni is a recipe developer, food writer/blogger who creates recipes with a healthy Indian twist. She is a passionate cook and her recipes cater to readers who are are willing to try contemporary Indian flavors in wide ranging fusion dishes that she creates.She shares all her cooking adventures on her blog Soni's Food.