This is a light, refreshing hard-boiled egg sandwich. The braised fennel takes on brightness from lemon and adds sweetness to the sandwich. And the cucumber and pickled onion with a fresh loaf of bread and you're in business.
By Katherine Sacks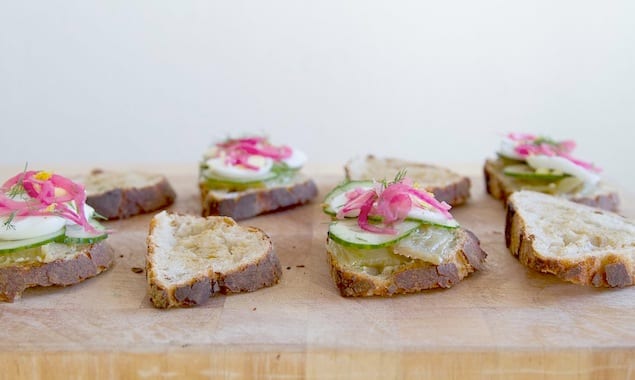 Since as long as I can remember, I haven't liked eggs. As a child, I would turn my nose up at the slightly sulfuric smell of hard-boiled snacks, and then pawn them off on playground friends. I have fond memories of preparing deviled eggs with my grandmother for holiday meals, but I was drawn to their pretty appearance and the family tradition, and never ate them. Even as my tastes began to develop in culinary school, I continued to dislike the taste of eggy hollandaise sauce and egg-rich cakes.
A few months ago, all that changed in the dining room of Tim Raue's lovely La Soupe Populaire. His version of the classic German dish senfeier— eggs in mustard sauce—was silky, smooth, and delicious. Most surprising was the fact, that even though the egg was poached and featured the kind of just-cooked-yolk I can usually only barely stomach, the dish had me actually wanting more.
With nice weather, I want something light and refreshing, and a springy sandwich with hard-boiled eggs comes to mind. The braised fennel here takes on brightness from lemon and adds sweetness to the sandwich. And the cucumber and pickled onion give that freshness I craved. For bread, I've used small slices from a fresh loaf of sourdough, but a French baguette or ciabatta would also work well.

Egg, Braised Fennel & Pickled Onion Sandwiches
A light, refreshing hard-bloiled egg sandwich with braised fennel. Adapted from The Kitchn
Ingredients
1 small red onion
¼ cup apple cider vinegar
1 tablespoon olive oil
1 small onion, thinly sliced
1 clove garlic, chopped
1 large fennel bulb, ferns roughly chopped and bulb cut into ½-inch pieces
1 lemon
Salt
¾ cup water
8 small slices of sourdough bread, or 2 small baguettes, sliced in half
2 tablespoons French mustard
2 eggs, hard-boiled and sliced thin
¼ cucumber, sliced thin
Instructions
Combine the red onion and apple cider vinegar in a small container. Cover and set aside.
In a medium sauté pan over medium heat, warm the oil. Add the onion, sauté for several minutes, then add the garlic. When the onion starts to turn translucent, add the fennel. Cook for several minutes, and add several large pieces of the lemon zest.
Season with salt, add the water, reduce to simmer, and cover. Cook for 20 to 25 minutes, until the fennel is tender. Remove from heat and set aside.
Smear half the sourdough pieces, or one side of the baguettes, with the mustard. Top with the fennel, cucumber slices, egg slices, fennel fronds, and some finely grated lemon zest.
Spray a little lemon juice on top, season with salt, and top with mustard-covered bread.
See Also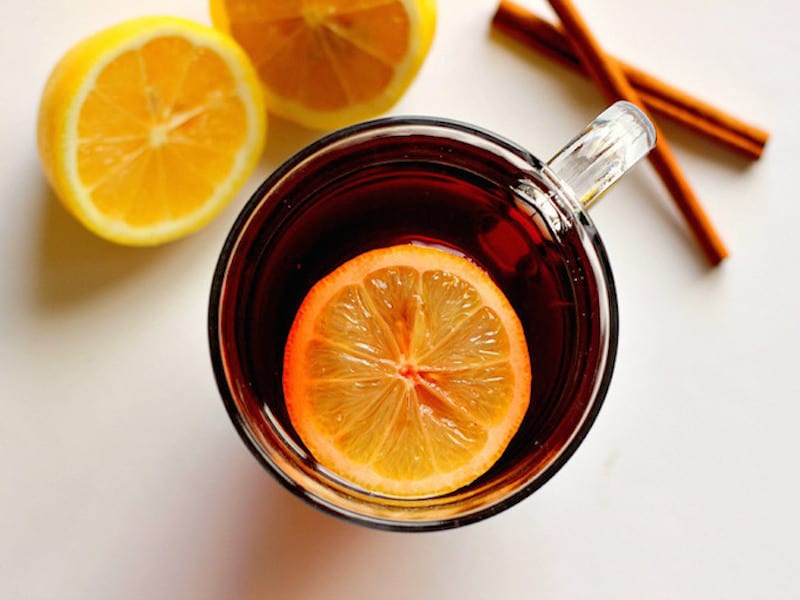 Katherine Sacks
Katherine Sacks is a Berlin-based freelance writer and recipe developer specializing in travel, food, lifestyle, and health topics. A graduate of Drexel University's culinary arts department and Northwestern University's Medill School of Journalism, Katherine combines seven years of restaurant experience with her reporting and editing background. Her work has appeared in Chicago magazine, the Chicago-Sun Times, and FoodandWine.com, among other publications. She also contributes to culinary trade publication StarChefs.com, Forbes Travel Guide, and Snooth Eats, and blogs at LaVitaCucinare.com.