This is a vegetarian version of a scotch egg with a layer of mashed potatoes between the crispy crust and the hard boiled egg.
By Reena Pastakia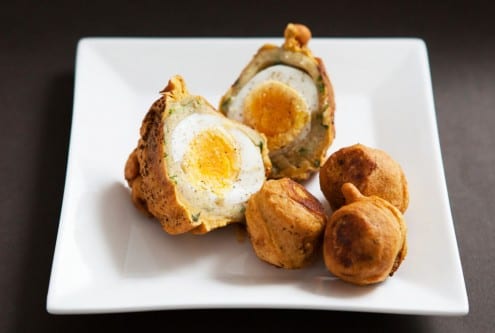 Print
Egg Bhajia
This is a vegetarian version of a scotch egg with a layer of mashed potatoes between the crispy crust and the hard boiled egg.
Author:

Reena Pastakia

Prep Time:

15 mins

Cook Time:

20 mins

Total Time:

35 mins

Yield:

4

1

x
Category:

Main
850 grams

waxy red potatoes – peeled and cut into large wedges

4

eggs

2

cloves garlic – crushed

3

small green chillis – finely chopped

10 grams

root ginger – peeled and grated

4 teaspoons

coriander-cumin powder

1/2 teaspoon

garam masala

1 teaspoon

salt
pinch of turmeric

2 tablespoons

lemon juice

1 teaspoon

sugar

15 grams

coriander – chopped

2 tablespoons

sultanas (optional)

1 teaspoon

sesame seeds (optional)
Light tasting vegetable oil for frying
For the batter
100 grams

gram flour

1/4 teaspoon

chilli powder

1/4 teaspoon

black pepper – finely ground

1/4 teaspoon

salt
pinch of turmeric

100

millilitres water
Instructions
Boil the potatoes for twenty minutes or until cooked.
Meanwhile hard boil the eggs. When they are done immediately run cold water over them as this makes them easier to peel and prevents a black ring forming around the yolk.
Once the eggs are cool enough to handle, peel and leave to one side.
Mash the potatoes in a large bowl. I find the best results are obtained using a potato ricer or vegetable mill but use whatever method you prefer.
Add the garlic, chopped green chillies, ginger, coriander-cumin powder, garam masala, salt, turmeric, lemon juice, sugar, coriander, sultanas and sesame seeds to the mashed potato. Mix well. I always taste the potato at this stage ostensibly to check the seasoning but in reality because I love the flavours.
Heat the vegetable oil in a large pan. Caution: Hot oil is dangerous, do not leave unattended.
Meanwhile, mix together all of the batter ingredients in a bowl to create a smooth batter. It should flow freely off the spoon but be thicker than water.
Take one of the eggs and cover it with the potato mixture. The potato should be evenly distributed around the egg with a depth of approximately one centimetre.
Test the heat of the oil by placing a drop of batter into the pan. The batter should sizzle and float to the surface immediately.
If the oil is hot enough, add a teaspoon of the hot oil to the batter. Stir well.
Dip the potato-covered egg in the batter.
Place the battered, potato-covered egg in the pan and fry until golden brown.
Place the egg bhajia on a piece of kitchen roll to drain.
Repeat steps 8, 11, 12 and 13 with the remaining eggs.
If you have any potato mixture left, roll it into small balls the size of a golf ball, dip them in the batter and fry as above to create potato bhajia.
Serve hot with tomato sauce or garlic chutney.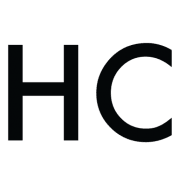 Reena Pastakia
Reena grew up thinking Indian cooking was a dark art where the quantities of spices required in each dish were innately known to a chosen few. It was only after she married an Englishman with a voracious appetite for Indian food that she started phoning home for cooking tips. She started her blog (coconutraita.com) in an attempt to document her family's recipes and make Indian cooking accessible to all.