Edamame and Corn Salad Salsa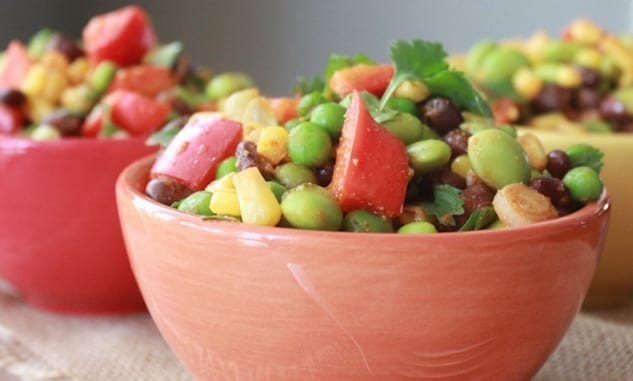 Serve with tortilla chips or as a side over a bed of lettuce. This salsa is the perfect welcome to warm weather. Grab your margaritas and edamame salsa and you're ready for a party.
By Robin Runner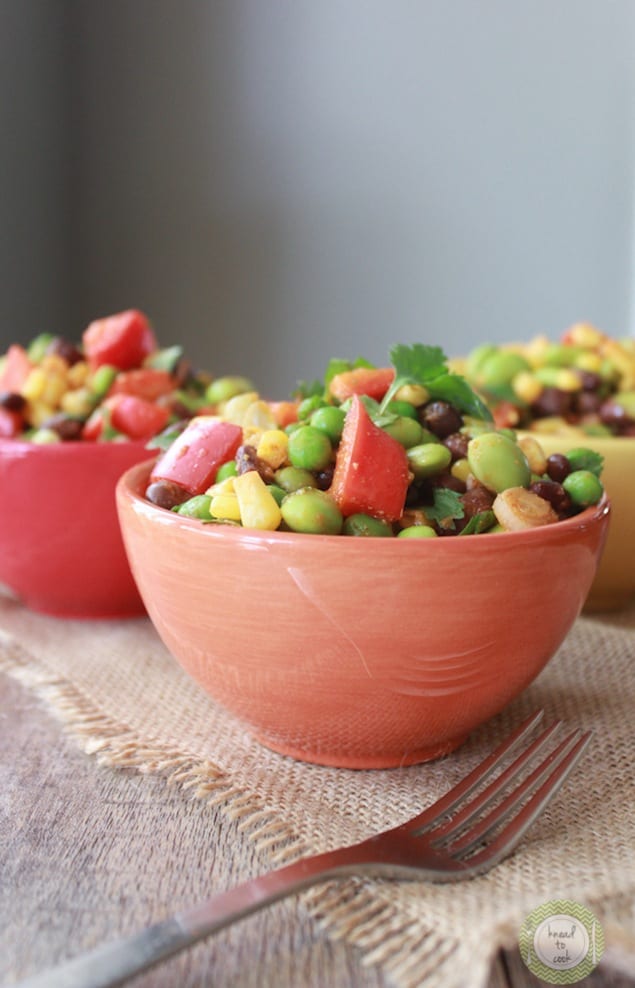 The hot weather has my mind going right to salsa. I always make salsas, margaritas and we enjoy relaxing nights around the fire pit making s'mores and enjoying the warm weather. Well this is my first batch of healthy salsa for the season. It's light. Refreshing. Not heavy and packed with vitamins and much needed protein. I eat this by the bowl full for lunch or dinner. I require so little in life to be happy.
This would make a great side dish salad or served with tortilla chips as a salsa. It's quite versatile. Totally vegan and gluten free. No nuts. Perfect dish to take to a party. No fuss because this beautiful dish whips up in seconds and can be made all with frozen veggies (like I did).

Edamame and Corn Salad Salsa
Serve with tortilla chips or as a side over a bed of lettuce. This salsa is the perfect welcome to warm weather. Grab your margaritas and edamame salsa and you're ready for a party.
Ingredients
16 ounce bag of shelled edamame (I left all of the frozen vegetables frozen – they will defrost quickly)
16 ounce bag of corn
16 ounce bag of garden peas
1 can of organic black beans, rinsed and drained
6 spring green onions, chopped
1 large red bell pepper, diced
1 jalapeño, seeded or not then diced
1 handful of fresh cilantro, roughly chopped
½ cup of fresh lime juice (or more if you prefer)
1 drizzle around the bowl of olive oil (eyeball it)
3-4 tablespoons of ground cumin
1 tablespoon of ground smoked paprika
Salt and pepper
½ teaspoon cayenne pepper
Instructions
Add all of the ingredients to a bowl and give a good stir to coat everything. Adjust the seasonings to your preference. If you love cumin, add more. If you don't like spicy – seed the jalapeño and avoid the cayenne.
Refrigerate at least 2 hours or more for the flavors to develop. Add additional lime juice or olive oil if necessary prior to serving. Give a good toss right before plating.
Store leftovers in a covered container in the refrigerator.
Robin Runner
Robin Runner is the blogger behind www.kneadtocook.com. She grew up around two of her greatest inspirations, her Italian grandmother and her aunt. Both believed in farm to table foods, purity in nature and love as the main ingredient for anything on their menu. Today, Robin is a strong advocate of farming and buying local ingredients, as well as composting to help repurpose food scraps into rich soil for our garden.