Joan Nova goes to Puerto Rico, and comes back with some fantastic tips to local eateries and food.
By Joan Nova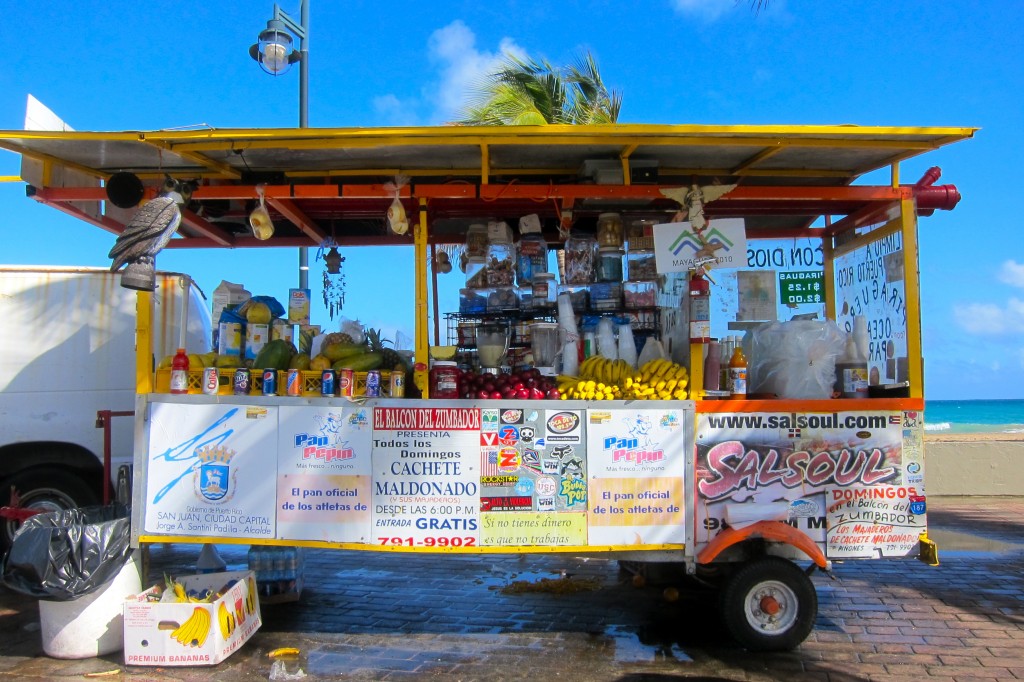 Puerto Rico is called "La Isla del Encanto" (the enchanted island) and I've had a longstanding love affair with it. From my very first visit, I was captured by the charm of the people, the music and the food! For many years, while I lived in New York, it was an idyllic refuge from the harshness of winter and I traveled there two or three times a year.
Now that I live in Florida, I don't need the winter refuge, but I still visit once a year to get my 'fix' of glitzy nightlife at the hotels and mingle with the locals at various cuchifrito (fried street food) joints.
Let me show you a couple of local places and what to expect.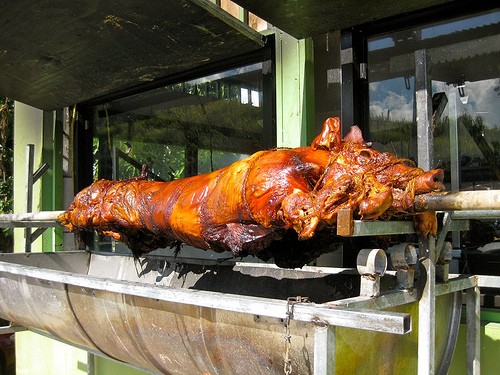 Guavate, known as La Ruta de Lechones (the pork trail), is located about an hour-and-a-half from San Juan, high in the mountains. It's a very popular Sunday afternoon destination for locals. People spend the day eating, drinking, taking in some sun and dancing. It's crazy, exciting, fun and delicious!
A winding mountain road leads you to a strip with one lechonera (roadside cafeteria) after another.  They all specialize in whole roasted pig and side dishes and most offer live music. Sunday traffic is heavy, cars are parked all over the place and people line up at the restaurant of their choice to get their food to 'picnic' with family and friends. Our favorite place, El Rancho Original, has a little Shangri La of nature and gazebos behind it and down a flight of steps where  you can enjoy your meal.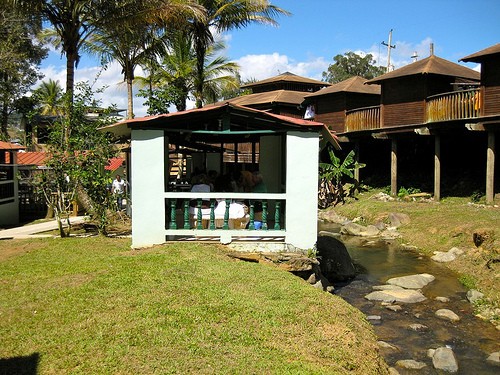 A sampling of some of the food: L-R Morcilla (blood sausage), pickled guineos verdes (green banana) with gizzards, rice + gandules beans, roast pork with cuero (skin).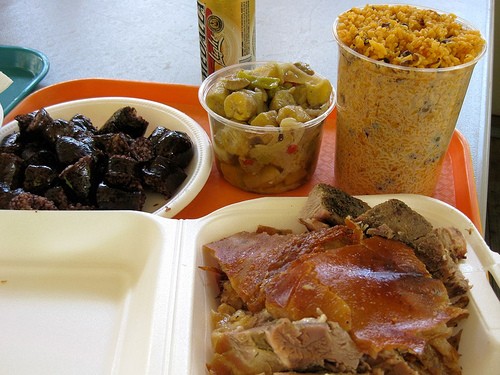 Back up on the street level, there is a large dance floor, live band and tables and that's where people (of all ages) work off the calories they just consumed with the throbbing sounds of salsa!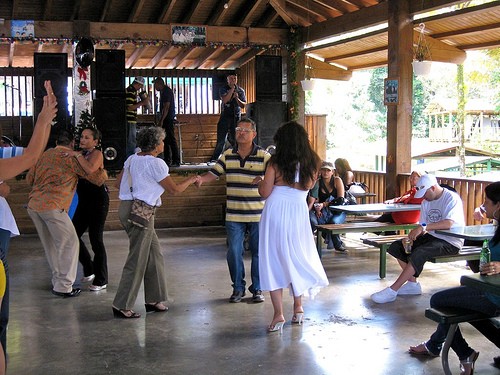 Pinoñes is close to the metropolitan area. A short ride from the Isla Verde area of San Juan brings you along the north coast where you'll find a conclave of roadside eateries in a rustic beachfront setting.
These places are very popular with the locals (and adventurous tourists). Here's where you can eat Island specialties and have a drink (Medallia beer is a good accompaniment) for not a lot of money. This type of eating is called "come y vete" (eat and run).
It's all fresh. You can often watch it being made…but the finger food is all fried.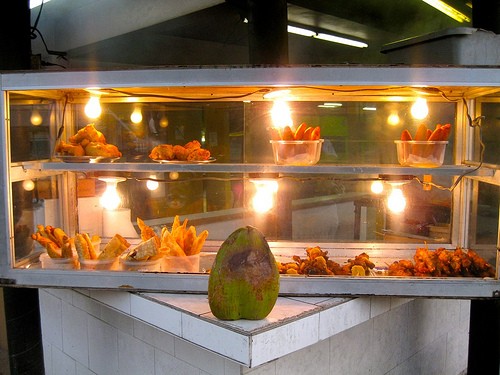 Alcapurria is the most prized of these foods. It begins with a dough made of grated yautia and green plantain which is then stuffed, generally with ground beef. Dónde Olga specializes in Alcapurria de Jueyes (crabs).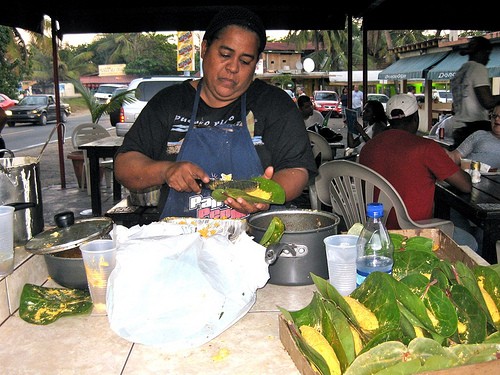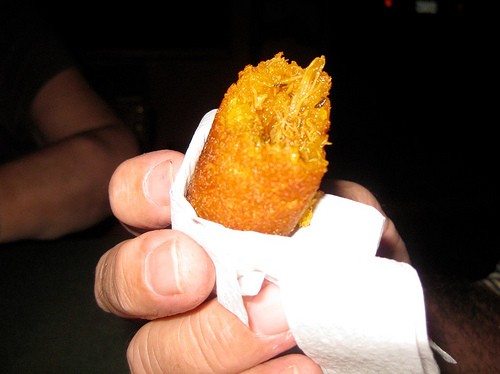 Another popular finger food is bacalaito (codfish fritters).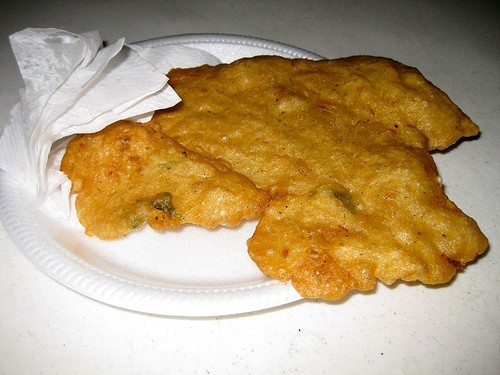 Dónde Olga also specializes in Arroz con Jueyes with Salmorejo on top. It's crab meat x 2. First it's cooked with rice and then it's topped with stewed crabmeat.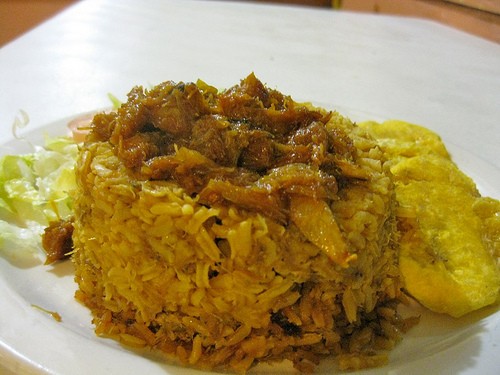 Puerto Rican cuisine is not known for 'heat', as in spicy. But, they're not averse to you adding a little 'piquante' to your dish and most establishments have their own house-made variety with pickled hot peppers.
I hope you enjoyed this little 'taste' of Puerto Rico.
Joan Nova
Joan Nova is the publisher of FOODalogue: Meandering Meals, Musings + Travel which melds her lifelong passions for food, travel, photography and publishing. Her culinary style is bold and colorful with finishing touches that take each dish to the next level. She is an active participant in many online food organizations.