Spend some time exploring the history of Cortona, eating pici pasta, and sipping regional wines.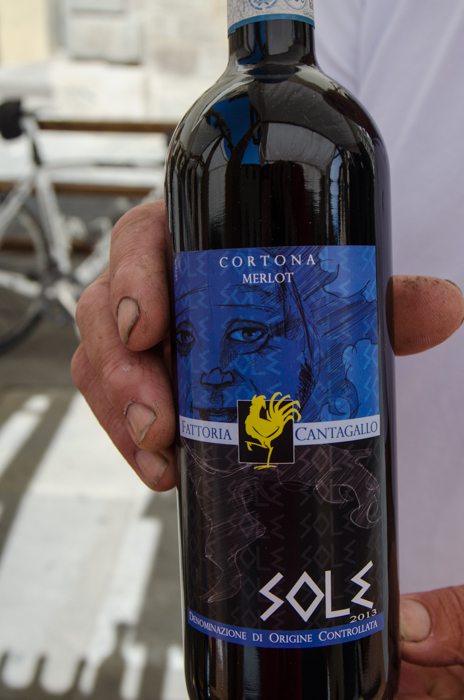 Cortona is a lovely small city in Tuscany, Italy, a wonderful destination on our private cycling tours and walking tours, its hilltop location offering stunning views of Lake Trasimeno and the Val di Chiana. Its ancient walls reveal its Etruscan origins. Legend has it that Cortona was founded by the legendary Dardanus before 500 B.C., becoming one of the twelve cities of Etruria. Today many Etruscan ruins and tombs may be seen in the vicinity. Cortona sided against Rome until 310 B.C. when Fabius Rullianus defeated the Etruscans and took Perugia. Later Cortona was destroyed by the Lombards but was soon rebuilt. In the 14 C, it was governed by the Casali and afterwards became part of the Grand Duchy of Tuscany.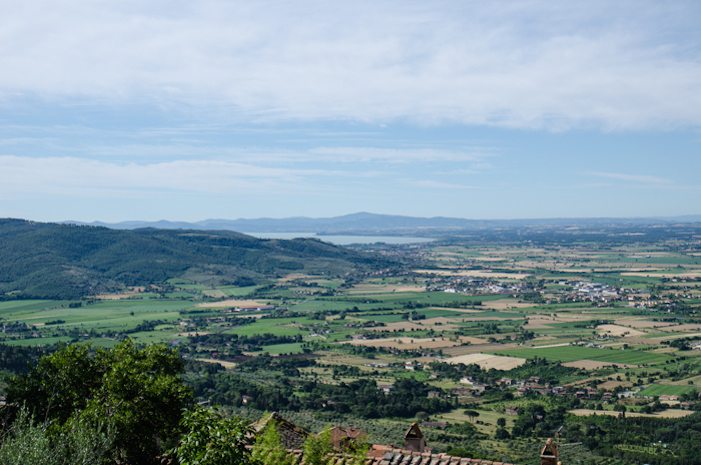 Today, Cortona is most famous as the setting for Frances Mayes' novel, "Under the Tuscan Sun". But strolling its medieval streets, visiting its many artistic treasures, or just enjoying its amazing location with a spectacular view, has always made Cortona well worth a visit. You can explore Cortona's Etruscan and Roman heritage at the Museo dell' Accademia Etrusca in the 13th century Palazzo Pretorio on Piazza Signorelli. Or visit the Chiesa di San Domenico near the public gardens to appreciate its 15th century altar and works by SIgnorelli and Fra Anglieco. The Duomo, Cortona's Renaissance cathedral, was built on the site of an Etruscan temple, and is home to many lovely 16th and 17th century paintings.
Most visitors never get to the neighborhoods above Cortona. Walk up above the main town, where you will find the main church, Chiesa di Santa Margarita. A beautiful church, and the final resting place of the patron saint of Cortona, Santa Margherita, at the altar in a glass case. Also above Cortona is the 16th century Medici Fortezza, one of the many Medici fortresses built in the middle ages. There are often exhibits here, but it is worth a visit simply to enjoy great views of nearby Lake Trasimeno.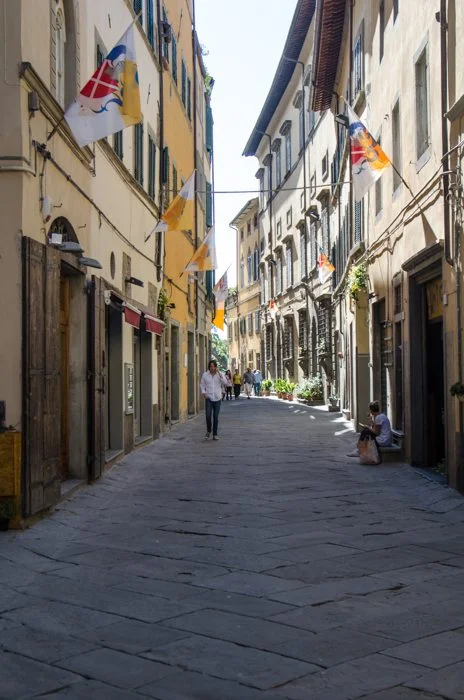 After your explorations, take some time to enjoy the local foods and wines. A great spot to do this is on the Piazza della Republica, with many outdoor cafes. Local dishes include many varieties of bruschetta, toasted bread rubbed with local olive oil and topped with anything from fresh tomatoes (Bruschetta al Pomodoro) to chicken livers. First courses include a bread and tomato salad, panzanella, or a fresh tomato soup, Pappa al Pomodoro. The favorite pasta here in Cortona are thick noodles called pici, with sauces from fresh tomatoes and garlic to ragu di cinghiale (wild boar). A treat for meat lovers is the local beef from Val di Chiana, a Chianina steak, often called Florentine beefsteak. You'll need a partner for this dish, as they usually are served by weight starting at 1kg – over 2 pounds. For dessert, try cantucci, a biscotti like cookie that is served with the traditional Vin Santo, a local sweet wine.
The vineyards covering the rolling hills surrounding the town belong to the small Cortona DOC wine region. Historical evidence dates the origin of grape cultivation in this area to the Etruscan times when grapes vines were planted among orchards, the adjacent trees used to support thee vines. Wine production in the Val di Chiana area suffered in the Middle Ages as the valley deteriorated into swamp. Grape cultivation returned only in the second half of the 16th century when the area was reclaimed, with Cortona wines particularly prized by pope Paul III who during his stays in nearby Perugia had wine delivered from Cortona for his banquets.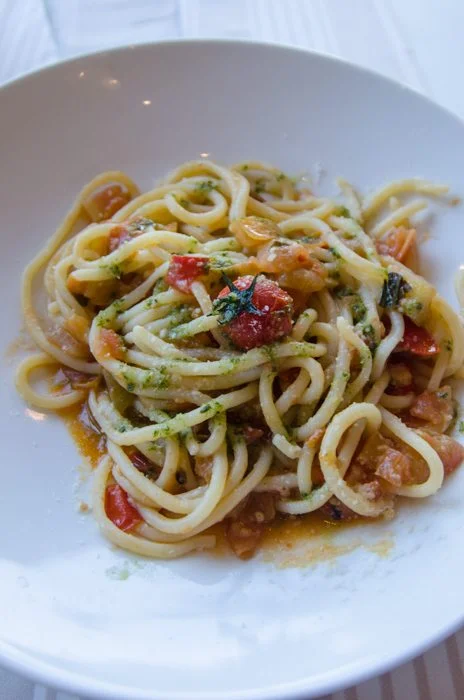 The Cortona DOC was created in 1999 to define and protect the local winemaking traditionas. Vine cultivation is allowed only in fields over 250 m above sea level. Amongst the wines of this DOC you will find a variety produced from traditional local grapes like Grechetto and Sangiovese, as well as international varietals like Cabernet, Merlot, and, interesingly enough, Syrah, which is not cultivated widely in Italy. During the Napoleonic occupation of this area in early 1800s, the Grand Duke of Tuscany, an avid oenophile, encouraged the cultivation of international varietals here.
Kathy Bechtel
Kathy Bechtel's obsession with food and cooking began as a teenager. After years following a traditional career path as a telecommunications engineer, she left to attend culinary school and wine training, and is now combining her passions for food and wine, the outdoors, and travel as owner and Culinary Tour Director of Italiaoutdoors. In this role, Kathy leads small bicycle, skiing and walking tours that explore the authentic regional cuisines, local products and undiscovered wines of Northeastern Italy.