In the first of a two-part series Reena Pastakia shares some of the best places to eat in the City of London. 
By Reena Pastakia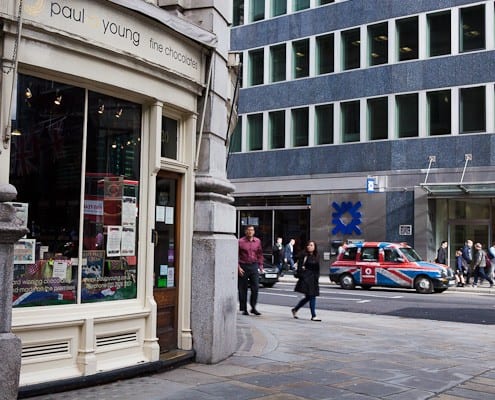 If you are visiting London on business there is a high probability that you will be visiting one of the two financial districts: the City of London or Canary Wharf.  In the first of a two-part series Reena Pastakia shares some of the best places to eat in the City.  She will be following up shortly with her recommendations for visitors to Canary Wharf.
As you wander through the maze of alleys and passageways that make up the square mile, you will stumble across hints of the ancient City of London; remnants of the City wall, plaques recalling buildings destroyed in the Great Fire and crumbling gravestones of forgotten City dwellers.  A little research can also unearth a wealth of foodie establishments especially in the area around Bank station. The Royal Exchange for example holds Paul A Young's Fine Chocolates.   Mr Young's beautiful little shop would be at home in Diagon Alley and sells seasonally inspired artisanal chocolates including his award winning sea salted caramels.
If you leave the Royal Exchange and head past the Bank of England you will find Taylor Street Baristas where you can choose from a great selection of light bites while you linger over a well-crafted coffee in spacious environs.  Just behind this site you will find Le Relais de Venise on Throgmorton Street.  This bustling French bistro has a no reservations policy and just a single option on the menu – simple green salad followed by steak frites.  Be warned, this is not the place to take a vegetarian or a Hindu.  Still the tender steak with unlimited crispy frites and their signature buttery sauce make this a great place for an extended lunch with colleagues.  You might be able to get in and out within sixty minutes but only if you arrive before 12.15 pm.
If you only have time for a quick bite at your desk then head north along Old Broad Street to Nusa Kitchen.  It is hidden away on a little passage but follow the long queue and you will find it.  Here they present a range of nutritious soups served with a piece of naan bread or fruit for the gluten free.   This is also a great place for breakfast as they offer both organic porridge and muesli as well as more interesting options such as the chilli cheese toastie; a grilled berberi naan filled with roasted red peppers, jalapeños and black olive paste all topped with cheese.
Possibly the City's best breakfast however is to be found at the Hawksmoor Guildhall.  It is a meaty affair, perfect for the suited clientele.  Options include grilled bacon chop, steak and eggs and mushrooms on toast.  The full English breakfast consists of a huge amount of protein including black pudding and grilled bone marrow guaranteed to power you through to lunch especially if you also imbibe from the "anti-fogmatic" cocktail menu.
If you ignore the ubiquitous chain restaurants and take the time to meander amongst the narrow alleyways and modern skyscrapers you will find yourself surrounded by history and with your spirits lifted by innovative and exciting tastes and smells.
Reena Pastakia
Reena grew up thinking Indian cooking was a dark art where the quantities of spices required in each dish were innately known to a chosen few. It was only after she married an Englishman with a voracious appetite for Indian food that she started phoning home for cooking tips. She started her blog (coconutraita.com) in an attempt to document her family's recipes and make Indian cooking accessible to all.