Maybe the glittering coral reefs brought you to Nassau, Bahamas, or perhaps it was Atlantis' larger-than-life allure, or maybe it's just where your discount Caribbean cruise decided to take you. Whatever the case may be, you're in paradise— and in paradise, you must eat well.
By Emily Arno
This article has been posted with permission and originally appeared as Where to Eat in the Bahamas: Nassau and Paradise Island on Relish.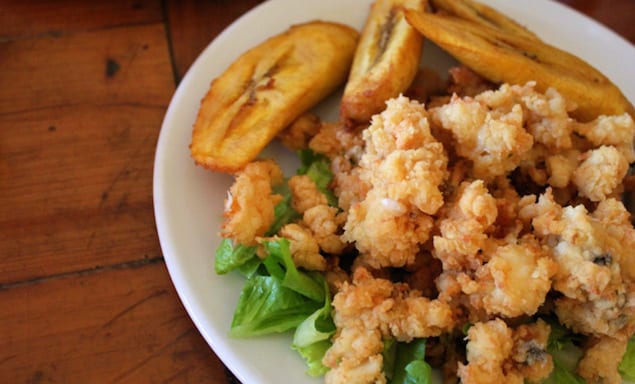 Twin Brothers / cred: Emily Arno
To find the best spots, we took a three-day culinary tour with the folks from Nassau Paradise Island. From conch fritters and local dives to swanky sushi and mysterious mansions, here's where to spend your dining hours.
The City of Nassau
Half the fun of touring Nassau is exploring the meandering pastel-hued alleyways. History is around every corner, and the further you get from the tchotchke-filled tourist stops near the harbor, the more likely you are to encounter a truly authentic and special culinary experience.
To heighten your odds further, book a spot on a Nassau's Tru Bahamian Food Tour—it's an incredibly informative, fun and delicious way to tour the city's favorite eateries. In fact, Alanna Rodgers, a native Bahamian and founder of the tour, was the one to give us the skinny on Bahamian Cookin' Restaurant and Bar, Van Breugel's Bistro and GrayCliff Hotel—more on those below.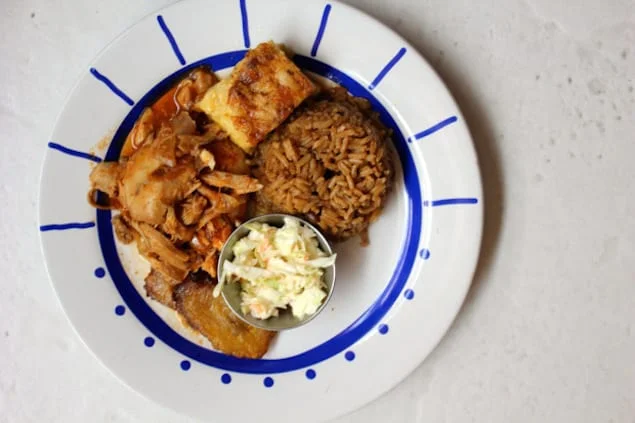 Emily Arno
In the Bahamas, lunch is the heaviest meal—and Tasmin, the 19-year-old head chef, knows this tradition well. Part of a three-generation operation, Tasmin dishes up lunch platters sporting steamed chicken, a Bahamian baked mac and cheese (which is surprisingly cakey rather than creamy!), and rice and peas. The spot is adored by locals and has vibrant Junkanoo costumes adorning the walls, giving the ambiance a fitting sense of place.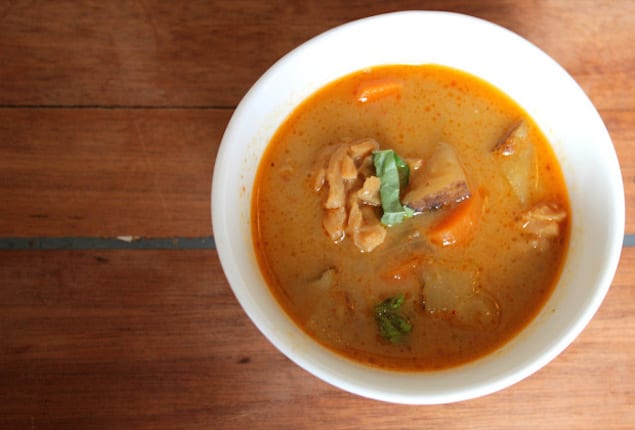 Emily Arno
What do you get when you combine a gregarious master chef, a European-and-Thai-inspired menu and a location in the heart of Nassau? Van Breugel's Bistro. Gaining its namesake from owner and chef Freddy van Brugal, this hopping restaurant masters the kind of fusion food that's hard to come by in the states. Try the coconut curry conch chowder with a slice of baguette slathered in homemade parsley sauce and you'll see what we're talking about.
Emily Arno
If old Hollywood glamour, secret cellars, hand-rolled cigars (by a man trained by Fidal Castro's cigar roller, no less) and first-rate cuisine entice you, GrayCliff Hotel and Restaurant can't be missed. The mansion, originally built by notorious pirate Captain John Howard Graysmith in 1740, looms over Nassau and features lush grounds encompassing a top-rated chocolatier, cigar factory and five-star restaurant and accommodations.
But for us, the jaw dropper is the wine cellar. Diners can request a tour of the tight space after their meal and wander in and out of the narrow passages stacked with over 250,000 bottles from over 400 vintners in 15 countries. Oh, and don't miss the 1727 Rudesheimer Apostelwein bottle from Bremen Ratskeller—doesn't ring a bell? All you need to know is it's one of the world's oldest and most expensive bottles (price tag is $200,000) and it lays casually on one of the cellars many wooden shelves.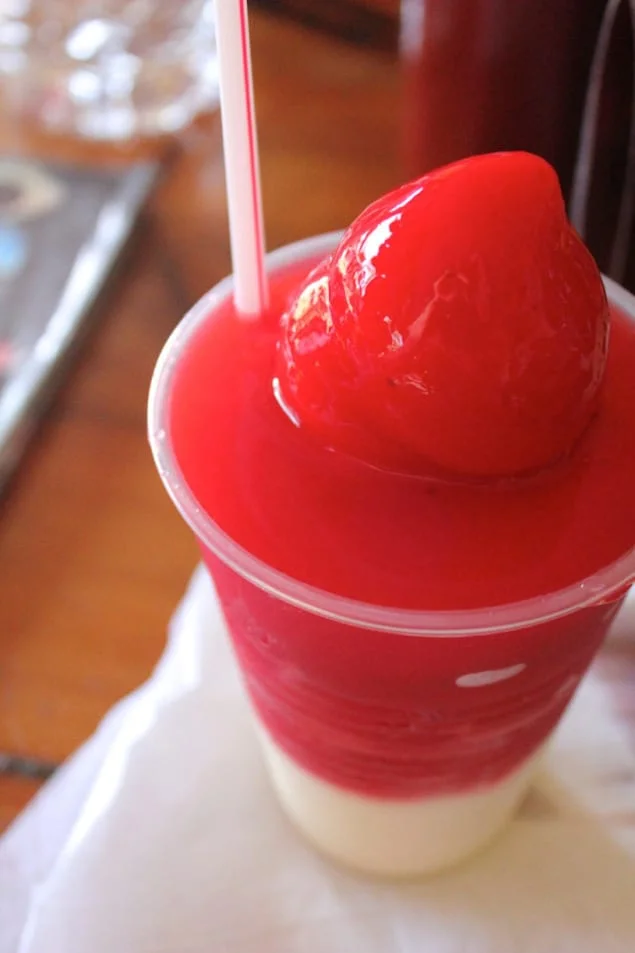 Emily Arno
A short drive from the city center, you'll find a hopping strip of colorfully painted restaurants affectionately known by locals as the fish fry. And if you're craving seafood, this is the place to get it. At Twin Brothers, conch salad is prepared at the delight of onlookers, fresh cracked lobster and conch is served piping hot and plantains are fried to perfection. Oh, and don't get us started on the fresh fruit daiquiris—they are dangerously additive.
Atlantis Resort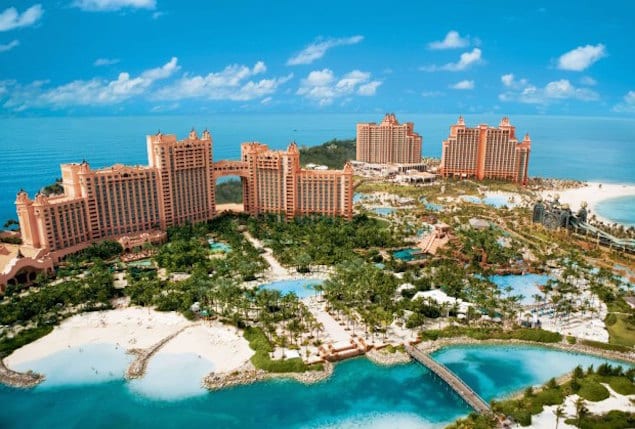 Atlantisbahamas.com
With its iconic coral pink towers and sprawling property boasting multiple beaches and pools, an army of restaurants and accommodations, and, of course, a water park, Atlantis is an endless playground. Whether or not you're staying on the property, the spectacle demands a visit and dinner at one of the following top-notch venues.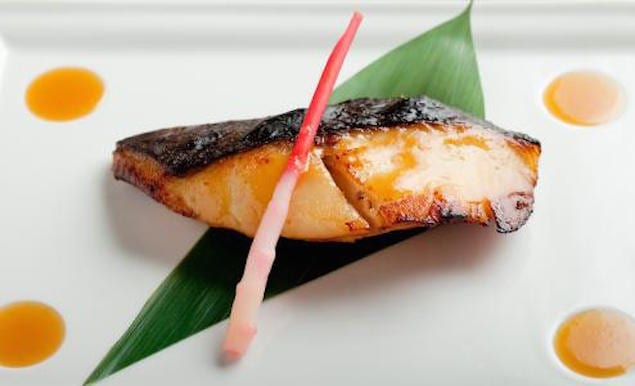 Noburestaurants.com
Everything about Nobu feels exclusive. The place pulses with energy fed from Atlantis' casino floor and neighboring dance club, and the expertly constructed sushi rolls served in practically sensual lighting only heighten the experience. It's our pick for the perfect date night and cocktail-sipping locale. Speaking of cocktails, the Emporio Martini starring Hokusetsu sake and lychee was a favorite libation of the trip.
A five-minute walk through the casino from Nobu, and you'll find yourself in Chef Todd English's expansive Olives. Open to the casino and open to the bustling kitchen, Olives is a happening place that serves breakfast, lunch and dinner. The dinner menu is varied, offering a raw bar, steak options, pastas and flatbreads—an intriguing meld of Caribbean costal cooking and Mediterranean influences. However, our top dish was surprisingly simple—a butternut squash tortelli with brown butter, sage and parmesan.
Café Martinique
If elegance is what you're after, make a reservation at Café Marinique in Marina Village. Modeled after the 1960s restaurant featured in the James Bond film Thunderball, this reincarnation helmed by Chef Jean-Georges is every bit as glamorous. Whatever you do, make sure to try the coffee dessert cocktail—its prepared table-side in a grand fashion involving flames, brandy, raw sugar and yes, coffee.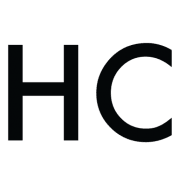 Relish
Offering more than 14,000 recipes plus features and DIYs on cooking, dining and entertaining, Relish celebrates America's love of food. Relish is about honoring cooking traditions while exploring new trends and ideas, which is why millions of people turn to both Relish.com and Relish Magazine for special occasion recipes, quick and easy weeknight suppers and culinary adventures.