In July 2016, Michelin shocked the culinary world when they awarded two coveted Michelin stars to Singapore hawker vendors.
This was the first time in Michelin history that Asian street stalls were awarded the coveted star.
Michelin stars typical honor fine dining and expensive restaurants. According to the guide, Michelin one-star awards are given to restaurants that offer "high-quality cooking, worth a stop. Two-stars are awarded for "excellent cooking, worth a detour". And three stars are reserved for "exceptional cuisine, worth a special journey."
Hawker centers are at the core of the Singapore food culture. As we mentioned in our article The Best 6 Hawker Centers to Eat Singapore, the food centers are where Singaporeans connect over everyday meals.
The paradoxical question is: "how did two popular food stalls known for their relatively cheap food (Singaporeans daily canteen) get awarded one of the most prestigious awards for restaurants worldwide?" On our quest for authentic food in Southeast Asia, we made it a point to find out what made these hawker stalls so special.
Join us on a journey to discover what it's like to eat the world's cheapest Michelin starred meal in Singapore.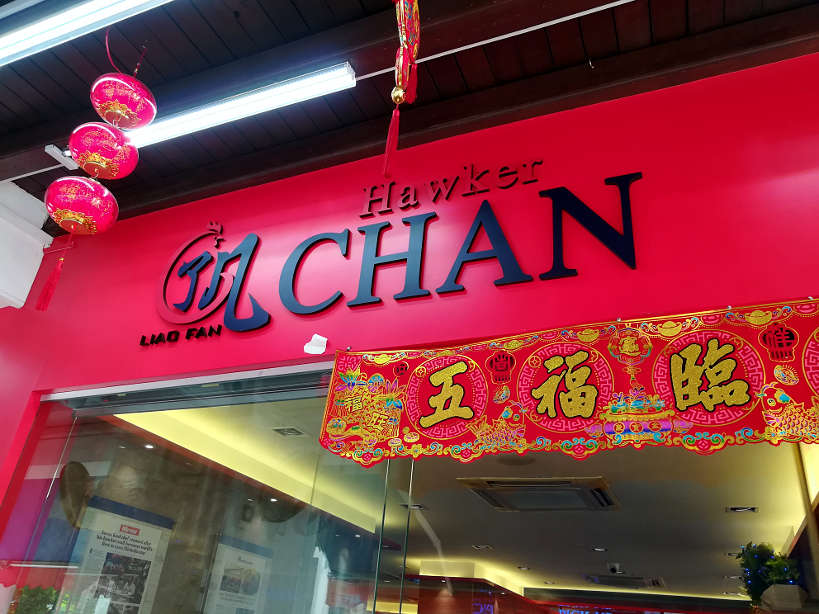 Newly opened Hawker Chan in Chinatown
The Two Michelin Starred Hawker Stalls in Singapore
There are 104 hawker centers and a total of 5800 food stalls to choose from in Singapore. But, who are the two very special hawker stalls that got the precious Michelin Star awards?
First, you have Tai Hwa Pork Noodles hawker stall. The specialty here is the Singaporean dish Bak Chor Mee or minced meat pork noodles. This hawker stall is still operating at the same location in Crawford Lanes amongst other food stalls at one of Singapore's many food courts.
The second Michelin Star restaurant is located in the Chinatown Food Complex. Since winning the Michelin Star, the chef and owner Chan Hon Meng opened a new restaurant in the core of Chinatown.
This restaurant, called Liao Fan Hawker Chan, was opened to meet the growing demand. The restaurant serves the same menu including the award winning Cantonese-style soya sauce chicken rice and a few new items.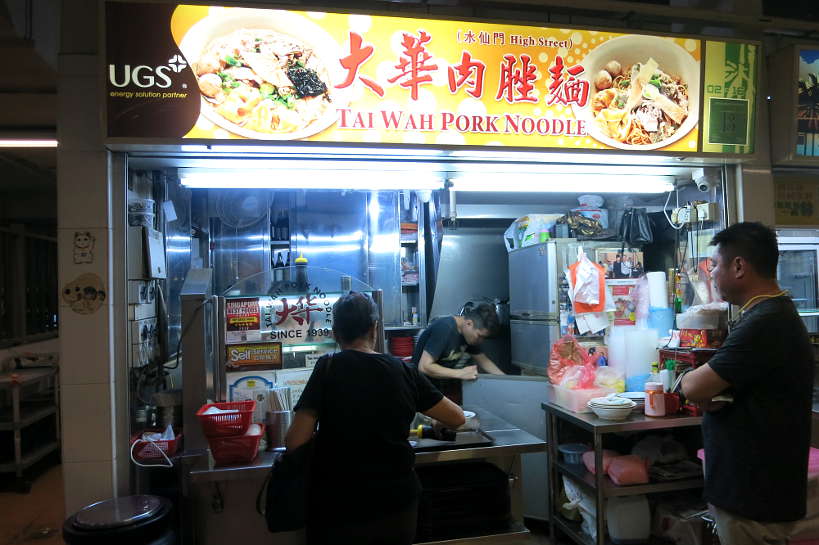 Tai Wah Noodle stall in Hong Lim Food Center
A few days prior, we went to the Hong Lim Food Center in Chinatown to try Bak Chor Mee at a food stall run by a family member of the Michelin Starred hawker stall.
The service was fast and the portions generous, but we were not fans of the flavors. With that experience, we decided to skip the Michelin Starred Tai Hwa Pork Noodle hawker stall which served the same food. Instead, we focused on Hawker Chan and the signature soya sauce chicken rice.
What to Expect from a Michelin Star Hawker Stall – Hawker Chan
The long awaited day came! We set off to Hawker Chan eager to taste our first Michelin Starred meal from a hawker center.
Prior to this, we had eaten at Michelin starred restaurants before in Chicago, Los Angeles and France. These were the typical formal Michelin experiences you might expect with luxurious decor, outstanding service and hefty checks.
The Place/Environment
We went to the new restaurant, a standalone casual dine-in not far from the original food stall at the Chinatown Food Complex. All the reviews we had read talked about long lines and wait times. We went fully prepared to wait for as long as it would take to taste the award winning Soya Sauce Chicken Rice dish.
When we got there, we were pleasantly surprised not to have to wait. We walked directly into the restaurant and straight up to the counter to order our meal. Staring back at us in the spotless restaurant was a huge lit menu with food and drink choices including the legendary Cantonese-style Soya Sauce Chicken Rice.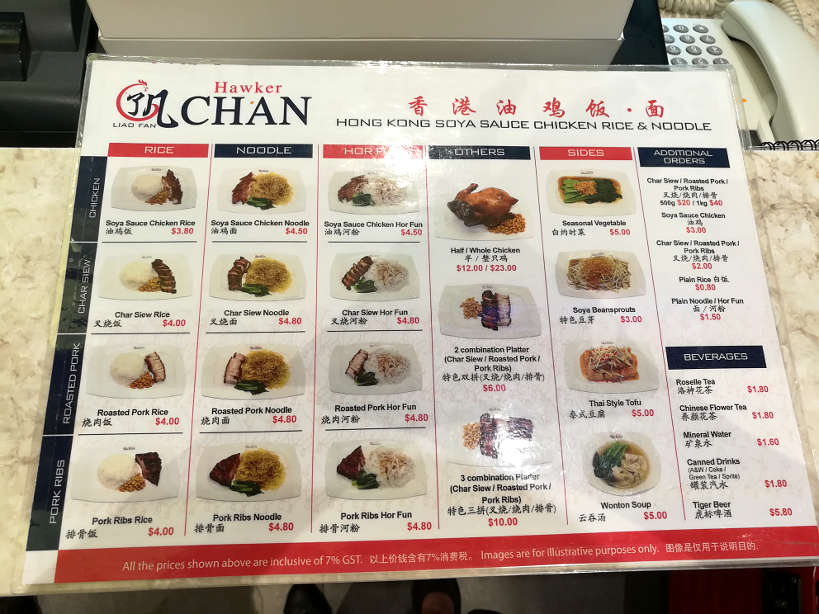 After placing our order, we took our seats on the ground level of the two story restaurant. Sitting in the welcomed air-conditioning we waited patiently for our meals. Adorning the walls were Michelin reviews of Hawker Chan published in different international press journals.
While casual and comfortable, the place felt devoid of the warmth typically found at a Singapore hawker center. However, in keeping with Michelin's standards, the restaurant was tasteful in its design and decor.
Given it is the first time a hawker stall has ever received a Michelin Star, there are no set expectations.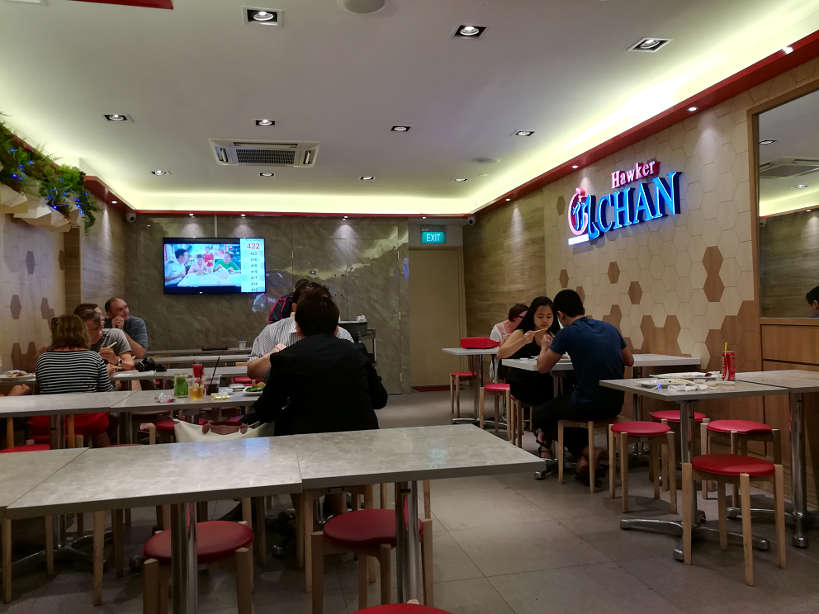 The Food
After waiting for only about 15 minutes, our order was ready and we picked it up at the counter. Eager and salivating, we could not wait to try this Michelin star chicken rice dish.
At this point, we had already eaten chicken rice before at several hawker centers. Needless to say our expectations were high. We were itching to taste what makes this particular chicken rice dish worthy of a Michelin Star.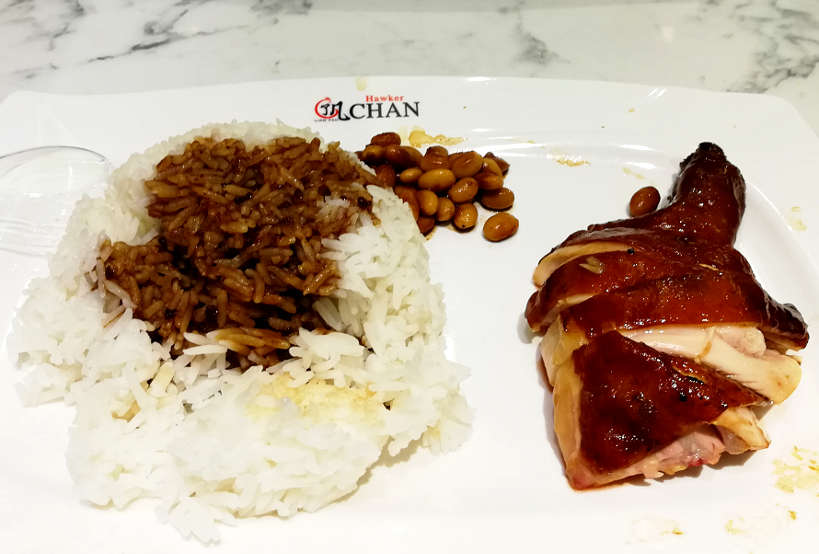 Legendary Cantonese-style soya sauce chicken rice at Hawker Chan
At first sight, this seemingly simple dish won us over. The chicken glistened and the steaming white rice topped with the famous soya sauce sat next to each other as the perfect pair.
To complete the union, a side of soya beans was served. A dipping sauce of freshly minced red chili and garlic was also provided.
The chicken, moist and juicy, fell apart as soon as we poked our forks into it. The succulent chicken and rice hit us with an explosion of tastes and textures.
The soya sauce, drenched over the rice, had sweet and salty flavors While the chicken skin was crispy, a nice contrast to the smooth texture of the meat.
The meal was excellent and very flavorful. The chicken was tender and perfectly cooked while the rice and sauce paired extremely well together.
This was a genuinely good meal, and an experience to be had. Upon reflection, we couldn't shake off the feeling that we expected a little bit more.
While the flavors worked in harmony, we were not able to answer the elusive question "what makes it Michelin star worthy over all the other delicious chicken rice vendors."
The Price
When the two hawkers got their Michelin stars, both chefs said they would not raise prices. In interviews following, both chefs said while they would maintain their prices but expected the queues at their stalls to get longer, from about 30 – 45 minutes to 2 -3 hours for a plate.
Prior to the Michelin star, Hawker Chan's chicken rice was priced at SG 2.00 (approx. $1.50 USD). At the restaurant we paid SG3.80 per meal for a total of SG7.60 (approx. $5.54) for two.
While not a huge increase for the comfort of spacious seating and air conditioning, an increase nevertheless, Regardless, it is a still a great deal because there is nowhere else in the world you can get a one star Michelin meal for under $5.00.
See Also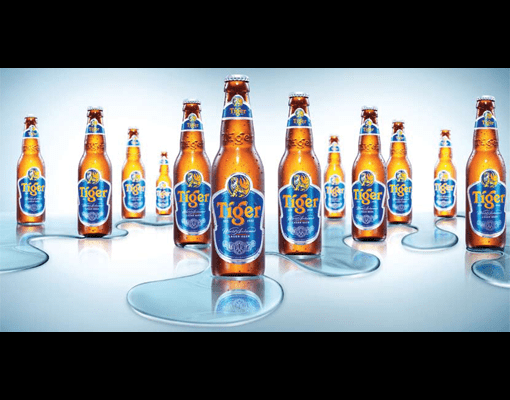 PRO TIP: If you want to skip the lines and avoid long waits, go during the off-hours. We went in the middle of the afternoon, at about 4pm and had no problem finding a table. This way you'll be able to enjoy your meal and the entire Michelin star experience without the wait or the crowds.

What Singaporeans Think of the Michelin Star Hawker Vendors
When Michelin released its guide awarding One Star to the two now famous Hawker Stalls, it created a mini storm in the Singapore food local scene!
Beyond the surprise, it seemed like Singaporeans had mixed feelings about this recognition. We spoke with many local Singaporeans, from teachers to business owners and even Uber drivers and everyone had an opinion.
Overall, Singaporeans are very proud of the success of their hawker stalls and the international recognition. Waiting in line for up to 45 minutes and beyond for a plate of food is something is something locals already do with pleasure and anticipation
As our Singaporean friend Sheena from Etsy Explore told us: "Singaporeans take their food seriously. They will wait to make sure they get the best food."
However, some locals Singaporeans thought the stalls were overrated. For them, the Michelin awarded vendors are not the best hawker vendors in all of Singapore. They all easily rattled names of other hawker stalls they thought had better versions of the same dish.
In the end, the Michelin awards did not change their opinion of their favorite hawker centers and vendors. The will continue to seek out the best food and wait in line as long as necessary to get their favorite dishes.
What Does The Michelin Recognition Mean for Singapore Hawker Stalls
After being awarded a Michelin star in July 2016, Hawker Chan opened his new restaurant a few months later in November.
Tai Hwa Pork Noodles stayed at their current location in Crawford Lane. Both vendors continue to serve their loyal customers and they now see an influx of tourist and newly acquired fans.
Today, Hawker Chan has five branches: three in Singapore, one in Taiwan and another in Thailand. The Philippines and Indonesia are due to open new Hawker Chan eateries in the next two months. What a transformation!
Beyond this success, how does that influence the other 5798 hawker stalls and the future ones?
From street hawking since the 1800's to today's hawkers, hawker stalls continue to be an important part of Singaporean history and tradition.
The future of hawker vendors and stalls is evolving. On one hand, young Singaporeans are looking for better-paying opportunities and working conditions. On the other hand, many hawkers owners are about to retire.
To fill this gap, there is there is a new generation of Singaporean hawkers called "hawkerpreneurs" that is emerging. These young hawker vendors are leaving careers and choosing to become hawkers vendors. Many are following their passion and are committed to preserving the local food culture.
For them, the Michelin award is really a message of hope that they can make it big! Hawker centers in Singapore are at the core of the culinary culture and the Singaporean cuisine. The Michelin star award and the international recognition is a tribute to a rich culinary culture. Whether you've eaten at Michelin restaurant or not, a trip to Hawker Chan in Singapore is worth the experience. Leave all your expectations behind about Michelin restaurants and ease into the hawker stall version.
However, do keep in mind that Singapore has a diversity of unique flavors and dishes. Don't forget all the other hawker centers that are just as famous with many more local and authentic dishes.
Tai Hwa Pork Noodles
Address: 466 Crawford Ln, #01-12, Singapore.
Hours: Tuesday to Sunday from 9:30am to 9pm
Prices: $SGD 6, $8 or $10 for small, medium, large bowls (Approx. $4.37/5.83/7.29 USD).
Hawker Chan
Address: 78 Smith St, Singapore.
Hours: Monday to Sunday from 10am to 8pm except on Wednesdays.
Prices: $SGD 3.80 (Approx. $2.77 USD).
Authentic Food Quest
Rosemary Kimani and Claire Rouger are co-founders of Authentic Food Quest. They traded in their corporate jobs in 2015 to eat their way around the world. Starting out in South America, they traveled to Argentina, Uruguay, Chile and Peru and spent 6 months discovering the authentic foods in the region. Their mission is to inspire people to travel through authentic food. They have just published their first book on Amazon: Authentic Food Quest Argentina: A Guide to Eat Your Way Authentically Through Argentina. Join them on their quest as they eat their way through the Philippines, Vietnam, Thailand, Cambodia and Malaysia in Southeast Asia.