Well-known blogger Lesley Tèllez's new cookbook, Eat Mexico, is a love letter to authentic Mexican street food. It gives readers a glimpse of food that isn't stylized, but raw and bursting with local flavor. "Eat Mexico" is your roadmap to fresh, authentic Mexican street food that you can make in your own kitchen.
By Andrew Asistin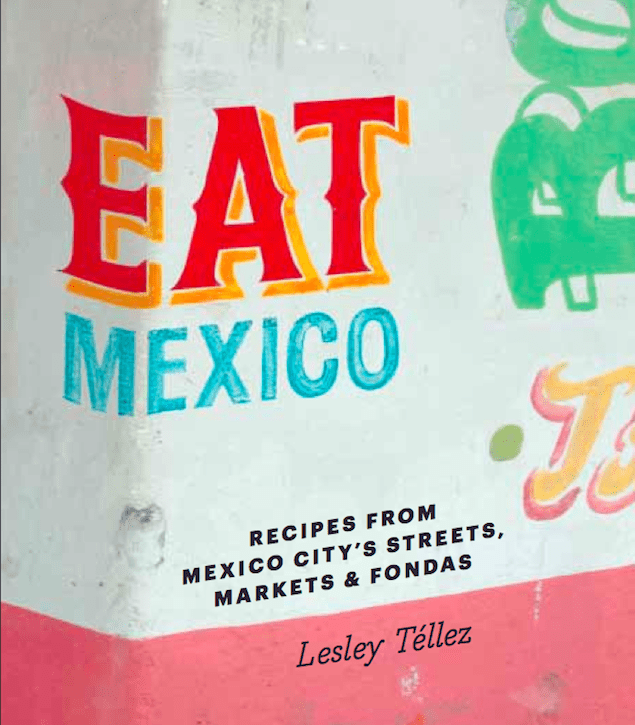 "Eat Mexico: Recipes from Mexico City's Streets, Markets, & Fondas" by Lesley Tèllez, Kyle Books, 2015
Most Americans think they know Mexican food. They think they know what "authentic" Mexican food tastes like, smells like and looks like. It doesn't take a rocket scientist to figure out that they are way off the mark. Luckily, Lesley Tèllez is here to showcase real, authentic Mexican food with her new book, "Eat Mexico: Recipes from Mexico City's Streets, Markets, & Fondas." It's a window into a world rarely seen or experienced by foreigners; the diverse world of Mexican street food. The book recalls what Lesley ate and experienced in the four years she lived in Mexico City. She shares authentic dishes that totally surpass any perception that most Americans have of Mexican food. Suffice to say, she's the best ambassador to Mexican cuisine since Chef Rick Bayless. We had an opportunity to speak with Lesley and pick her brain about the book and other things.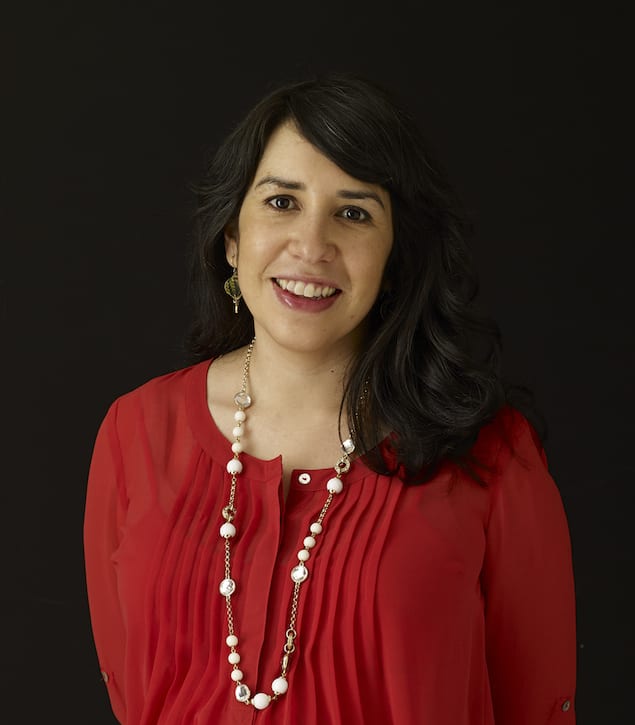 Author Lesley Tèllez.
Honest Cooking: Eat Mexico is a wonderful roadmap for authentic Mexican street food. What's one dish you would suggest to someone who's never tried Mexican food before?
Lesley Tèllez: "The mushroom quesadillas are something that you wouldn't think of as street food, but they're super popular and easy to make at home. The key is using fresh epazote, a bitter herb you can find at Mexican markets and bodegas in New York. And you don't even have to use cheese. On the streets of Mexico City, quesadillas are served without cheese unless you specifically ask for it. Of course, you need a fresh salsa to drizzle on top."
HC: From the way you described the street food scene in Mexico City, it seems very diverse and exciting. How does the same scene in New York City compare? Is there one area you can say comes close?
LT: "The street food scene in New York is completely different. Almost everything in Manhattan is sold from food trucks, which are licensed by the city. All of the street food in Mexico City — with the exception of the newer, sleek food trucks that have popped up over the past few years — are unlicensed and technically illegal. They're abundant in office districts and near subway stations, lining up one stand after the other, after the other. You don't see that same density in New York. One area that does feel sort of similar is the area near 82nd Street and the 7 train in my neighborhood in Elmhurst, Queens. Vendors there sell grilled chicken skewers out of grocery carts, tamales, wafers lined with cajeta, and homemade popsicles, all from small tables set up on the sidewalk. Fifth Avenue in Sunset Park on a weekend also feels sort of similar. It's great for wandering around and nibbling."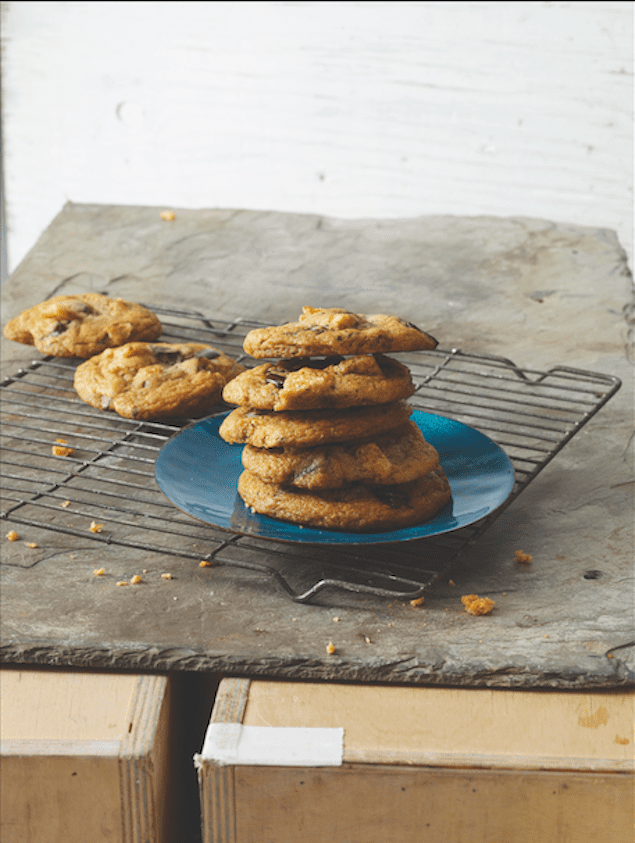 Dark Chocolate Chicharrón Cookies
HC: Out of all the delicious recipes in the book, which one is your favorite? Which one do you always go back to?
LT: "I love so many of them. The tlacoyos I have a spiritual connection to, because I learned how to make them from my favorite tlacoyo street vendor, Sra. Rosa Peña Sotres. She's truly an artist. I also love the dark chocolate chicharrón cookies. I made them for my dad and he still talks about them."
HC: Were there any favorite gems from your travels that didn't make it into the book? Perhaps they were too "out there"?
LT: "The recipes that didn't make it weren't cut because they were too strange. They were cut for space purposes. I don't want anyone to think of these foods as "strange"; they're what millions of people have eaten for generations, in a country very close to us. For my part, I wanted to write extremely clear recipes, so that any home cook who invested the time could have a successful result. My mole poblano recipe didn't make it because it clocked in at over 1,000 words. But you need that much space for a mole!"
HC: Do you have a favorite salsa type for summer?
LT: "In Mexico City summers are actually cool and rainy, and it's the best time to get fresh produce. I love making any salsas that call for charring items on the comal. For summertime heat, the raw green salsa — Salsa Verde Cruda — is fresh and easy. If you don't add salt you could even use it as a sort of relish for a burger or something like that. Habanero salsas are also fabulous in the summer, because the sweat cools you down. I have a recipe in the book for a roasted tomatillo-habanero salsa, and one for pickled onions with habaneros. I also love chile piquín salsa in Mexico, when I can find them — chile piquín is a tiny, fresh chile that's green or red, and extremely hot. You char them lightly on the comal and mix them with lime juice and maybe a charred tomatillo and garlic clove, and then grind everything in the molcajete. Fabulous stuff."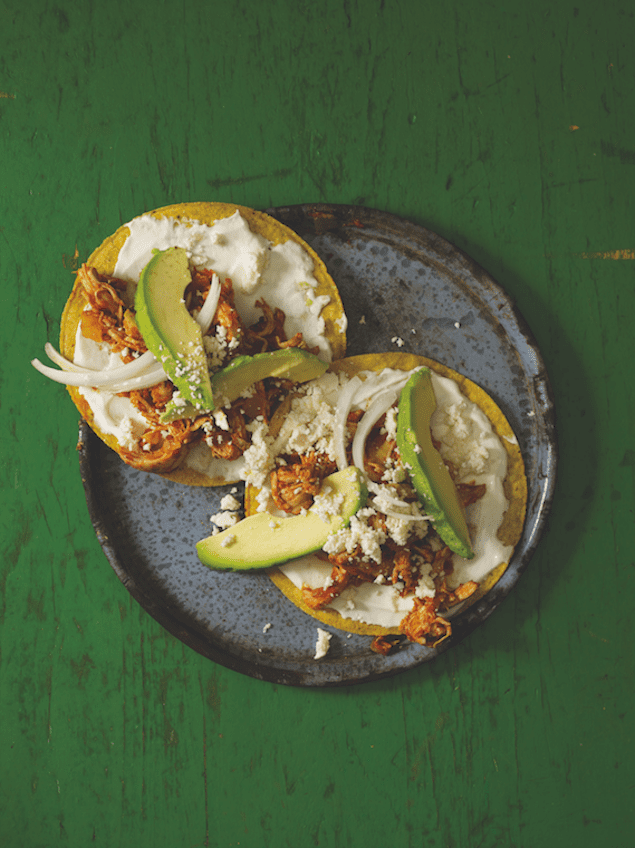 Chicken Tinga
HC: There always seems to be a new diet or eating craze in the US. How do you think people can balance that with street food that is generally considered to be "unhealthy?"
LT: "Not all street food in Mexico is unhealthy. In Baja California, plenty of street stands use fresh seafood to prepare amazing cocktails, tacos, tostadas and more. In Central Mexico, you can get delicious, healthy chicken soup on the street or in markets. Lots of stands sell quesadillas made with native Mexican greens called quelites. Corn tortillas are also healthy, and completely vegan and gluten-free — they're just corn and water. It burns me when I read "healthy food" media outlets calling for Latinos to cut out corn tortillas from their diet. If you want to eat the heavier stuff — tamales, fried meats, etc. — just balance it with lighter food the rest of the day, and make sure you stay active. When I lived in Mexico City I used the bike share program and rode my bike almost everywhere."
HC: What advice would you give to someone who wanted to visit Mexico and sample all the wonderful cuisine like you did?
LT: "If you want to explore the street food scene in Mexico City — or market foods, or the fondas — go at the lunch hour, which starts at 2 p.m. Pick the places that look crowded. Any fonda that has someone making tortillas in front from scratch is a good sign. And listen to your body and your instincts. If you're not used to eating astringent, intense flavors, don't pile your taco with two salsas and eat it on an empty stomach. If something smells off, or a place is not clean, don't go there. That goes for any establishment in Mexico City."
A So-Cal born turned Queens native, Lesley Tèllez is the author of "Eat Mexico: Recipes from Mexico City's Streets, Markets, & Fondas" and the mind behind The Mija Chronicles, her food/travel blog. Her love for authentic Mexican street food really shines through. Eat Mexico is her ode to the food she loves and enjoyed the four years she lived in Mexico City. You can purchase a copy of the book here.
Readers will feel her infectious passion in each recipe, inspiring them to recreate the flavors and aromas of Mexico right in their own kitchens. Many thanks to Lesley for taking the time to speak with us!
All photos copyright of Penny de los Santos.
Here's a recipe from the book that caught our eye. Enchiladas done in the same style of their street-born cousins in Mexico City.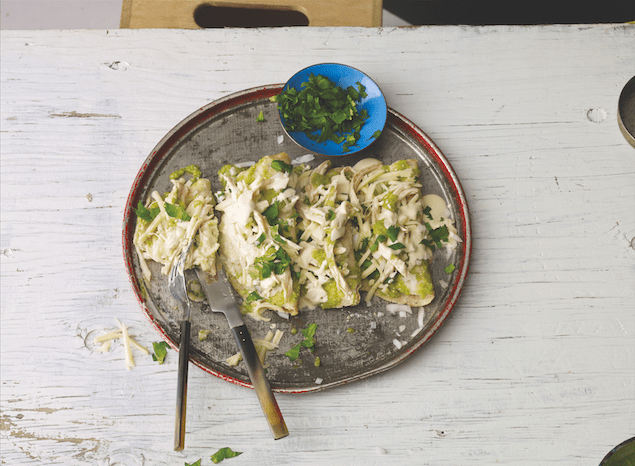 Enchiladas Verdes
Print
Enchiladas Verdes
Typical Mexican enchiladas arrive rolled up and stuffed, but at my favorite enchilada street stand—the inspiration for this recipe—they're stacked in a messy, luxurious pile, with separate individual layers ofcorn tortillas, fresh cilantro and onion, green enchilada sauce, shredded cheese and chicken. The whole thing is topped with a blanket of crema and more cheese. It's almost like a deconstructed lasagna. The dish is enough to make you fall deeply in love with Mexico City—particularly when the corn tortillas are homemade, and the green sauce is prepared with a slow-simmering pot of fresh chicken stock.
Author:

Lesley Tèllez

Yield:

6

servings

1

x
Category:

Mexican Street Food

Cuisine:

Mexican
3

pounds skinless chicken legs, thighs, and breasts, fat trimmed

1

pound chicken backs, fat trimmed

3

medium cloves garlic, unpeeled

1

dried Mexican bay leaf

5

peppercorns

1

medium onion, quartered

1 3/4 teaspoons

salt

1/4 teaspoon

freshly ground black pepper

2

pounds tomatillos, husked and rinsed

2

large serrano chiles

1 tablespoon

plus 2 teaspoons lard or canola oil

24

corn tortillas

1/2 cup

chopped fresh cilantro

2 cups

Homemade Crema (page 139)

1 cup

mild, shredded cheese, such as Monterrey Jack or Colby
Instructions
At least 2 hours before you'd like to eat, place the chicken, 1 garlic clove, the bayleaf, peppercorns and a quarter of the onion in a large stockpot. Cover with cold water and bring to a boil.
Lower the heat to very low, cover and simmer for 25 minutes.
Remove the chicken legs, thighs and breasts with tongs or a slotted spoon and let cool.
Discard the chicken backs and strain the stock; set aside.
Once cool enough to handle, shred the meat and season with 3/4 teaspoon salt and the black pepper. Set aside.
Place the tomatillos in a large saucepan. Add the remaining 2 cloves garlic, peeled, and 2 quarters of the onion.
Cover with cold water. Bring to a boil, then simmer on medium heat until the tomatillos turn pea green and soften, about 12 minutes.
Transfer to a bowl and let cool. (Vegetarians can reserve the cooking water, turn up the flame, and reduce for 15 to 20 minutes, to use in lieu of chicken stock, if they choose.)
Stem the chiles and chop roughly with the cooked garlic.
Add to a blender jar with half of the tomatillo mixture, and 1/2 cup of the strained chicken stock. (If you have a high-powered blender, toss all the ingredients in at once.) Blend until smooth.
Add the remaining tomatillo-onion mixture and 1 teaspoon salt, and blend again until smooth.
Warm 1 tablespoon lard in a large skillet over medium heat.
When hot, add the sauce in one quick pour, being careful as it might splatter. Cook until the flavors meld, about 5 minutes.
Heat 2 teaspoons lard in a small skillet over medium heat and swirl to coat the bottom.
Fry the tortillas lightly, one at a time, until slightly tougher but still pliable, about 30 seconds per side. (They shouldn't be crisp.)
As you work, remove the friedtortillas to serving plates—I like to serve 4 tortillas per person. Fold the tortillas in a half-moon shape and make sure they sit in an even layer on each plate.
Dice the remaining quarter of onion. Ladle 3/4 cup sauce over over each serving of tortillas, spreading slightly so the tortillas are entirely smothered in sauce.
Add a layer of diced onion and cilantro, a layer of shredded cheese, a layer of chicken, some crema and another layer of sauce.
Top with another light sprinkling of diced onion.
Notes
COOKING TIP: I recommend making your own light stock here, using the water in which you've cooked the chicken; see recipeon page 98. If you can find a hen, which Mexican cooks consider to be the most flavorful stock base, use that. If you're vegetarian, thisdish can still be pretty wonderful, especially if you use homemade vegetable stock.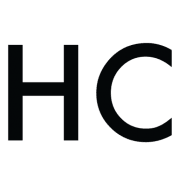 Andrew Asistin
Combining a love of writing and food, Andrew's culinary journey has walked many paths. From university, to the Culinary Institute of America, to the restaurants of NYC. Now finally settled in as an editorial intern at Alimentari, the next step of his journey can begin.