Watermelon and feta might seem like a strange couple, but you know what they say…opposites attract! The light, sweet, juicy melon makes a strangely delicious contrast to the rich, salty, pungent feta. Olives, basil, and a little balsamic complete the combination.
By Tami Ganeles Weiser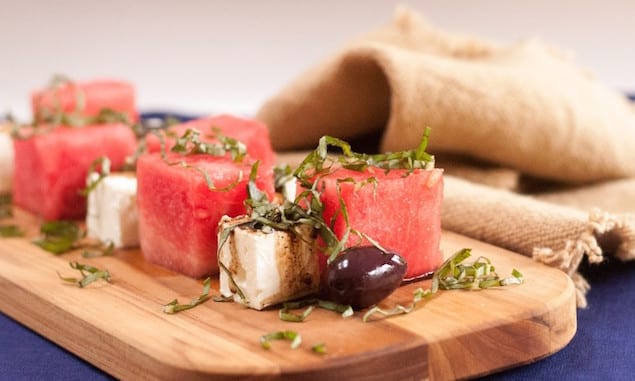 Easy Watermelon, Feta, and Basil Salad
Light, sweet, juicy melon makes a strangely delicious contrast to the rich, salty, pungent feta and herbal basil.
Author:
Tami Ganeles Weiser
Ingredients
2 cups watermelon cubes (1½-inch cubes from about ¼ medium to large seedless melon)
5½ ounces feta cheese, cut into 1-inch cubes (about ½ cup)
½ cup pitted Kalamata olives
2 tablespoons chiffonade of basil leaves
2 teaspoons balsamic vinegar
Instructions
Arrange the watermelon, feta, and olives decoratively in a serving dish. Sprinkle with the basil leaves, and drizzle the balsamic evenly over the top. Serve immediately.
Notes
Kalamata (also spelled Calamata) olives are purplish-brownish olives from Greece that are salty and pungent.
A chiffonade is a culinary knife cut in which herbs or leafy green vegetables are chopped into long, thin strips. This is accomplished by neatly stacking the leaves, rolling them lengthwise (like a cigar), and slicing them perpendicular to the roll using a sharp knife. The cut edges darken quickly, so use the chiffonade as soon as possible.