PARTNER POST: Get ready to feed a holiday crowd with appetizer recipes paired perfectly with food-friendly Cavit wines.
Not too heavy, but still super flavorful, these tomato bruschetta bites are a great appetizer, full of flavor thanks to fresh pesto and paired easily with a glass of wine.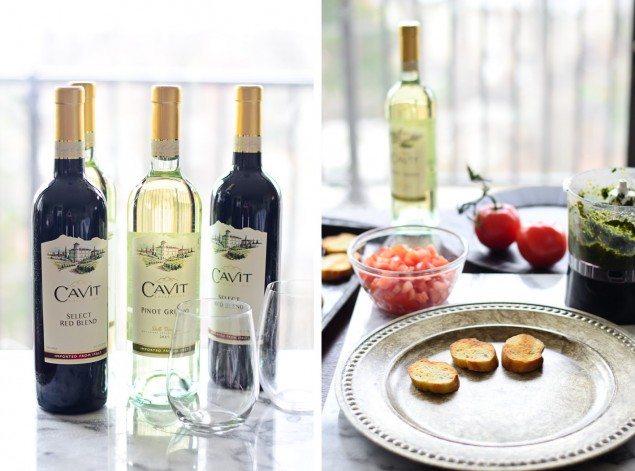 Temperatures have dropped, there are twinkle lights on all the trees outside, everyone has a wreath on their door, peppermint-flavored things have started showing up on menus, and my Instagram feed has exploded with pictures of Christmas trees/gingerbread everything/sparkly ornaments/babies crying in Santa's lap.
Normally, all these things give me mild to moderate anxiety – mostly because it means that holiday season is upon us and I've waited until the last minute to get everything done and there is just SO MUCH TO DO (e.g., holiday cooking/blogging, travel arranging, Christmas gift shopping).
But this year? I am as calm as a cucumber, cool as ice, totally un-flapped, 100% stress-free: Christmas gifts have all been purchased, we're not traveling far for the holidays, I've decided that the world isn't going to end if I don't post a billion holiday-themed recipes, and the only thing I've been tasked with making for my parents' annual Christmas parties is thumbprint cookies. This feeling? It's great.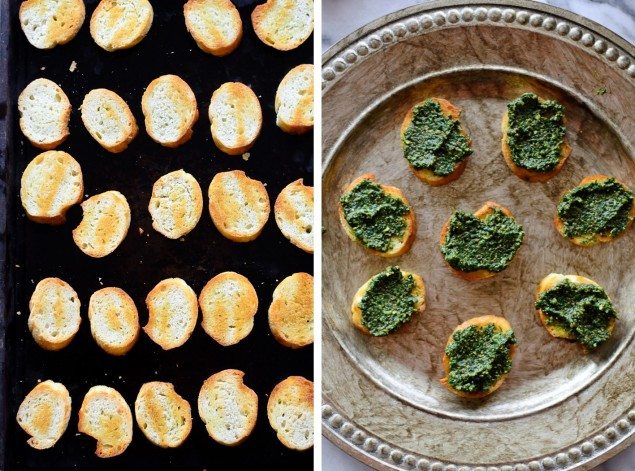 If you're not feeling quite as zen and responsibility-free as me about the holidays, and you've still got things to do (like party menu planning, for example), can I help?
Not only do I have many easy holiday recipes in my blog archives, but I've also teamed up with Cavit today to bring you a simple, low-fuss and delicious appetizer that is sure to be a hit at all your parties this season (and next season…and the one after that…): tomato & pesto bruschetta bites. These bite-sized morsels can be made in less than 30 minutes with the most basic of ingredients, and are a treat for both the eyes (look at those festive colors!) and the tongue.
And, they go great with another holiday party staple: wine.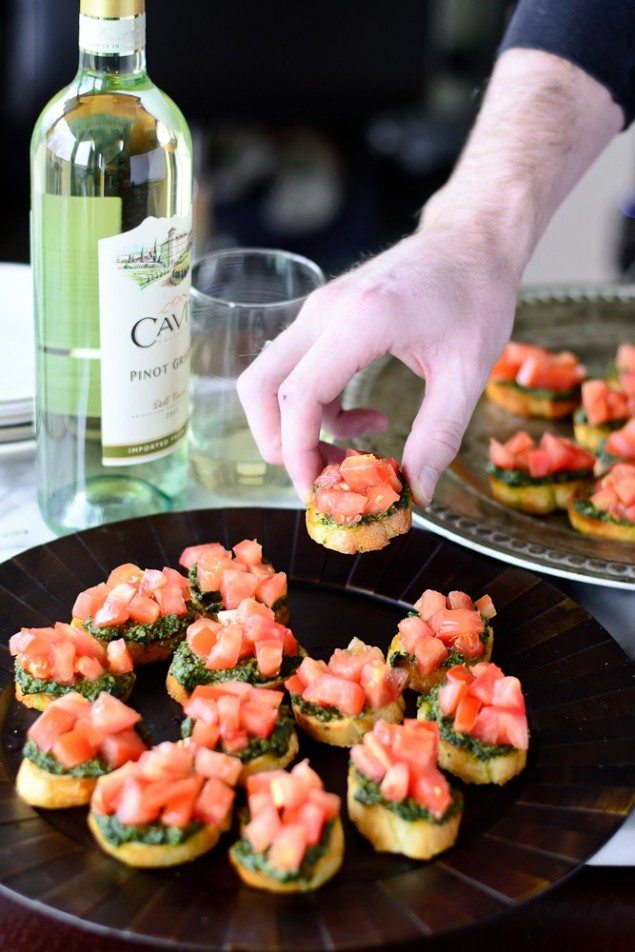 If you follow me on Instagram you'll know that Dan and I went to Italy with my parents for a whirlwind week-long vacation in September (Rome -> Florence -> Vernazza -> Venice).
Of the four places we visited, Vernazza was by far my favorite. Even though it's very popular with day-tripping tourists, the little town felt the most relaxed and home-y to me. It's the kind of place you want to go when you want to take a deep breath, unplug from everything, rip up your day planner, and see where the day takes you.
The Cinque Terre region, where Vernazza is located, is known for its gorgeous views of the Mediterranean, amazing hiking trails and national parks, fresh seafood, fruity white wine, focaccia, anchovies, and pesto, most of which can be (and we definitely did) enjoyed at the same time.
Everything we ate in Vernazza was delicious, but I quickly became OBSESSED with the pesto. I ate it for almost every meal while we were there, usually in the form of bruschetta: slathered on thick slices of Italian bread dripping with olive oil and topped with chopped tomatoes, sometimes with mozzarella or anchovies as well. The combination of crunchy/chewy bread, salty/garlicky pesto, and juicy, ripe tomatoes (washed down with many glasses of chilled white wine) was so delightfully addictive and I couldn't get enough of it.
See Also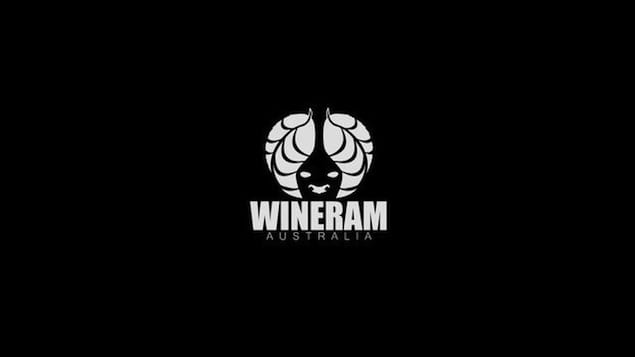 In fact, since we got back from our trip a few months ago, I've made pesto and recreated this bruschetta at least give times. I think Dan is maybe starting to get tired of it, but I'm still going strong. It is truly amazing stuff, you guys. So so simple, yet unbelievably delicious.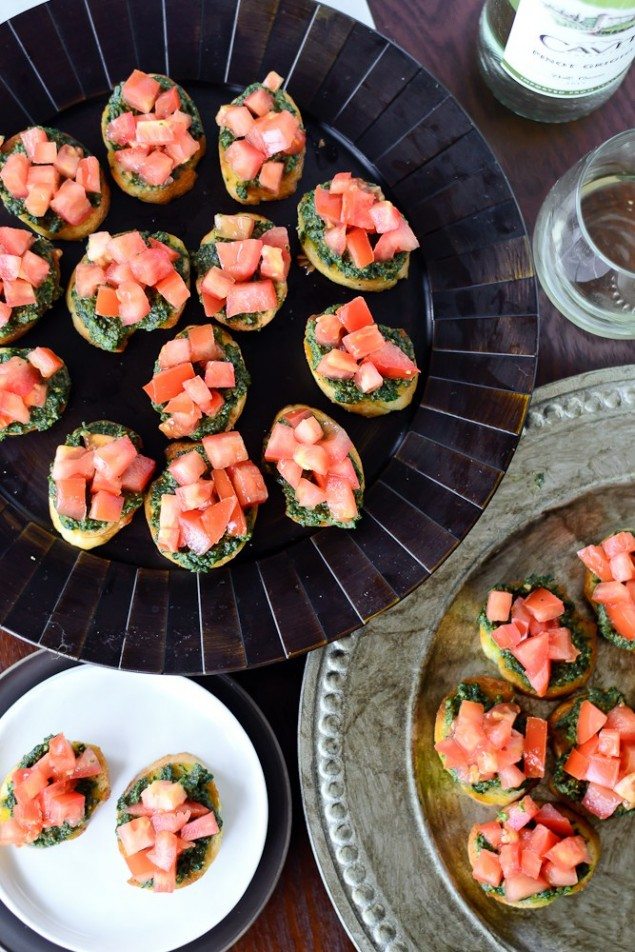 These are a great pre-dinner snack/appetizer: the flavors are a hit with just about everyone, the pieces are nice and portable so people could grab and eat them between meal prep and cooking duties, and each bite is just the right size to whet appetites but not spoil them.
For another easy holiday appetizer, try these lamb bites. Recipe here.
Print

---
Pesto
6 oz

basil leaves

¾ cup

extra virgin olive oil

2

–

1/4

oz pine nuts

1 tbsp

minced garlic
? cup grated parmesan
Salt
Pepper
Bruschetta Bites
1

loaf French bread (sliced into rounds about ?-inch thick.)

3

large tomatoes (diced)
Olive oil
---
Instructions
Preheat oven to 375.
Spread your pine nuts out evenly on a baking sheet. Place in oven and allow pine nuts to toast for 5-7 minutes (until evenly golden brown).
Remove pine nuts from the oven and scoop them into your food processor. Leave your oven on.
Also add basil, olive oil, garlic, and parmesan to the food processor.
Blend on high until mixture is very smooth.
Season with salt/pepper to taste.
Spoon pesto into an airtight container (lidded jar or Tupperware), and refrigerate until ready to serve.
To make/assemble your bruschetta bites:
Arrange your bread slices in an even layer on a large baking sheet.
Drizzle bread with olive oil on both sides (drizzle one side, then flip and drizzle the other).
Place baking sheet in your preheated oven, and allow bread to toast for 8-10 minutes. (We like our bread on the crunchier side, so I usually leave it in the oven on the long side.)
Remove bread from oven and arrange the slices on a serving platter to cool.
Smear a spoonful of your homemade pesto on each piece of toasted bread.
Top each piece of pesto/bread with a large spoonful of chopped tomatoes.
Serve immediately (or as soon as possible, so the bread doesn't get soggy).
Enjoy!
Notes
!To save yourself aggravation, you can make this recipe in stages. I like to make the pesto and chop my tomatoes ahead of time, but I wait to toast the bread and assemble everything until right before I'm ready to serve the bites.
!I didn't put a specific measurement for the olive oil drizzled on the bread, b/c I'm leaving that up to you. When we were in Italy, the bread was basically soaked in olive oil, but at home I like to be a LITTLE more moderate…
Tina Putzing
I am an attorney, a lover of reality television (esp if food is involved), a stress-eater, a voracious reader, and a shameless sci-fi/fantasy nerd. I love to eat, I love to cook, and I love to make other people eat what I cook.