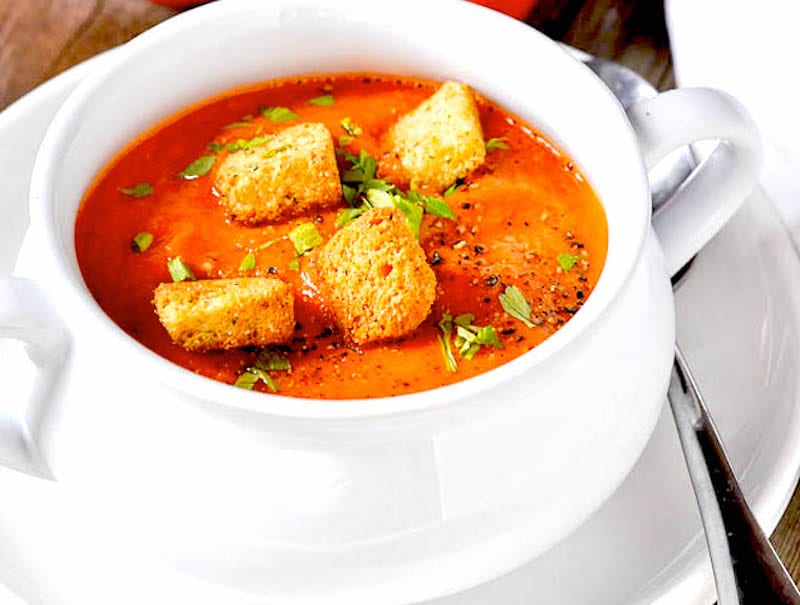 Easy Roasted Tomato Soup is about as simple, and delicious, as you can get. It's light, flavorful and quick to make so you can spend less time fussing, and more time enjoying your meal!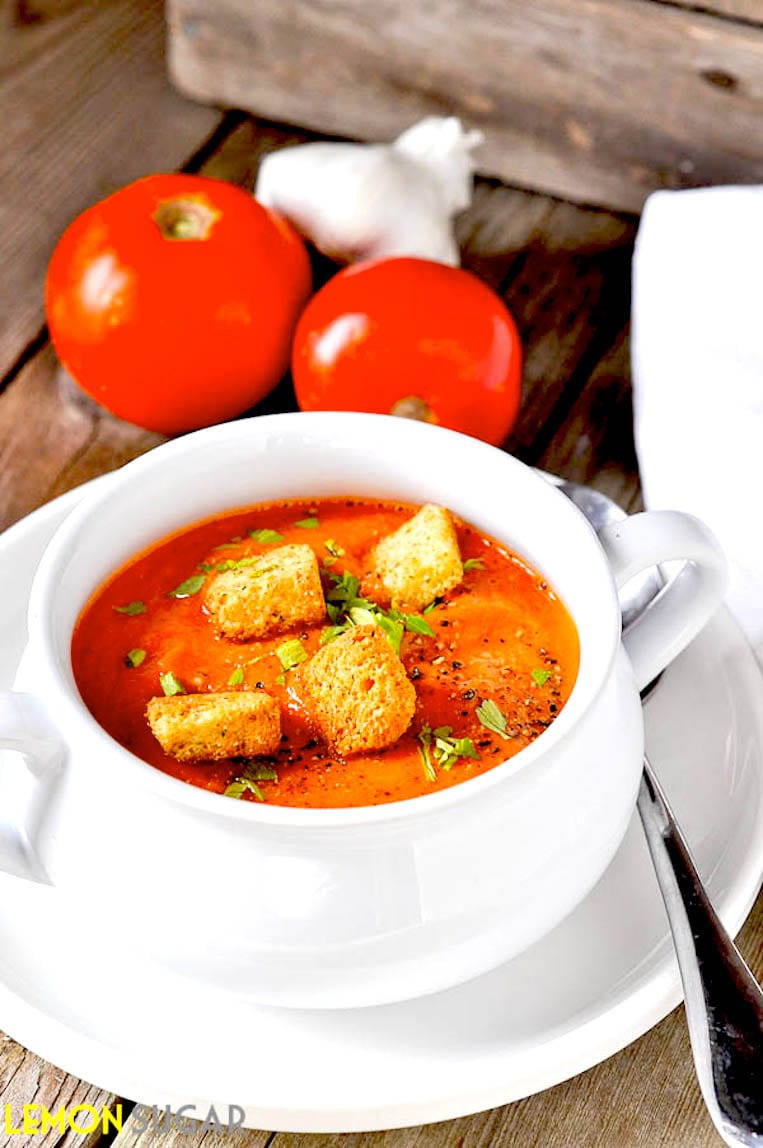 One of the best things about late summer is that while most of our vegetable garden has come and gone, our tomatoes are still going strong. And while I have pretty much exhausted my cravings for tomato and cheese sandwiches, I'm definitely not ready to say goodbye to my favorite garden fruit. Er, veggie. Whatever.
Today, I picked up a beautiful loaf of jalapeno cheese bread at one of my favorite bakeries, and it was just begging to be turned into a grilled cheese panini. And what goes better with grilled cheese than tomato soup?
I've made this recipe many times, but it's always a little bit different. I alter it a little bit every time I make it. Today, I wanted a nice light and fresh-tasting soup, so I kept it very, very simple, omitting butter and cream and keeping my spices limited to a touch of sugar, a dash or two of salt, and heavy on the course ground black pepper.
After roasting the tomatoes and garlic in the oven for about 30 minutes, you toss them all in the blender and you're done. How easy is that?
It might seem a bit strange to some of you that I added sugar to the soup, but sugar has a way of bringing out the flavor in tomatoes, so don't knock it until you've tried it. It just takes a little bit – less than a teaspoon for this recipe will really round out the flavors. I can remember eating sliced tomatoes with a sprinkle of sugar on them and thinking it was the best thing ever – there's just something about it.
For a little bit of spice, try some red pepper flakes, and don't be afraid to experiment with fresh basil, oregano and a bit of cream and butter.
Hope you love this quick and easy recipe! It's a late-summer staple around here, and if you're a tomato lover like I am, you're sure to love this.
Enjoy!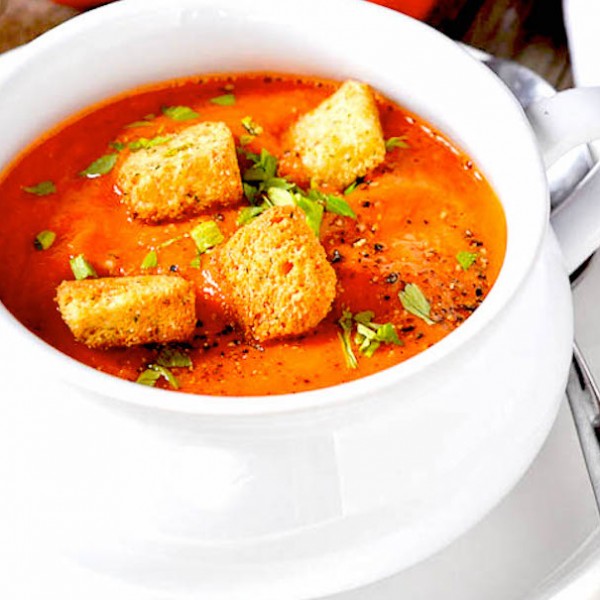 Erin Mahoney
Ingredients
5-6

large

very ripe tomatoes

4-5

garlic cloves

1

teaspoon

fresh ground pepper

2

Tablespoons

olive oil

salt

to taste

sugar

to taste

½

cup

warm chicken stock or water

optional
Instructions
Preheat oven to 350 degrees (F).

Drizzle a large sheet pan with olive oil.

Slice tomatoes and place in an even layer over olive oil.

Peel and crush garlic, and add to pan with tomatoes.

Roast in oven for 30-45 minutes or until tomatoes begin to "wilt" and turn slightly brown.

Allow to cool for 10 minutes.

Place roasted tomatoes and garlic into a blender with pepper.

Blend until desired consistency is met, add warm chicken stock or water if desired (for consistency).

Taste, and season with salt and sugar if desired.

Serve warm, and enjoy!
Erin Mahoney
Erin Mahoney is a food blogger from the Kansas City area. With a day job in the TV business and two little girls at home, this busy Mom spends her very limited free-time experimenting in the kitchen. While her culinary efforts tend to fall on sweet treats and comfort foods, her focus is on real, from-scratch food for her family and friends. Her blog, Lemon Sugar, is full of whimsical recipes and anecdotal stories that will warm your heart and make you hungry.