Fluffy, light pancakes are easy to make without grains when you use tigernut flour, almond meal and beaten egg whites. Top them with nut or seed butters and berries for a special treat.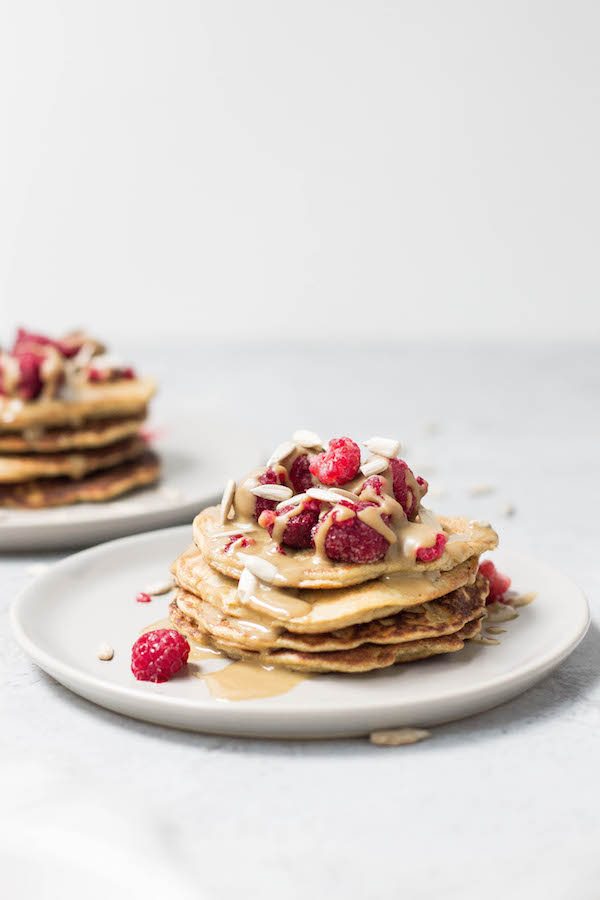 Tigernut Flour is a prebiotic starch. Prebiotic fiber, in comparison to probiotics, actually feeds the bacteria in your microbiome which is very important to keep the good bacteria fed and happy. It's super light, tastes great – slightly nutty, though not a nut at all, it's actually a tuber and is tolerated very well by many. I love baking with this flour.
This recipe can also be made to include protein powder. See my recommendation below.
Beating your egg whites makes for a FLUFFY and LIGHT pancake. I always do this and am never disappointed. When you flip your pancakes, you should see them bounce up – good sign that you've got some air in those babies! This means they'll be light on the stomach and not too dense.
THE SYRUP, well the lack of syrup that is. I haven't used maple syrup on pancakes since I started mixing coconut oil with nut or seed butters. It has it's own "sweetness" and means I won't be crashing later.
Fresh or Frozen Berries are low in fructose and pack a ton of antioxidants, plus they look and taste amazing on a short stack. This is all the sweetness your pretty pancakes will need. Pick frozen when not in season.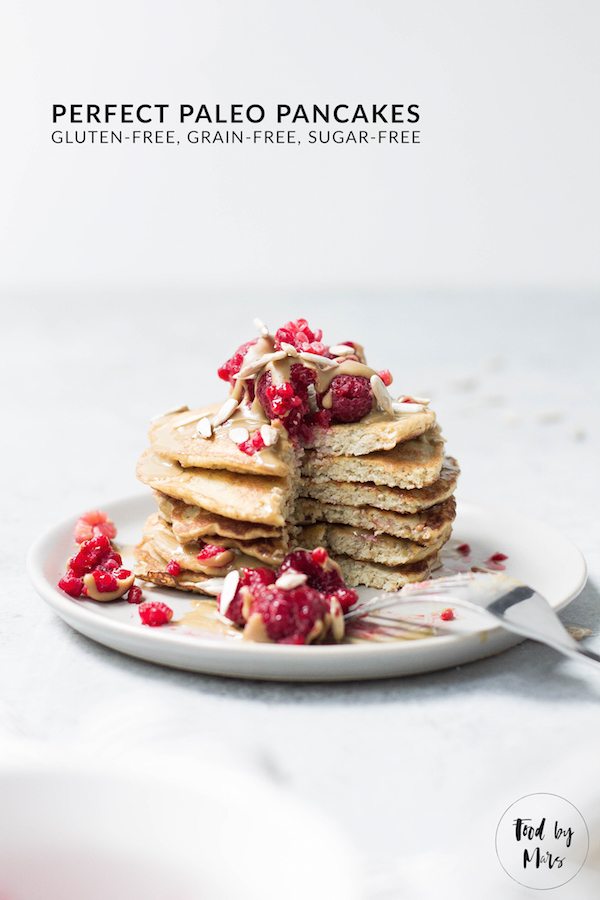 Speaking of antioxidants, Sunflower Seeds contain lots of vitamins and minerals, like: Vitamin E, Copper, B Vitamins, Selenium and more. They're a healthy fat which helps keep you full and full of energy and keeps blood sugar balanced among other amazing benefits you can read about here.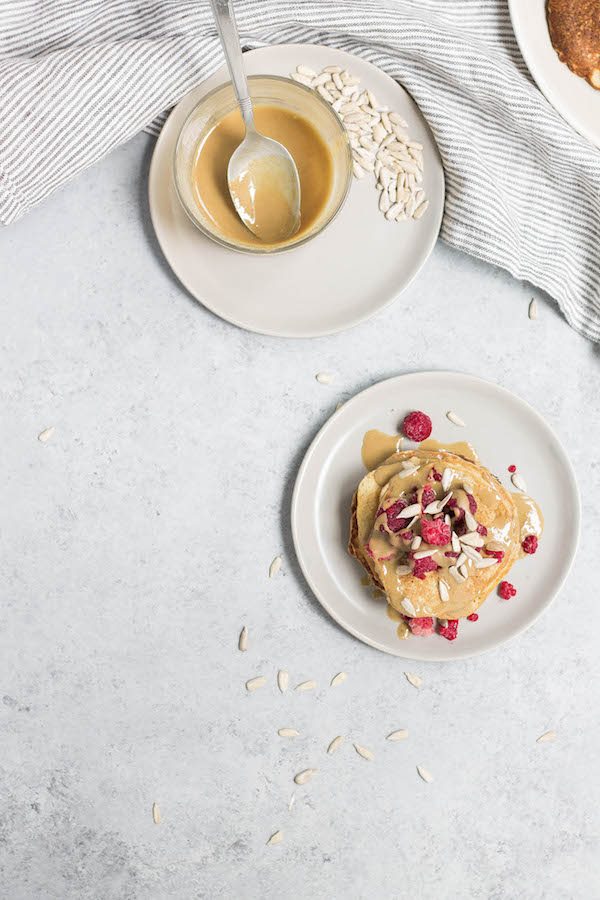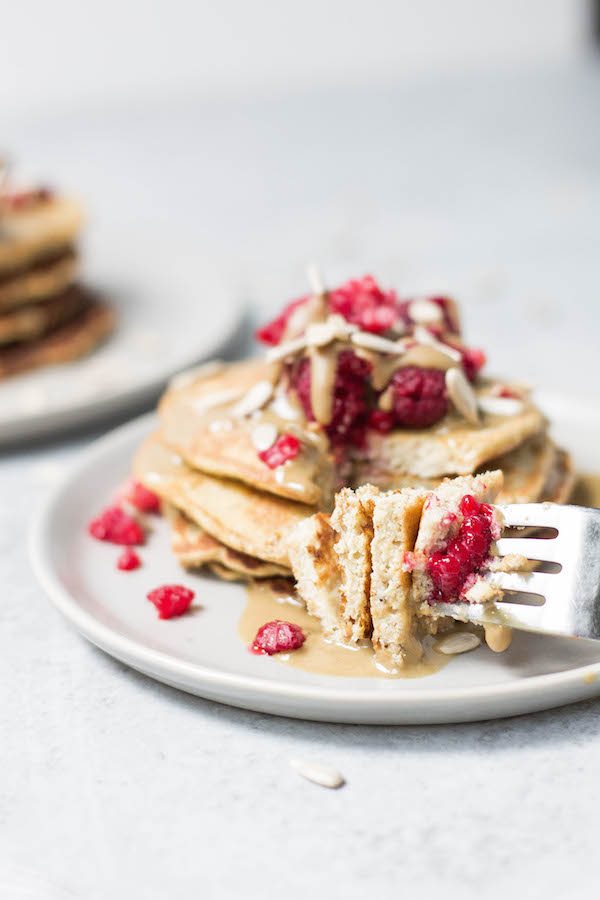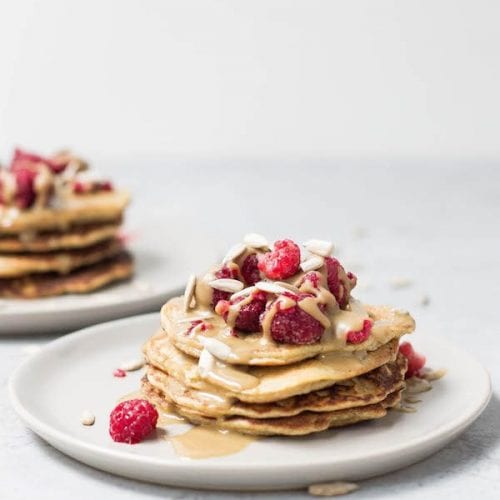 Easy Paleo Pancakes
Alison Marras
Fluffy, light pancakes are easy to make without grains when you use tigernut flour, almond meal and beaten egg whites.
Ingredients
1/4

cup

tigernut flour

1/4

cup

almond meal*

1/4

tsp

baking powder

1/4

tsp

cinnamon

2

large pastured eggs

whites and yolk divided

1/4

cup

coconut cream or pumpkin puree

1/2

tsp

vanilla extract

2

Tbsp

almond milk

coconut oil for pan

Toppings: Frozen raspberries

sunflower seed "syrup" and raw sunflower seeds sprinkled over top.
Seed/Nut butter "syrup"
2

Tbsp

nut or seed butter

I used sunflower seed butter

2

tsp

coconut oil

or more depending on how thick the nut/seed butter is
Instructions
Set your oven to the lowest heat or "keep warm" setting and lay a cookie sheet inside so you can store pancakes as you make them.

Prep 3 mixing bowls, one for dry ingredients, one for wet and one to beat the egg whites (for extra fluffy pancakes!)

Add all dry ingredients (first 4 above) to the first bowl and mix with a whisk.

Next, divide the egg whites in one bowl on it's own and add the yolks to another bowl.

In the bowl with the yolks, add the well mixed coconut cream or pumpkin puree, vanilla extract and milk. Mix well and then pour the wet into the dry mix and incorporate until you have a thick batter.

Lastly, beat your egg whites with a clean whisk as fast as you can (ARM DAY!) - you want some nice peaks. Work for those pancakes ;) When you're done, with a silicon spatula fold the whites into the thick batter in a circular motion without deflating the egg whites too much.

Heat a cast iron skillet on medium-high and add coconut oil (enough to cover skillet). When the pan is very hot, spoon your pancake batter into small size rounds and flip after bubbles form towards the center of the pancake. When the other side is stiff and cooked, place cooked pancakes on a plate and add to the oven to keep warm while you repeat until all finished.

When pancakes are done and keeping warm, add your favorite seed or nut butter to a bowl with coconut oil and zap in the microwave for 30 seconds. Mix well with a spoon and use in place of syrup when plating your pancakes! Top with fresh or frozen berries and anything else you'd like. ENJOY.
Notes
*To make these protein pancakes, sub your favorite protein powder in place of the almond flour. I love PaleoPro brand which has no whey.https://honestcooking.com/wp-admin/post-new.php#divERDetails
Keyword
breakfast, brunch, paleo, pancakes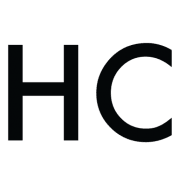 Alison Marras
Food by Mars is a Clean, Seasonal, Celestial Recipe Blog featuring gluten-free, vegetarian, vegan, and lactose-free recipes including a Monthly Horoscope inspired recipe!