Easy Orange and Soy Beef Over Rice
This Asian-style orange and soy beef comes to the rescue on a busy night as it can be made in 30 minutes and is a filling dish for hungry eaters.
By Amy Dong
Right before I made this orange and soy beef, I was in a bind. I'd just gotten home after a long day of running around. The minute I set my bags down, I was greeted with a chorus. What're we having for dinner? And When's dinner? And I'm hungryyyy.
I totally had forgotten about dinner. I had nothing prepped.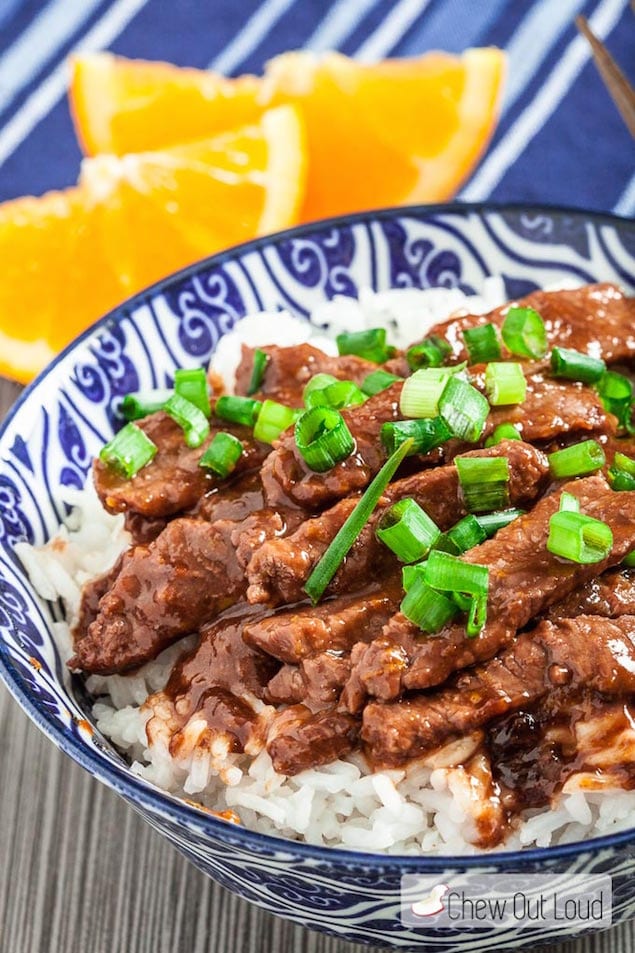 Thankfully, I had this Asian-style tender orange beef recipe come to mind and it only takes about 30 minutes to put together.
And what a fantastic deal it was. The beef is superbly tender; having the right cut and slicing very thinly across the grain guarantees a moist and tender bite.
The flavors of orange and soy and simple spices marry wonderfully. Extra sauce over fluffy rice makes this dish the perfect simple meal that everyone can appreciate.
For another deliciously easy meal, try these Asian Glazed Meatballs also ready in under an hour.

Easy Orange and Soy Beef Over Rice
This Asian-style orange and soy beef comes to the rescue on a busy night as it can be made in 30 minutes and is a filling dish for hungry eaters. adapted from America's Test Kitchen Family Cookbook
Ingredients
2 tsp grated orange zest, plus ½ cup fresh orange juice
¼ cup brown sugar, packed
2 TB Asian rice vinegar
3 TB soy sauce
2 tsp Sriracha
1 tsp ground ginger
1 tsp garlic powder
2 tsp cornstarch
2 tsp vegetable oil
1½ lb flank steak, trimmed and sliced thinly across the grain
¼ tsp kosher salt
2 stalks scallions, thinly sliced
Instructions
In a bowl, whisk together the orange zest, orange juice, brown sugar, rice vinegar, soy sauce, Sriracha, ginger, garlic powder, and cornstarch. Whisk until cornstarch is fully dissolved, with no white lumps left.
In a large nonstick pan, heat oil over high heat until smoking. Add beef and kosher salt and cook, stirring to break up the meat. Cook and stir until beef is evenly browned and cooked through, 2 minutes. Transfer cooked beef to a bowl and cover to keep warm.
In now-empty pan, add the orange sauce mixture. Cook and stir over medium heat until thickened, 30 seconds. Return the cooked beef back to pan, along with any accumulated juices. Toss to coat beef. Serve immediately over cooked rice. Sprinkle with scallions for garnish.
Amy Dong
Welcome to our kitchen! Here is the place where you'll find an ever-growing collection of all things yum. We're an active, hyper-busy family of six (including Miss Dog) -- we get how hard it is to put delicious 'n healthy food on the table every night! We do the recipe testing so your family will love what you dish up, and your friends will be begging for your recipes. Come on over and let's get cooking!