Christina Soong-Kroeger with a simple, gorgeous dessert for kids and grown ups alike.
By Christina Soong-Kroeger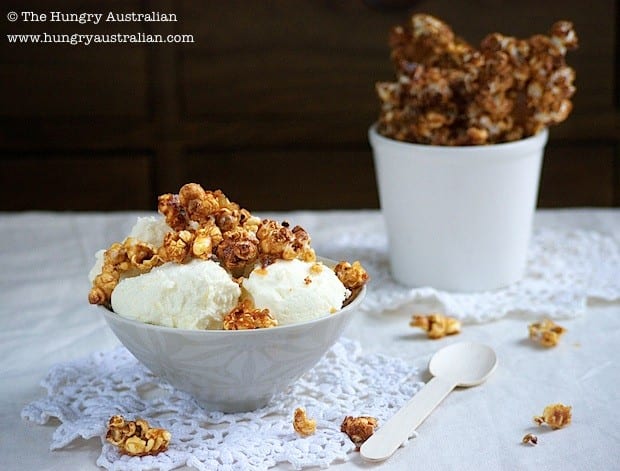 I've made honey ice cream before but frankly, it didn't rock my world. It was OK but there were no goosebumps, no sighs of utter bliss. So I was keen to to try it again, especially after meeting a nice gentleman from Golden North at Food SA's recent Think Food event in Adelaide, South Australia.
I've been a big fan of Golden North's signature honey ice cream since I was a kid but my Dad and I were convinced that the original recipe had been tinkered with – sometimes the honey flavour was strong and other times it was barely discernible. Similarly, the colour seemed to vary from a pale buttercream to a more golden yellow.
So I took the ice cream sample the Golden North representative offered and interrogated him as fiercely as I could while spooning ice cream into my mouth.
Surprisingly, he assured me that their recipe for honey ice cream has never been changed. Any variations in taste and colour are because of the seasonal variations in the Blue Gum honey they source from a local apiary.
Blue Gum honey? No wonder I like their ice cream so much: blue gum honey – produced by bees feeding from Eucalytus globulus – is my go-to Australian honey. And, as luck would have it, I'd recently visited Buzz Honey in the Adelaide Hills and bought myself a one kilogram tub.
It seemed like the universe was trying to tell me something.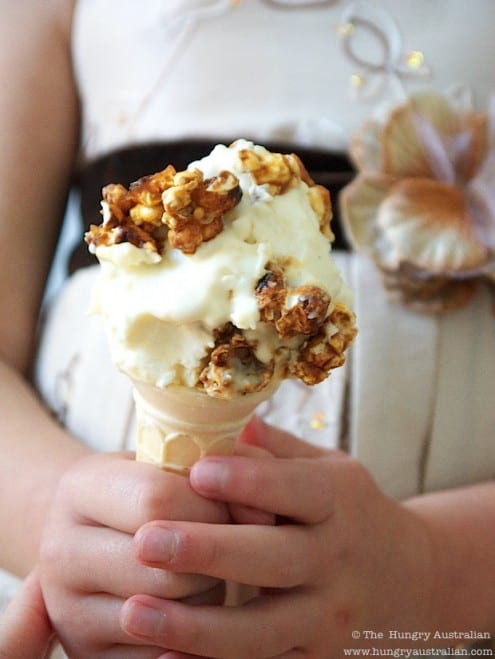 The other night I was browsing Honest Cooking when I came across Jules Clancy's recipe for Lemon Ice Cream. Using her simple recipe as a staring point, I came up with this super easy, 3-ingredient, no-icecream maker required ice cream recipe. It's gorgeously indulgent and very, very moreish.
My brother gave me a popcorn machine for Christmas – he's a really good present giver – and we've been regularly pulling it out of its box since then. We've made the butter & sea salt combo and the chilli & lime combo but I've had a hankering for something sweet lately.
So I decided to make burnt toffee popcorn. It wasn't burnt burnt, just enough for the flavour to cut through the ice cream and make you sit up a little higher in your chair.
This Honey Ice Cream with Burnt Toffee Popcorn is the kind of dessert I could happily eat night after night. It's comforting, luscious and grown up all at the same time.
So tell me, what's your favourite kind of honey and have you ever tried making ice cream before?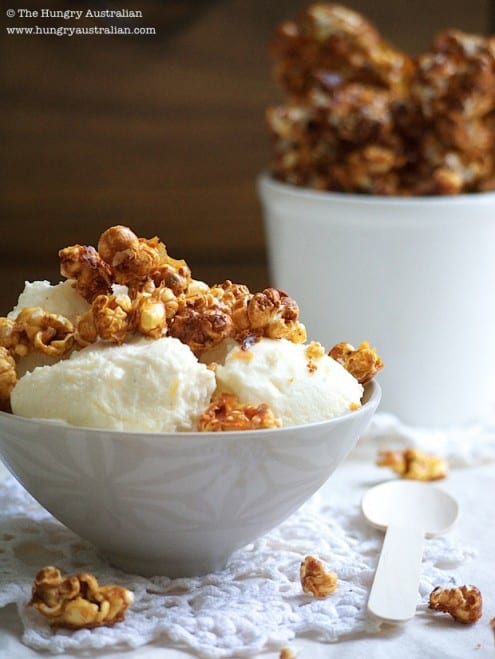 Easy Honey Ice Cream with Burnt Toffee Popcorn
A simple, gorgeous dessert for kids and grown ups alike!
Author:
Christina Soong-Kroeger
Ingredients
Honey Ice Cream
2.5 cups cream
0.5 cups honey
½ tsp vanilla bean paste or essence
Burnt Toffee Popcorn
½ cup corn kernels (makes 6 popped cups)
½ cup brown sugar
75 grams butter
4 tablespoons honey
⅓ teaspoon bicarbonate of soda
1 teaspoon salt
Instructions
Honey Ice Cream
Whip cream with an electric beater until soft peaks form.
Microwave honey for 20-25 seconds until runny and add to cream.
Add vanilla essence.
Beat again until soft peaks form again.
Pour into freezer proof container and freeze for at least six hours or overnight.
Remove from freezer 10 minutes before eating.
Burnt Toffee Pop Corn
Preheat oven to 180 degrees Celsius (160 degrees fan-forced) and line two baking trays with baking paper.
Pop corn kernels in a popcorn maker or saucepan with oil.
Pour popped corn into the largest bowl you can find (you may need to do this in 2-3 batches if you don't have a bowl large enough to fit all the popcorn comfortably)
Put sugar, butter and honey in a small saucepan.
Heat until boiling and then cook for 5 minutes on low heat, stirring constantly. Take off heat and add bicarbonate of soda and salt, stirring vigorously.
Pour on top of popcorn and stir quickly, mixing thoroughly.
Turn out onto two baking trays and spread evenly.
Pop into oven for around 5 minutes until caramel darkens, watching it like a hawk as it will burn very easily.
Remove from oven and leave to cool on tray before breaking into pieces.
Store in an air-tight container.
To serve, spoon icecream into a bowl and top with toffee popcorn pieces.
Christina Soong-Kroeger
Christina publishes The Hungry Australian - a collection of recipes, reviews and stories about food - and is a regular contributor to Sumptuous. Her writing has appeared in the China Daily and That's Shanghai while her photography regularly appears on Foodgawker, Tasteologie and Photograzing. After eating her way around Shanghai, London, Hong Kong, Leeds and Melbourne, she now calls Adelaide, South Australia, home again.