This bread has no rise time, but still has a lovely yeasty quality and smell. Oh. That smell.
By Kelly Morisson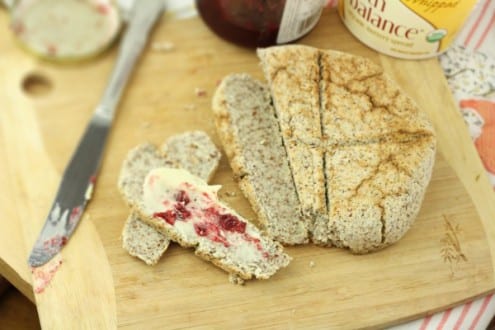 When I say that this is my favorite out of all the recipe to ever have been born out of my kitchen, I do not say this lightly. When I tell you this bread is MY MOST FAVORITEST RECIPE EVER, believe me. I mean it. I made my own tense for it. This bread will change your life for the better.
This bread has no rise time, but still has a lovely yeasty quality and smell. Oh. That smell.
Ingredients
2 teaspoons honey OR brown rice syrup
½ cup warm water (about 110-120 degrees Fahrenheit, see instructions on the package of your yeast)
1 ½ teaspoon active dry yeast
¾ cup coconut flour
½ cup plus 2 Tablespoons flaxseed meal (Golden flaxseed meal is preferably as it lends a more bread-like color.)
⅛ teaspoon baking powder
½ teaspoon salt
1-2 packets NuNaturals brand stevia packets (depending on how sweet you want your bread)
4 room temperature eggs OR 2 Tablespoons Ener-g egg replacer mixed with ½ cup water
5 Tablespoons applesauce OR mashed banana
Instructions
Preheat oven to 350°F. Line a baking sheet with parchment paper or a silicone mat and set aside.
Meanwhile, pour the warm water into the bowl of stand mixer (or a large mixing bowl), and whisk in the yeast and the honey or brown rice syrup. Let sit for about 10 minutes, or until it is foamy, beautiful, and smells like happiness. With the paddle attachment, beat in the coconut flour, flaxseed meal, baking powder, salt, and stevia until combined. Add in the eggs or egg replacer, and applesauce or mashed banana and continue to beat until the dough is smooth, light, and airy.
Turn the dough out onto a clean surface and knead a few times until it comes together. Form into a loaf (longer and thinner is better so it cooks properly) and make scour marks over the top with a knife. Transfer to the prepared baking sheet and spray with cooking spray (either olive, canola, or coconut oil spray). Bake in the oven at 350°F for 35-40 minutes or firm to the touch and a toothpick inserted in the center comes out clean. Set oven to broil and place the baking sheet under the broiler for 1-3 minutes, or until the outside of the bread is nicely browned. Let cool on a wire rack, slice with a sharp knife as needed, and top at will. Devour.
Notes
I used honey, applesauce, and regular flaxseed meal.
Kelly Morrison
At the age of thirteen, Kelly Morrison founded Foodie Fiasco, a popular healthy recipe website that provides the ultimate guide to having it all: happiness, decadence, and loose pants. Five years later, she currently resides in West Hollywood, CA, where she spends her days developing recipes, photographing food and her cats, and writing bios in the third person.