PARTNER POST: Let Blue Apron help you keep things simple this busy holiday season when it comes to dinner. Have your next nutritious meal delivered straight to your door.
Get dinner to the table fast with this easy recipe for chicken and sage gravy.
The holidays are mostly done. Now you should give yourself more time to relax. Head over to Blue Apron for $30 off your first order or three meals free. You'll be eating delicious meals like this!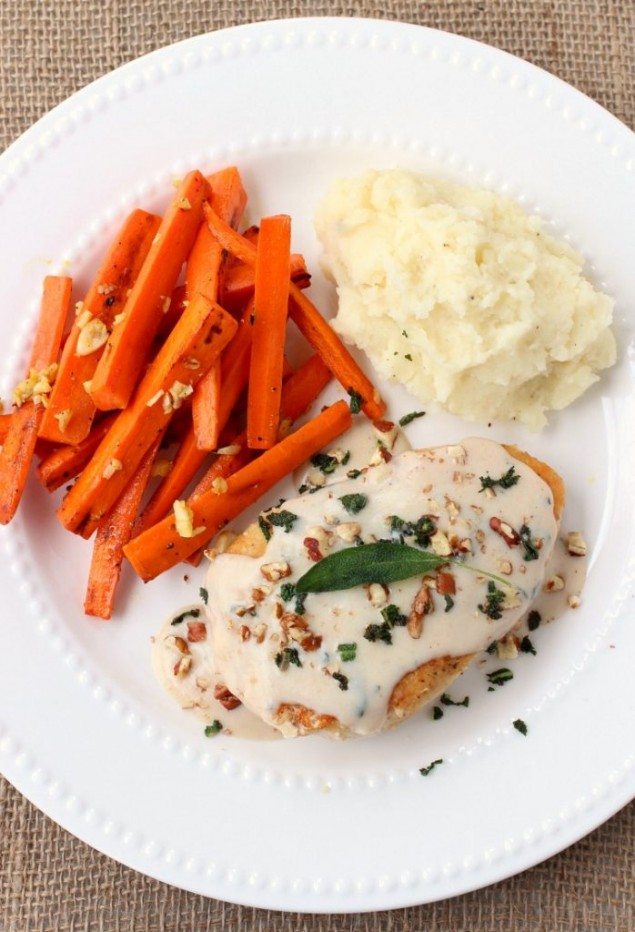 Weather you're a chef, a home chef, or someone who doesn't cook at all – these home delivery meals from Blue Apron will not only get you in the kitchen, but they'll keep you there.
Simple, fresh food delivered right to your front door with colorful, easy to follow ingredient cards that go with each recipe. Really, all you need to be able to do is know how to read and you can make these dinners.
Before we get started with this chicken dinner, let me fill you in on the special offers that are going on right now. You can get $30.00 off your first delivery OR 3 meals free with your first order! Blue Apron knows how much you're going to love these home delivery meals, so they're giving you these great offers because know that you'll come back.
One of the things I really liked about Blue Apron's meal delivery service is that when I went online I saw dinners that I might not really think to make myself like Spicy Shrimp and Korean Rice Cakes or Spaghetti Squash Marinara.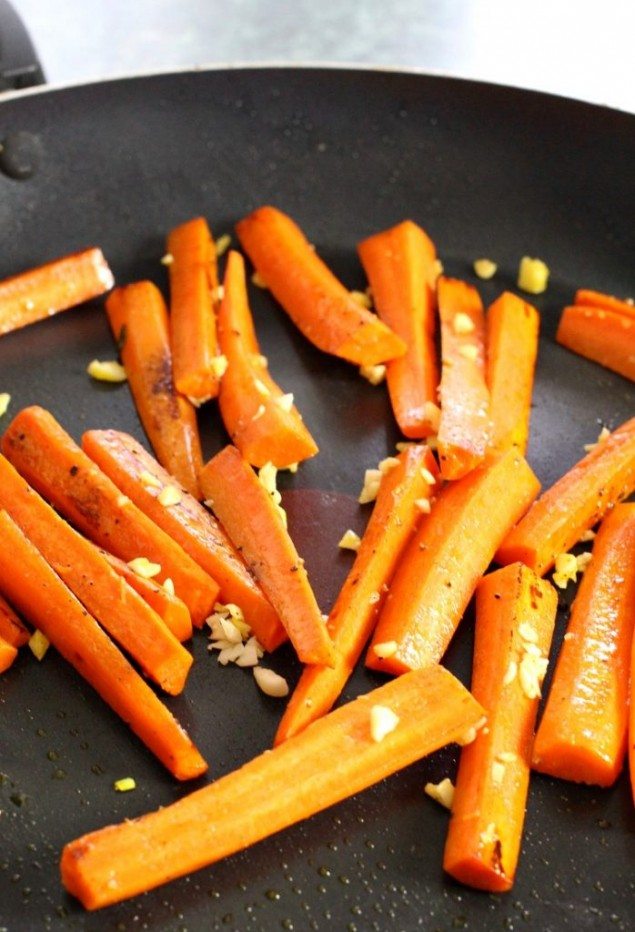 Also, I have to add that this whole dinner, minus the mashed potato, is made in just one skillet. So two pots to clean up after a meal like this? Not too bad.
The carrots get cooked up in olive oil, seasoned with salt and pepper and fresh garlic at the end.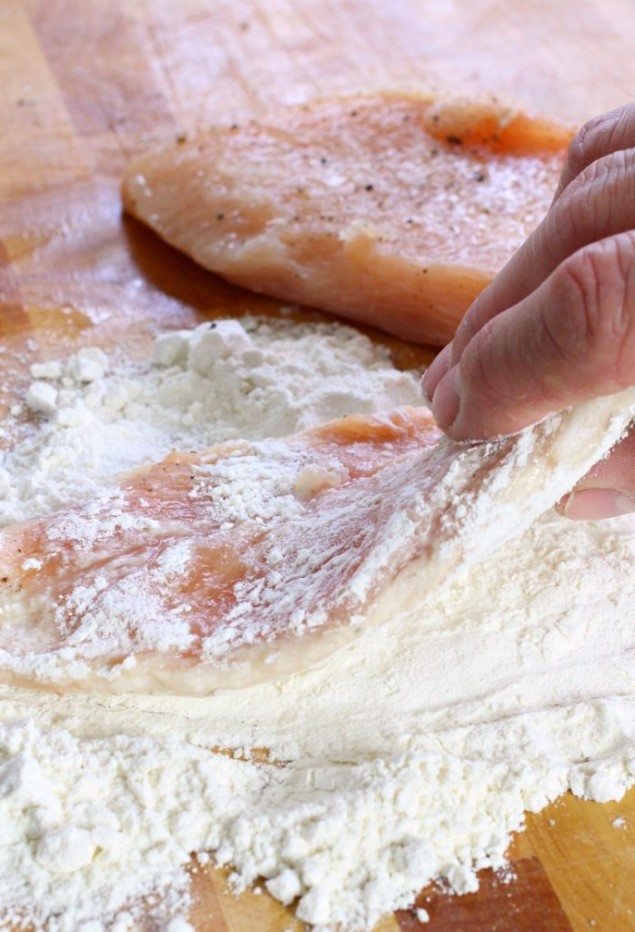 You can put those off to the side and cover with some foil to keep warm, then onto the chicken.
In the same skillet, heat up some more olive oil while you season and flour the chicken breasts.
Brown the chicken breasts in the skillet until they are cooked through and browned, and remove to a plate to keep warm.
Right back in that same skillet, add butter and chopped sage and some more garlic. Cook that for a couple of seconds while stirring then add flour to make a roux. This will thicken the gravy for you… Stir and cook the flour out for a minute then pour in whole milk and whisk until smooth.
Now it's time to assemble the plate! Put one chicken breast on each plate and cover with the creamy sage gravy.
Add a scoop of mashed potatoes and carrots to each plate and dinner is served.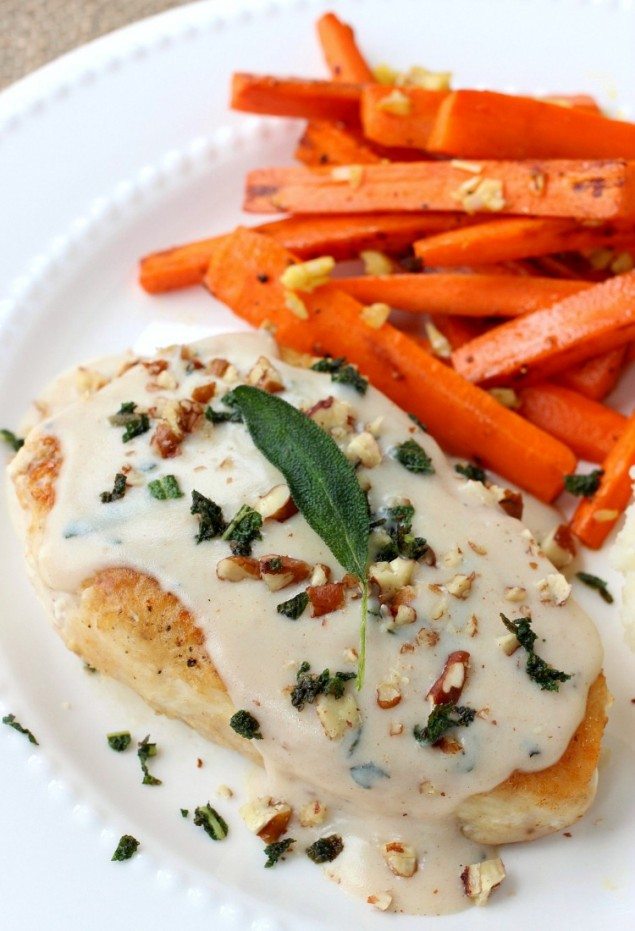 For as much as we cook, and are always running back and forth to the grocery store…I have to say that having fresh ingredients delivered to my house with everything I need to get an amazing meal on the table – it was pretty cool.
Dan George
Born and raised in New Jersey, Dan started the web site Mantitlement as a way to learn how to cook for the first time from his wife, Christie. Christie has always been the primary cook in the household and Dan got used to having her three-course, restaurant quality meals for dinner every night. Well, it was time he learned how to do some cooking on his own, and that's how Mantitlement got started. Dan believes that everyone is entitled to having great food and drinks at home...and he can show you how to make them with his collection of recipes!