Cooking Croatia: Easter In Croatia And Traditional Croatian Easter Cake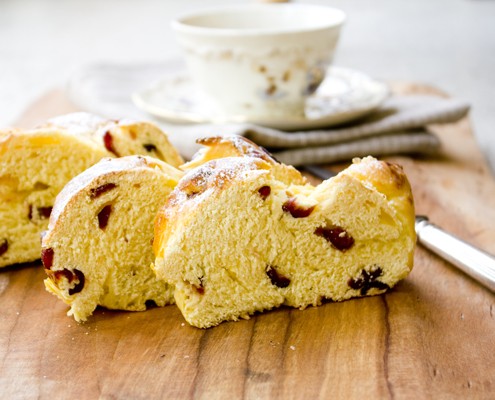 Tamara Novacoviç on Croatian Easter traditions, and with a recipe for the delicious traditional Easter cake.
Text And Photos By Tamara Novacoviç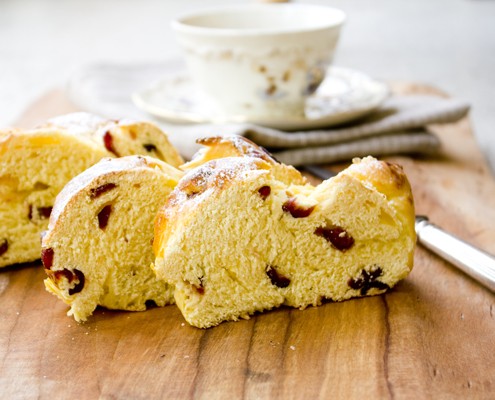 Every country is like a chest of interesting traditions and cuisines. I'm sure many of you have memories of Easter traditions from your homes.
It is Easter time. For me, it means the time of (nature) awakening, possibly new decisions, positive thinking and beautiful traditional food on our family table. An opportunity to gather the family and remember that love keeps us together. And it's all more fun with great food and decorated eggs.
One of the things that mark Croatian Easter tradition are definitely dyed eggs, home made versions. In Croatia, they are called pisanice. This Slavic custom of egg decorating dates back to pagan times. I remember being a kid and inventing new creative ways with my mom to dye eggs. Store bought colors aren't welcome. Every home has their own home-dyed eggs and when you go to your friend's or family house during Easter time, it's tradition to bring some of your home made dyed eggs. Then you exchange them and bring one as a souvenir from every visit. On Easter day, a traditional game is played in which at least two people choose eggs and hold them vertically while one person lightly taps the end of the other egg with their end, to see whose will crack. Anyone whose egg cracks must choose another and then tap the other person's egg, and they continue until all the eggs have been used and cracked but the last one. Whoever holds the strongest egg in the end which has not been cracked, wins.
Eggs are a symbol of spring awakening and new beginnings, new life. The most popular way to dye eggs is to boil a pot of water together with a lot of red onion skins, which will give the eggs orange/red color. The next step is to take each egg and put a clover or parsley leaf on its surface. Here's where it gets interesting: you secure the leaf not by glueing it to the egg, but by putting everything into your old nylon tights. You put everything into a pot of boiling water with onion skins and cook. The tights not only secure leaves, but also let the water color the eggs. When they're done, let them cool, remove the tights and leaves and you'll get a red egg with leaf print on it. It's quite decorative and the process is fun. Another traditional way of decorating Easter eggs is to use hot liquid wax and pencil-like instruments. You need to make sure that eggs are clean and dry. You take wax and melt it, dip your pen into the meled wax and draw different patterns on egg shells. Then you cook them in colored water- the wax will melt and leave beautful designs, while the rest of eggs will be colored. In the end, polish it with some vegetable oil, the color will be nice and shiny.
One of the joyous Easter traditions (especially for children) is egg hunt on the Easter morning.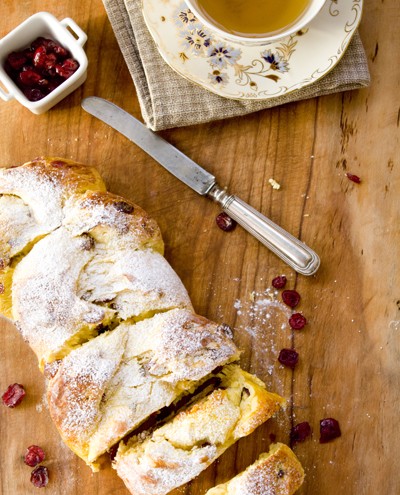 Parents tell the children a rabbit tale: the story of the Easter rabbit who leaves eggs in the garden and chocolates for children. Every Easter morning, they search for eggs and chocolate presents, all excited.
As far as the food is concerned, traditionally ham and eggs are eaten, with radishes, spring onions and horseradish sauce. The day before Easter, Roman Christians go to a late night mass carrying a basket of traditional food (bread, ham,eggs). During the mass, priests bless the food, which are kept for the next morning to eat.
Traditional Croatian cake made during the Easter time is called pinca-it's actually similar to hot cross buns, but made in larger bread-like form. Usually orange and/or lemon zest and dried fruit are added to it. People usually cut the cross on the surface of the cake, before baking, as a symbol of Christianity, but it is also made in the form of the braid.
Here I'm giving you a delicious recipe for traditional Croatian Easter cake. With addition of orange and lemon zest and cranberries it makes a beautiful sweet treat. You don't have to make it in this form, you can divide the dough into several pieces and make hot cross buns. I got a recipe from my good friend Ivana, you can see her original here (the text is in Croatian).

Easter in Croatia and traditional Easter cake
This is a beautiful, flavorful traditional Croatian Easter cake.
Ingredients
5 cups (500 g) all purpose flour
2 tsp (7 g) active dry yeast
½ cup (100 g) granulated sugar
7 tbsp (100 g) butter, melted
2 eggs
zest of 1 lemon
zest of ½ orange
5 oz (150 ml) warm milk
freshly squeezed juice of 1 orange
1 cup (100 g) dry cranberries
1 egg yolk
Instructions
Combine dry yeast with 1 tsp sugar and 150 ml warm milk. Let rise for 5 min.
Combine cranberries with orange juice and leave for 1 hour.
Sift flour, add sugar, melted yeast, melted butter, eggs, lemon and orange zest. Knead until the dough forms, it should be on the soft side. Cover with plastic wrap and let rise for 1 hour.
Drain cranberries (don't discard orange juice, drink it) and knead them into the risen dough. Divide it into 3 equal parts and roll into long, equal rolls. Entwine them to make braid. Here you can also divide the dough into equal pieces and make hot cross buns. Place on baking sheet covered with parchment paper and brush with egg yolk. Let rise for 20 minutes.
Preheat oven to 356 F (180 Celsius) and bake the bread for 30 min. Let cool. You can sprinkle it with powdered sugar before serving.
Tamara Novakoviç
Tamara Novakovic is a passionate self-taught cook, food blogger, freelance food writer and photographer behind bite-my-cake.blogspot.com. Her life journey has led her through Faculty of Humanities in Zagreb, Croatia to discovering passion for making cakes. She is currently a weekly food columnist for Croatian newspaper V magazine and food magazine Repete.