These bird shaped bread rolls will become a great addition to your weekend family breakfast this spring.
By Olga Tikhonova-Irez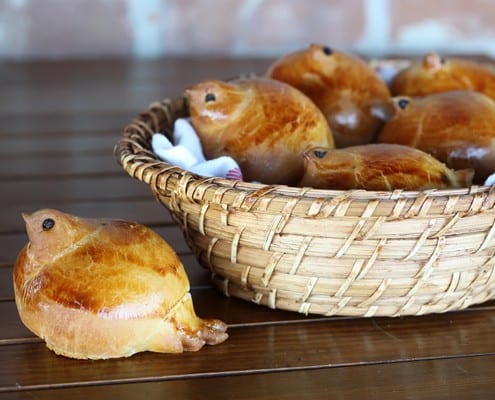 My mother-in-law opened the window at the kitchen and called for me, "Come here I will introduce you!" As I came by I saw her crumbling a few slices of stale bread and sprinkling them over the window seal. "Poor things, they struggle to find any food at this cold and snow. Make sure you give them a few slices of bread every day. They'll peck it in no time".
The winter has been long and severe for our latitude this year. Snow to the knees and cold that made me wear my skiing layered outfit as regular clothes. And that's why when last Sunday the sun magically melted all the snow in a few hours we were the happiest people in the world. While there are spring celebrations in Turkey such as Novruz festival at the East I felt like reviving my home-land traditions of welcoming the favorite season.
On March, 22 and the whole subsequent week we in Russia celebrate the Day of 40 when, according to the belief, larks come back from the warmer lands where they spent winter. In the old days each family would welcome the birds with baking bird shaped bread rolls. Those would be distributed to the children who would put them on the fence and sing songs to invite the arriving birds. Afterwards the bird shaped bread rolls will be eaten and their heads would be fed to the cattle.
I baked the birds the night before and at the  breakfast the Turkish inhabitants of our farmhouse were astonished and happy to join me in the spring celebration. We opened the window and heard birds singing on our fruit trees in full bud.
Print
Easter Baking: Bird Shaped Bread Rolls
Touching delight for adults and kids these bird-shaped bread rolls are a perfect spring breakfast treat.
Author:

Olga Tikhonova-Irez

Prep Time:

3 hours

Cook Time:

20 mins

Total Time:

3 hours 20 minutes

Yield:

8

1

x
0.2 oz

(

5 gram

) dry yeast

4 tbsp

sugar

1 cup

+

2 tbsp

lukewarm water

3 cup

all-purpose flour

1/2 tsp

salt

1/2 tsp

vanilla sugar

1/4 cup

vegetable oil, and more for greasing

1

egg, for brushing
few dry black currents, or black raisins
Instructions
Make the dough: Mix the dry yeast, 1 tbsp sugar and 1 cup lukewarm water in a small mixing bowl and set aside for 10 minutes, or until froth forms on top. This procedure is called proofing the yeast, or making sure it's alive and your dough will rise as expected. In a large bowl mix the rest of sugar, sieved flour, salt and vanilla sugar and transfer the proofed yeast into the mixture of the dry ingredients. Add vegetable oil and mix the dough with your hands until it starts coming together. Each flour behaves differently and in case with mine I felt like I needed to add 2 more tablespoons water to arrive to the perfect dough. Lift the dough, sprinkle the bowl with some more flour and start kneading. Give it good kneading for about 5-7 minutes until a perfect soft ball of dough forms. Grease with mixing bowl with the vegetable oil and place the dough inside. Cover with the film stretch and leave to rise for about 2 hours in a warm place (try the top of your fridge), or until the dough doubles in size.
Shape the birds: Divide the dough in equal parts of a baseball ball size and roll each into a little ball. Line the dough balls on the flour-sprinkled surface and cover with a kitchen towel. Take one and roll with your hands into a sausage about 15 cm / 6 inch long: roll from the middle towards the edges. Now tie the dough sausage into a knot. Lift one free end of the knot. Form it into the birds' head with a beak: there is no science about it, give it a character. The other free end of the knot will be the birds' tale: with a sharp knife make a few small cuts to create tale feathers. Put the ready bird on a baking tray greased with vegetable oil. When you are done with shaping the birds it's time to make their eyes with dry black currents or chopped black raisins: make sure to press them rather hard into the dough so they don't fall off during the baking. Put the tray into a warm place for about 30 minutes so the bird shaped bread rolls can start rising. Then brush them with egg for shiny look of the finished product. Preheat the oven to 180C/355F and bake for for 20-25 min. Cool completely before serving.
Olga Tikhonova-Irez
Olga Tikhonova-Irez runs food tours and cooking classes in Istanbul, Turkey. Other times she can be found in the countryside where she helps her Turkish mother-in-law to run their family restaurant. Olga writes about the rights and wrongs of eating and food shopping in Istanbul and also shares Turkish cooking recipes at her blog Delicious Istanbul.