Have you ever wanted scrambled eggs in your egg roll? How about green tea in your French toast? If so, Ping Pong in Washington, D.C., has a new brunch menu to sate your East-West cravings on a weekend afternoon.
By Lauren Clason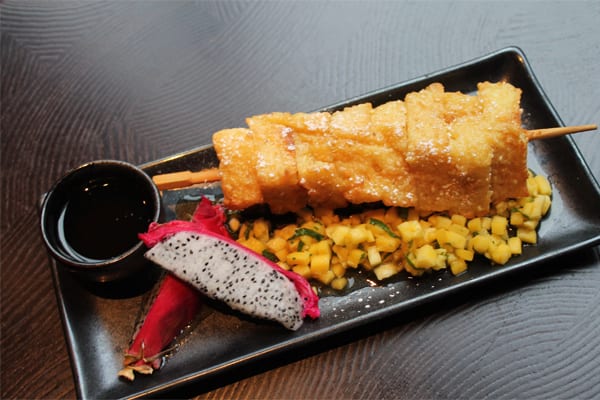 Black tea mango French toast, photo courtesy of Ping Pong
The new line-up is a collision between traditional Cantonese flavors and trusty down-home American dishes like Midwestern steak and eggs. The popular dim sum restaurant, which first opened in London and now has locations in Dubai and Mumbai,  is rolling out a line of new cocktails as well for both brunch and the fall season, featuring bubble-tea-style champagne with fruity popping "pearls" of lychee and kiwi juice.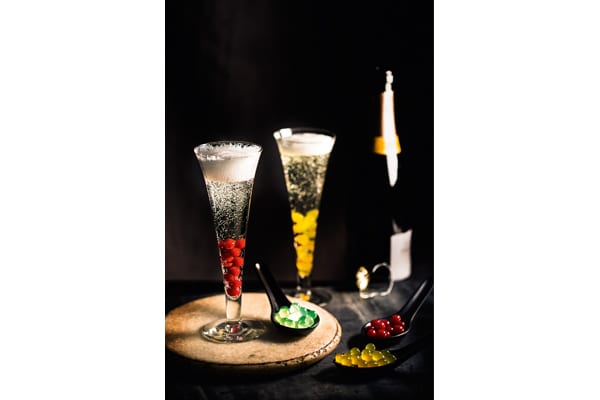 Deconstructed mimosas, photo courtesy of Ping Pong
Initial offerings on the menu, which debuted last weekend, include a variety of dim sum options such as blue crab and corn, as well as entrees like steak and eggs with sticky rice and shrimp and grits with spicy Chinese lap cheong sausage, served atop congee rice porridge.
Brunch is served between 11:30 a.m. to 4 p.m. Saturday and Sunday at both the Dupont and Chinatown locations for $36 a person. Patrons also have their selection of unlimited dim sum from passing trolley carts throughout the meal, serving up traditional Chinese offerings like steamed buns, baked honey roasted chicken puffs and steamed dumplings stuffed with the likes of succulent blue crab and corn.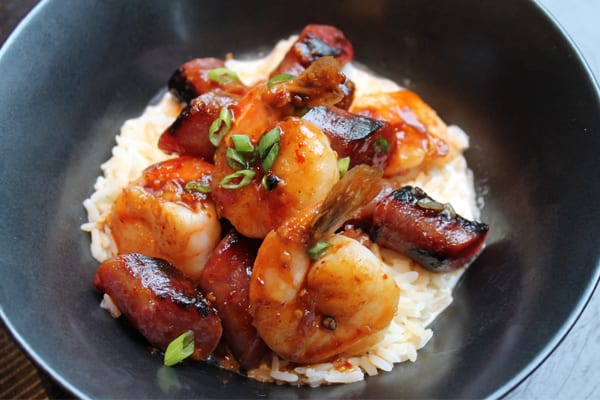 Shanghai shrimp and grits, photo courtesy of Ping Pong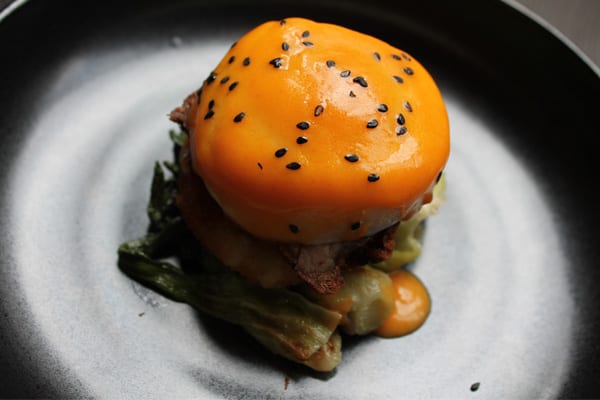 Five spice pork belly Benedict, photo courtesy of  Ping Pong
Standouts include the mango black tea French toast, a crispy dish with just the right dose of lemongrass and ginger maple syrup, topped with diced mango and Thai basil. Another notable is the egg and cheese spring roll, a delightfully simple twist on American eggs and ketchup. Egg rolls come ready to dunk in dishes of tonkatsu sauce, the spicier, tangier ancestor of American ketchup.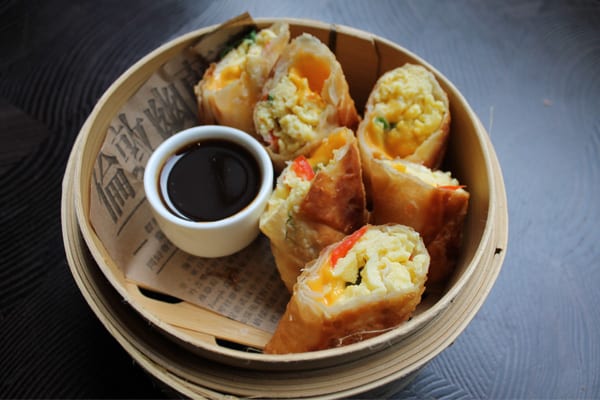 Egg and cheese spring rolls, photo courtesy of Ping Pong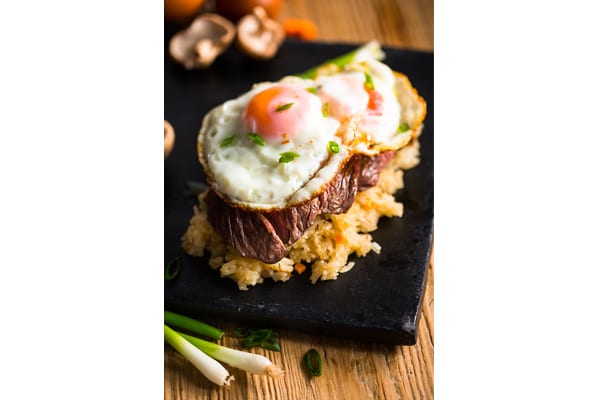 See Also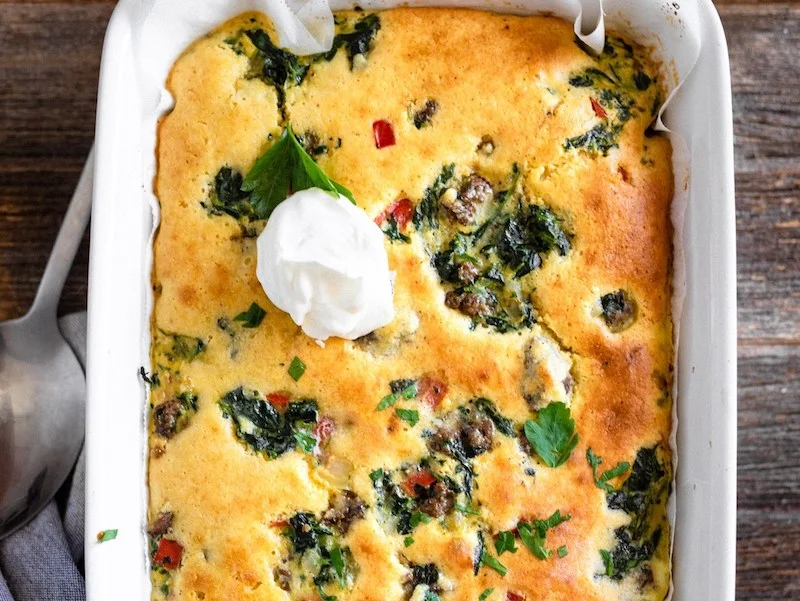 Sichuan hangar steak "loco moco," photo courtesy of Ping Pong
Bellinis, bloody Marys and unlimited mimosas are available with the brunch menu, but lunch and dinner showcase the rest of the fall cocktail collection. The Szechuan fig Manhattan is a warming blend of whiskey, vermouth, Sichuan-infused fig liqueur and fig and mandarin orange bitters. The spiced elderflower saketini goes down frighteningly easy, with a much more mellow bite than traditional gin and vodka martinis.
As the brunch craze continues to consume District diners, a menu with international flair is always welcome, and the Asian spice of Ping Pong's cuisine is a refreshing take on several American classics.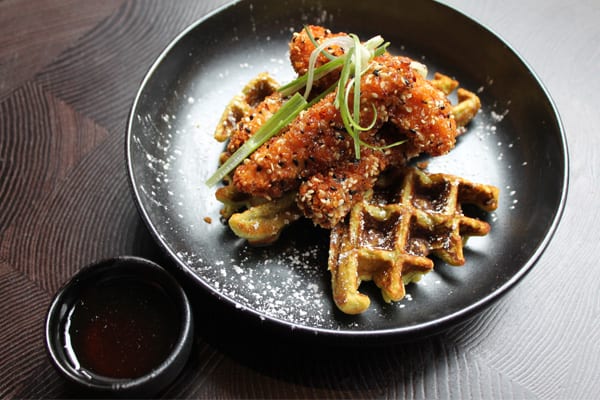 Chicken and green tea waffles, photo courtesy of Ping Pong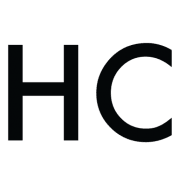 Lauren Clason
Lauren is a freelance writer based in Washington, DC. She is known to order the most bizarre thing on the menu when dining out, and she still calls her mother when she can't remember Grandma's recipes.