The Easiest Scallion Pancakes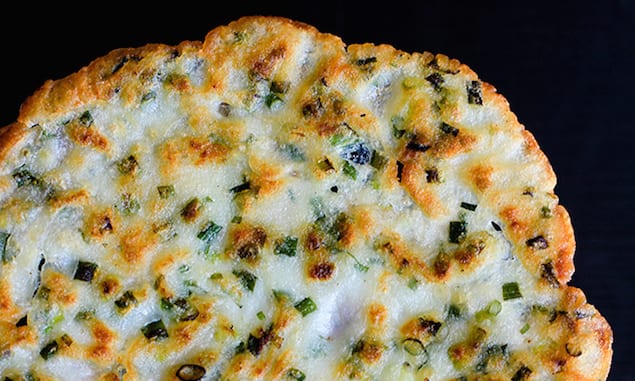 Rather than needing the dough, this Chinese scallion pancake recipe is easy enough to come together in minutes and still taste delicious.
By Elaine Luo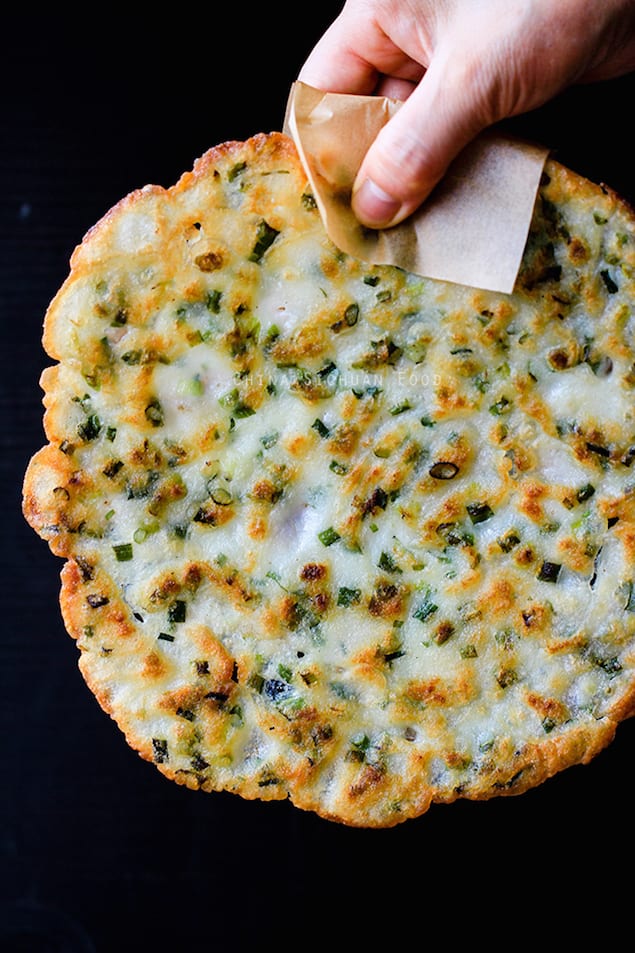 I love to serve my family scallion pancakes at breakfast or with other meals when I cook porridges or congee. However, after kneading dough for quite a long time, I am a little bit tired and so I decided to create a simplified version. Although the pancake comes out slightly different, it is done in five minutes and still quite delicious. For my traditional version of the Chinese scallion pancakes, find the recipe here.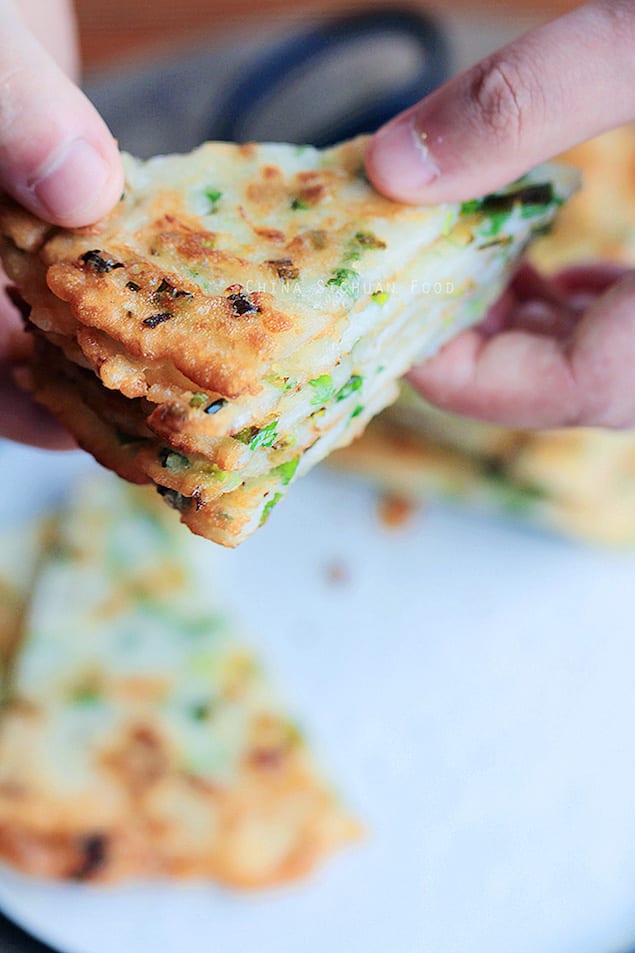 When serving the pancake, I like to cut the large round into smaller wedges.

The Easiest Scallion Pancakes
Rather than needing the dough, this Chinese scallion pancake recipe is easy enough to come together in minutes and still taste delicious.
Ingredients
2 cups all-purpose flour (measure after shifting)
420-440 ml water
around 1 cup finely chopped scallion (wash and drain well)
pinch of salt as needed
⅛ teaspoon Chinese five spice powder (optional)
vegetable oil for frying
Instructions
In a large mixing bowl, stir water to flour and keep stirring with an egg whisk. Make sure that the water and flour is combined completely. Set aside for several minutes.
Go to the scallion, finely chopped and throw into the bowl with flour and water. Add pinch of salt and five spice powder; continue to stir until everything combined well.
Heat up around 2 tablespoons cooking oil in a pan (either big or small, it does not matter). Scoop the mixture and pour into the pan. When pouring over the mixture, do not place all of them in center, swirl it evenly by rotating the spoon to make a basic round pancake. And then use a smaller spoon or your pancake turnover to make the pancake as well distributed as possible. Pan-fry over medium fire for around 2-4 minutes until one side becomes golden brown. Turn over carefully to fry the second side for another 2 minutes. Then fry each side another 1 minute for a darker color and crisper taste.
Transfer out and then absorb the extra oil by kitchen paper. Repeat to finish all the pancakes.
When serving, as I usually make larger ones because of time issue, cut into small wedges and enjoy with family.
Elaine Luo
Food blogger from China. Love real and simple dishes especially Sichuan Cuisine.