On Queens day the whole of the Netherlands is gripped by orange fever, which also includes the food. Orange cake, a spicy cake filled with almond paste and decorated with buttercream is a good example of this orange mania.
by Ena Scheerstra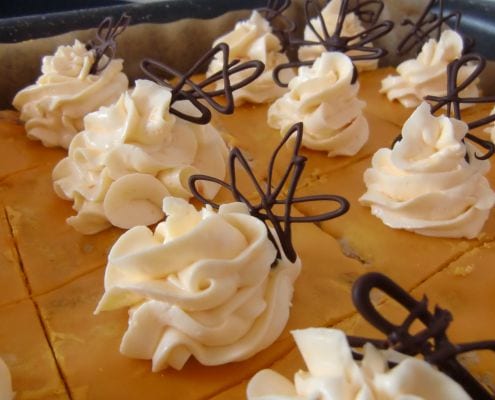 Koninginnedag (Queens Day) is a national holiday in the Netherlands. It always falls on the 30th of April and celebrates the birthday of queen Beatrix. Actually, queen Beatrix birthday is the 31st of January, but since most of the activities take place outside queens day is celebrated on the 30th of April, the birthday of queen Beatrix mother and predecessor, Juliana. On this day, the whole country parties and the queen and her family visits two Dutch towns, which prepare all kinds of shows and festivities for them, and show local crafts and customs in which they can participate.
One of the traditional festivities is the flea market. It is the only day of the year that people can sell goods on the street without having a permit and having to pay taxes. So in all cities and towns, big and small, there are one or more flea markets. People sell their own rubbish, cast-off stuff and sometimes some good stuff and buy new things from other people on the market. For finding the best (and most wanted) things you have to be very early. There are also many games to be played for a small fee, for example grabble bags (fishing small prices from a bucket filled with sawdust), cake snapping (snapping to slices of cake hanged up high) and goal shooting (scoring a goal with a football at various targets). And there are all kind of foods and drinks sold, for example lemonade, bread rolls with "knakworst" (similar to hot-dogs) and local products like "kniepertjes" (sweet waffles, also eaten with new years eve), so you can spend the whole day strolling over the big flea markets.
Another (slightly less) traditional festivity is the open air concerts, usually in the bigger cities. The biggest of them all was always held in Amsterdam on the Museumplein, which gave quite some problems in safety and logistics, so the city government was forced to move the bigger parties to somewhere outside the city centre. This was very controversial, many people were opposing this decision. But still, there are many big parties throughout the country, with lots of people attending. The trains are always very crowded on Queens day, because people quite often want to party somewhere else than where they are living. The music parties already start the night before, called Koninginnenacht (Queens night). For the younger generation, this is the real party.
But maybe the most noticeable thing is the orange fever that grips the country. Orange is the colour of the Dutch royal family, so on Queens day the complete country colours bright orange. Clothes, hats, wigs, orange hair dye, glitter, feather shawls, if it is orange and exuberant, people will wear it. Also houses and streets will be decorated with orange garlands and other orange items. Commercially this is much anticipated, prior to Queens day you can buy many orange things and some brands will give away orange stuff with their logo on. The same orange fever grips the country when there is a big football match coming (European or World championships). Also, foods and drinks turn orange. Three common examples of this are tompoezen (napoleons), roze koeken (literally pink cakes) and oranjekoek (literally orange cake).  Normally these products all have a pink icing layer on top, but with Queens day they are coloured orange. I will write in later posts about tompoezen and roze koeken, the recipe of this post is oranjekoek.
See Also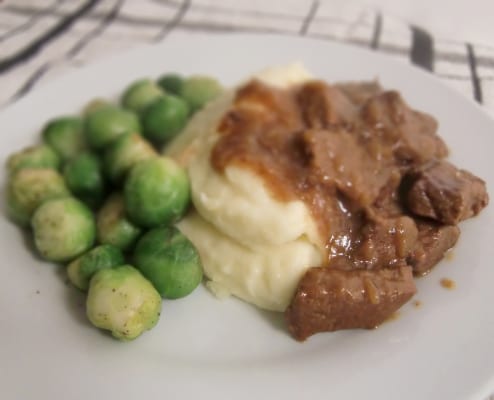 Oranjekoek is called orange because of the orange it contains and the orange slivers traditionally placed on top, not because of the colour. It is a slightly spicy cake, decorated with pink icing and rosettes (or stripes) of buttercream.  Nowadays it is quite often filled with almond paste and garnished with whipped cream. Traditionally this is a Frysian cake and was served at weddings, but nowadays it is also served at other occasions. It is baked on a baking tray and served in squares or rectangles. The square form is convenient when you're not sure about the amount of visitors you will get, if there are less you make the squares bigger, if there are more you make the squares smaller.
Most people like Queens day a lot, but personally I don't give much for it. I don't like the colour orange, I don't like crowds, I really don't like crowds of which 3/4 are severely under the influence of alcohol, I don't like people causing lots of trouble and I already have enough rubbish to fill my house. The city gets so crowded that you cannot go anywhere in a normal way. So usually I just lock myself in my house and do my own thing. It is an official free day, so I am grateful for having an extra free day and it is good fun that the Netherlands can be stirred this much for a holiday, but really, I personally don't like to participate in this madness. Nonetheless, if you find yourself in the Netherlands on Queens day, go out and celebrate. It is a very unique holiday and undergoing it once is a great experience!
Print
Oranjekoek, Dutch Orange Cake
A spicy cake filled with almond paste, covered in coloured icing and topped with rich buttercream.
Author:

Ena Scheerstra

Prep Time:

1 hour

Cook Time:

1 hour

Total Time:

2 hours

Yield:

1

6

1

x
350 g

(12,

5 oz

) self-raising flour

200 g

(

7 oz

) sugar

30 g

(

1 oz

) butter

1

egg

50

ml water

2 tsp

ground aniseed

1 tsp

ground nutmeg
pinch of salt
zest of

one

orange, grated

300 g

(10,

5 oz

) almond paste

50 g

(

2 oz

) icing sugar
orange food colouring or carrot juice
chocolates to decorate
For the cream
4

egg yolks

100 g

(3,

5 oz

) sugar

80

ml water

200 g

(

7 oz

) soft butter

2 tbsp

liqueur of choice
Instructions
Preheat the oven at 160C/320F.
Line a baking tray of 25×30 cm/10×12 inch with baking paper or grease it well.
Mix the butter, orange zest, salt, aniseed and nutmeg.
Mix in the sugar.
Mix in the egg and water.
Mix in the flour and knead to form a smooth dough, divide in 2 portions.
To make the dough better manageable and less sticky, put it 5 minutes in the freezer or 15 minutes in the fridge.
Roll out the first portion of dough to fit the baking tray.
Divide the almond paste on top of the dough.
Roll out the second portion of dough, place on top of the almond paste, press the sides.
Place the filled dough in the baking tray.
Bake in the middle of the preheated oven for 30 minutes (it will stay quite pale).
Leave to cool.
Decorate with the cream and chocolates.
To prepare the cream
Bring some water to the boil, place a bowl on top (au bain marie).
Heat sugar and water in a small pan to 115C/240F.
Meanwhile, put the egg yolks into the bowl of the bain marie.
Mix with an electric mixer until pale, add the sugar syrup in a thin drizzle while keeping mixing.
Take the bowl from the bain marie, keep mixing.
Add in the liqueur.
Add the soft butter cube for cube.
Keep mixing, at this stage it looks awful thin but it will be okay.
Fill the pan of the bain marie with cold water, place the bowl back and mix until the buttercream thickens.
Put the bowl in the fridge for at least 15 minutes to stabilize, take out a while before piping to get a little softer.
Notes
If you cannot get aniseed, you can substitute it with 1 tablespoon crushed anise milk cubes or with smashed "muisjes" (sprinkles, aniseeds covered with a coloured sugar layer).
The amount of icing sugar makes enough icing for a thin layer, if you like a thicker layer, double the amount.
The recipe for the cream makes a lot. If you decorate the cakes in the same way as I did, you will use about half of it. Halving the recipe will not work well, the amounts will be to small to work with, so use the other half of the cream for something else. It can be preserved for about a week in the fridge (in an airtight box).
Also the cream is not very easy and fast to prepare, so feel free to use whipped cream or another buttercream you like as a substitution, or even serve the cake without.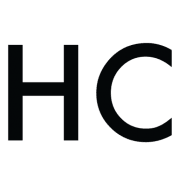 Ena Scheerstra
Ena Scheerstra has a lifelong love for food and cooking, starting to collect cookbooks at age 10. She spends most of her free time on cooking and everything food related. She is a strong believer of honest food, produced sustainable and sourced locally, and cultures her own vegetables on her balcony and in her small allotment. Her blog is very internationally orientated, reflecting the variety of food she cooks, but on Honest Cooking she is focusing on showing the world the wonders of Dutch food.