Dutch people usually make dishes like this with jarred or powdered sauces, but it is tastier to make it from scratch. This delicious homemade potato and leek bake with cheese-ham-herb sauce is a great example.
by Ena Scheerstra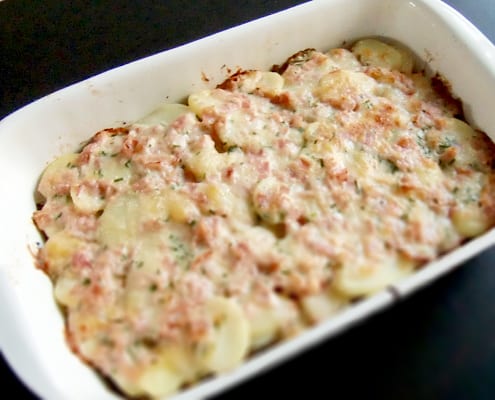 Dutch people love easy cooking. They love it so much that they buy lots of shortcuts in the supermarket to prepare a fast meal. You can buy all sorts of things, for example: jars with ready made sauce for pasta, but also for curry/oriental dishes, potato/pasta bakes and stews. There are boxes that contain a powdered marinade, a powdered sauce mix and a starch (for example 'chicken madras' with rice) to which you only need to add fresh products (in the case of the chicken madras, you add chicken, a red paprika and some creme fraiche). Often these are foreign dishes, but they don't resemble the original dish very much. There are all kinds of small sachets and cups for oriental style sauces, often they need something like a splash of coconut milk. But the biggest category of them all is powdered mixes, you have them for virtually anything: many kinds of soups (chicken, but also tomato, pea, asparagus, goulash, etc), pasta sauces, sauces for oven bakes, etc; only water is added to create a sauce.
Personally I am not a big fan of these shortcuts, because they are often quite bland, very salty and they contain lots of artificial ingredients. But I do like some of the dishes you can make with the packages, so I adapted the recipe to make it (almost) completely from scratch. This recipe is inspired on two different shortcuts. The first is a sauce from a jar, available in different flavours (cream-chives, bacon-onion, ham-cheese, garden herbs-garlic), which you pour over sliced (partly cooked) potatoes and bake in the oven. This creates a gratin-like dish. The other are powdered mixes for sauces, again in different flavours (for example minced meat with leek and curry sauce, or minced meat with cauliflower and cream sauce) to pour over  meat and/or vegetables with a layer of sliced (partly cooked) potatoes on top and again bake in the oven.  I combined the flavours of the jarred sauce into a cheese-ham-herb sauce, and used the combination of minced meat and leeks as a bottom layer, to create a lovely homemade potato and leek bake with cheese-ham-herb sauce. The only thing I do not cook from scratch are the potatoes, it spares a lot of time to use precooked potato slices and their quality is quite good. This dish is a real, comforty family meal.  It is easy to prepare (also in larger quantities) and it uses ingredients that most people like. And it is hearty enough to sustain us during the gray, not to warm and rainy weather that reigns here in the Netherlands most of the time.
Print

Potato and Leek Bake
---
Author:

Ena Scheerstra

Total Time:

50 mins

Yield:

4

1

x
Description
A lovely homemade potato and leek bake with cheese-ham-herb sauce.
---
400 gram

mince (I use half beef, half pork)

1

onion, minced

4

cloves of garlic, finely minced

1

big leek, washed and sliced in thin rings

450 gram

potatoes
olive oil
pepper

1

stock cube (beef or chicken)

1/4 tsp

mace

1/4 tsp

dried marjoram

1/2 tsp

worcestershire sauce
Cheese-ham-herb sauce
50 gram

butter

50 gram

flour

450

ml milk

1 tsp

mustard

1 tsp

Worcestershire sauce

200 gram

cheese (I use Dutch gouda)

2 tbsp

herbs, chopped (I like a mixture of parsley and chives)

100 gram

cooked ham, in cubes
---
Instructions
Heat a large frying pan with some olive oil.
Brown the meat.
Add the onion and garlic, fry until soft.
Meanwhile, add the pepper, stock cube, mace, marjoram and worcestershire sauce.
Add the leek, fry until soft.
Pour the meat mixture in a large, ovenproof dish.
Layer the potatoes on top, spread them out so that there is a thin layer of potato everywhere.
Preheat the oven to 180C.
For the cheese sauce, place a pan over a low to medium heat and add the butter.
Once the butter is melted, stir in the flour.
Cook, stirring, for two minutes.
Gradually add the milk, stirring all the time, until you have a smooth sauce.
Add the mustard, worcestershire sauce and cheese, then whisk until smooth.
Add the herbs and ham, stir until equally distributed.
Pour the sauce on top of the potatoes and spread it out.
Bake until the potatoes are soft and the sauce is golden on top.
Notes
If you cannot get precooked sliced potatoes, you can use potatoes that you peeled, sliced and precooked yourself. The 450 gram is determined by the package size of sliced precooked potatoes in the Netherlands (otherwise I would not use the leftover potatoes). You can adapt this to your package size, or to how much potato you would normally use.
Prep Time:

20 mins

Cook Time:

30 mins

Category:

Main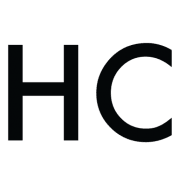 Ena Scheerstra
Ena Scheerstra has a lifelong love for food and cooking, starting to collect cookbooks at age 10. She spends most of her free time on cooking and everything food related. She is a strong believer of honest food, produced sustainable and sourced locally, and cultures her own vegetables on her balcony and in her small allotment. Her blog is very internationally orientated, reflecting the variety of food she cooks, but on Honest Cooking she is focusing on showing the world the wonders of Dutch food.