These crisp, sweet and buttery waffles are eaten on New Year's Day, plain or filled with whipped cream.
By Ena Scheerstra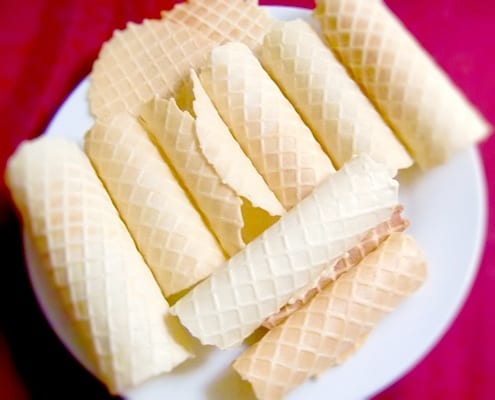 There are two versions of this cookie, a flat one and a rolled up one. The flat one is made with a dough and symbolizes the old year, which is already unfolded (called "kniepertje" in Dutch). The rolled up one is made with a batter and symbolizes the new year, which still holds its secrets. The recipe below is for the rolled up variety, I will post one for kniepertjes prior to another New Year's Eve in the future.
Baking kniepertjes and rolls is a century old tradition in some parts of the Netherlands. This is a real team effort, the whole family comes together to make lots and lots of waffles (the abundance is important!) from a bucket of batter and a mount of dough balls with the help of a waffle iron, and rolling them up around the handles of wooden spoons or leaving them flat. Nowadays there are still lots of people that eat lots of these rolls around the passing of the years, but usually they don't make them at home. Mounts and mounts of boxes with these rolls are stacked in the supermarkets, usually they appear 1-3 weeks before Christmas and are virtually sold out on New Year's Eve. So the tradition of eating these cookies is very much alive, while the baking isn't. This is a pity, because it is a fun thing to do with the family.
You do need some equipment. In the past, people used a waffle iron that was placed in the fire on the stovetop, but nowadays an electric waffle iron is mostly used (sometimes called ice-cone maker or oublie maker). Without some kind of apparatus to make thin waffles, it is impossible to make this recipe. You can try to bake them on a baking tray in the oven, but it is not the same. Another thing that really is necessary are asbestos hands. Immediately after taking the waffle from the iron, you have to wrap it around the handle of a wooden spoon or a rolling pin to achieve the rolled up shape, while the cookie is still very hot, otherwise it will break while trying. If you're hands are not like asbestos, this is a very painful procedure…
Some people like their kniepertjes and New Year's rolls plain, just like they were eaten in the past. But most people eat them with lots of whipped cream. I prefer to whip cream myself, put it in a piping bag and fill the rolls with that, but most people choose a ready to use store-bought can of whipping cream. It is advised to give people a plate or a napkin or something like that when you serve the cream-filled rolls, because they tend to explode when you bite into them, leaving whipped cream and bits of cookie all over your shirt… If there are people out there that know how to eat a cream-filled New Year's roll elegantly, please tell me how!

Dutch New Year's Rolls
Crisp, sweet and buttery cookies.
Ingredients
75 g butter
125 g sugar
150 ml water
250 g flour
grated peel of ½ lemon, or 1 tsp vanilla extract
pinch of salt
2 eggs
neutral oil
sweetened whipped cream, to serve
Instructions
Put butter, sugar and water in a pan and place on a low heat.
Leave until the butter is molten and the sugar has dissolved.
Put flour in a large, heat-proof bowl.
Add the hot butter-sugar-water mixture, the lemon or vanilla and the salt; mix well.
Add the eggs and mix to a smooth batter.
Leave to rest 30 minutes.
Preheat the waffle iron and brush with a little oil.
Scoop 1 tbsp of batter in the iron and close it.
Cook until pale golden, how long this takes really depends on your iron.
Take from the iron and roll directly (or leave flat if you prefer that).
Repeat until you've used all the batter.
Let the waffles/rolls cool completely before storing them in an airtight container (they keep about 2 weeks).
Fill with whipped cream just before serving.
Notes
How much you can make depends on the size you make them. To make rolls, wrap small waffles around the handle of a wooden spoon, wrap large waffles around a rolling pin. Make lots, because the tradition dictates that you serve them generously to everyone (at least a few per person). And keep in mind that you always need more whipped cream than you think.
Ena Scheerstra
Ena Scheerstra has a lifelong love for food and cooking, starting to collect cookbooks at age 10. She spends most of her free time on cooking and everything food related. She is a strong believer of honest food, produced sustainable and sourced locally, and cultures her own vegetables on her balcony and in her small allotment. Her blog is very internationally orientated, reflecting the variety of food she cooks, but on Honest Cooking she is focusing on showing the world the wonders of Dutch food.