A versatile savoury snack that is crispy on the outside and creamy on the inside.
by Ena Scheerstra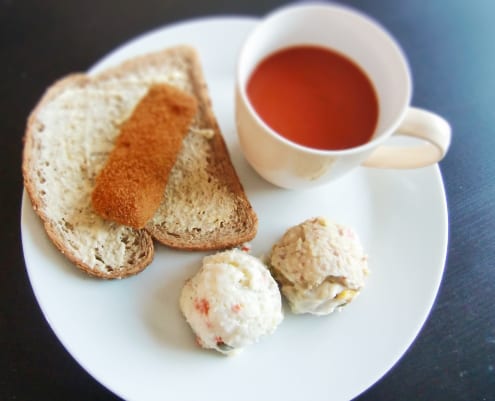 Meat croquettes (kroketten) consist of a thick meat ragout rolled into a cylindrical form, covered in breadcrumbs, which are deep-fried. They are a much loved food in the Netherlands, for example as a lunch staple and as part of a snackbar takeaway, but almost no one makes them at home. For this post I did make them myself and was pleasantly surprised. It didn't take that much time (most of it was waiting time) and the result was very delicious.
I served my delicious homemade croquettes in a typical Dutch way: the 12 o'clock (het twaalfuurtje). This is a dish often found on the lunch menu in lunchrooms and restaurants and consists of a slice of bread with butter, mustard and a croquette; a small 'uitsmijter'; a garnish of crudités or salad; and a small bowl of soup. Sometimes you also get juice or coffee. Two generously topped slices of bread, some salad and a bowl of soup is enough lunch for a hungry person. You can always choose if you like white or brown bread. The salad is usually potato, russian or beef, but making those is subject for a later post.
You can also use this recipe to make 'bitterballen', the only difference is to roll the ragout into small balls (about 4 cm in diameter) instead of cylinders. Bitterballen are served as a cocktail snack, accompanied by a small bowl of mustard to dip them in.
Print
Dutch Beef Croquettes
A savoury snack that is crispy on the outside and creamy on the inside.
Author:

Ena Scheerstra

Prep Time:

1 hour

Cook Time:

20 mins

Total Time:

1 hour 20 mins

Yield:

4

1

x
Category:

Main
200 g

beef/400 g beef with bone
Stock
1

onion

1

carrot

1

stalk of celery

1/2

leek

2

sprigs of parsley

1

sprig of thyme

1

bay leave
a small bit of mace

5

pepper corns, slightly crushed

1 tsp

salt
Sauce
35 g

butter

35 g

flour

1 tsp

lemon juice

2 tbsp

cream

1/2 tbsp

parsley, chopped

1

egg yolk
breading and cooking
1

egg
dried breadcrumbs
oil for deepfrying
Instructions
Wash the vegetables, cut in large chunks.
Place in a cooking pan together with the herbs and spices, lay the meat on top.
Add water until just covered.
Bring to the boil and leave to simmer until the meat is cooked and tender (depends on the cut of meat).
Take the meat out, slice in cubes of 0,5 cm (discard any tough, sinewy or very fatty bits).
Sieve the stock and set aside 200 ml. The rest will not be used. For a stronger flavour, reduce down the stock before measuring the 200 ml.
Melt the butter in a sauce pot.
Add the flour, mix well, and cook for about 1 minute.
Add the measured stock gradually while stirring to form a smooth and thick sauce.
Leave to cook on low heat for 2 minutes, then take off the heat.
Add the lemon juice, cream, parsley and egg yolk, mix them through the sauce.
Taste and season with salt and pepper if necessary.
Add the cubes of meat, mix them through.
Pour the sauce into a deep plate that you rinsed with water.
Cover with cling film and leave to cool in the fridge (takes about an hour).
Whisk the egg together with a little water in a deep plate. Pour the dried breadcrumbs on another plate.
Slice the cooled croquette mix in 4 equal parts (8 if you want mini-croquettes).
Place a part on top of the bread crumbs and form into a cylinder/croquette form (the breadcrumbs will prevent the mix from sticking).
Place the croquette in the egg mixture, cover completely.
Then place again on the breadcrumbs, cover completely with crumbs. Pat the croquette so that the breadcrumbs are attached well.
Do the same with the other three portions.
Heat the oil to 200C.
Place a croquette (or more, depending on the size of your fryer) in the fryer and bake for about 2 minutes, or until the crust is brown.
Serve immediately.
Notes
Use a cut of beef that is suitable for making stock. You can use veal instead of beef. You can use leftover meat (180 g); in that case you can use a ready made stock instead of the stock you make in the recipe.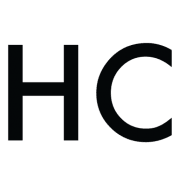 Ena Scheerstra
Ena Scheerstra has a lifelong love for food and cooking, starting to collect cookbooks at age 10. She spends most of her free time on cooking and everything food related. She is a strong believer of honest food, produced sustainable and sourced locally, and cultures her own vegetables on her balcony and in her small allotment. Her blog is very internationally orientated, reflecting the variety of food she cooks, but on Honest Cooking she is focusing on showing the world the wonders of Dutch food.