Fortnum & Mason was founded in 1707 in Piccadilly, London and primarily sells luxury food and drink items. Reena Pastakia spent some time selflessly sampling their products and talking to Natalie Griggs their Confectionary and Bakery Buyer about her role.
By Reena Pastakia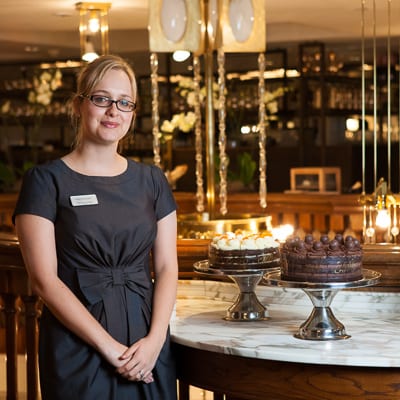 How did you end up working in this role?
I did an anthropology degree at the London School of Economics and then took a year out to go travelling.  To save money I got a job at Godiva on Regent Street as a chocolate strawberry dipper. I learnt all the basic things you need to do to run a luxury chocolate shop; I was taught how to rotate stock, fill ballotines, how to serve customers in a luxury store and how to ribbon. It was a cool gap year job and I decided I loved working with chocolate and food. After I returned from travelling I applied prospectively to Fortnum's.  Six months later they called and asked if I would be interested in applying for a position as Assistant Buyer for Chocolate and Confectionary.
What does a typical day involve?
In my current role as Buyer for Confectionary and Bakery every day is quite different. Depending on the month we might be finalising a product for Easter or Christmas or starting products from scratch.  At some point during the day there will be some quality control testing.  Usually once a week for each department there is a formal session where we sit down with a rota that the assistant buyer has put together with the products we are going to go through.  We taste on a formal basis using quantitative guidelines for the texture, appearance, aroma and flavour profiles.
We often have suppliers coming in for meetings about seasonal products on new ranges and I work closely with them on product development.  It is very rare that somebody will bring us something and we take it as it is.  It usually needs to be tweaked; For example if our fruit cakes contain alcohol it will be Fortnum and Mason's alcohol.  We are fussy about the cherries that we use, the grade of vine fruits that we use.  We try to go out to suppliers as much as we can and visit their premises. We have a food technologist that often comes with us especially when we first start using somebody and she conducts an audit. I usually look at things from a product point of view but she asks very different questions than I do.
As with all jobs there are quite a few administrative tasks; I don't just sit at my desk eating chocolate all day!  For example I have to complete paperwork for setting a new supplier up and confirm that bar codes have been set up on our system.  It takes a lot of time and is definitely not fun or glamorous.
Do you still have enthusiasm for eating chocolate and patisserie outside of work hours or has the job taken the enjoyment out of it? 
My husband gets really annoyed because all his friends think that I come home with boxes of cakes and chocolates but I don't tend to have anything like that in the house because I eat so much sugar during the day.  I will eat dessert in a restaurant if I think it is a really fun patisserie menu and I think I can learn from it. I really love chocolate; It is what my training was in and my expertise is in.
How many tastings can you do before your palate can no longer distinguish between the different chocolates? 
It depends on what you are tasting. I find filled praline bonbons or very rich, heavy, strong flavours like coffee and alcohol tends to cloud my palate much quicker than just tasting simple bars. Ideally I wouldn't try more than five in a session.  When we do quality control sessions we don't taste more than five products.  If I have to do a bigger tasting I cleanse my palate with apples, bread or sparkling water.  Having said that I've found that tasting one or two items isn't as useful as tasting three as it's useful to have a reference point.  I find that it takes at least one sample to get my taste buds paying attention.
British consumers have become more high-brow with regards to chocolate in the last decade.  Do you ever indulge in a bar of dairy milk or are you more of a purist?
Are you asking what my dirty chocolate secret is? I find when I'm jet lagged I really like King Sized Snickers.  On the whole I think that British chocolate consumers have become much more aware of quality chocolate and are much more receptive of the message of quality.  However there is a danger of chocolate snobbery.  Chocolate can surprisingly be quite intimidating in a similar way to wine and that can take the fun out of it.  I think the whole point of chocolate is that it is fun and enjoyable to eat and it makes you smile.  Although it is important for customers to understand the importance of provenance, cocoa solids and ingredients at the same time you shouldn't be made to feel bad if you try it and you still prefer milk chocolate. I find it sad when I overhear people saying "Oh it's 70% chocolate so it must be amazing".  That is only one aspect of what makes chocolate good.  What we aim to do here is have a really comprehensive range of what we think are the best examples of different types of chocolate. I think there is something that everyone will absolutely love here.
How do you decide whether to stock a product? 
It's not always my personal opinion.  There are plenty of things that I like that just aren't right for us to stock and vice versa – there are things that I wouldn't necessarily choose to eat myself but they are technically very good and that's why we sell them. Exclusivity is one of the factors we consider. We may be famous but we are a fairly small shop so there is no point in us selling something that you can buy absolutely everywhere.  We buy English products as a priority followed by the rest of the UK and then the rest of the world.
What is the best selling chocolate at the moment?
Our best sellers are consistently rose and violet creams.  They have had a revival in the last few year as part of vintage chic.
What are the trends to look out for in 2013?
We have iced biscuits that you can bespoke order to match your wedding dress and sales have rocketed in the last couple of years.  I love them because they are so fun and pretty. Eclairs had a little surge but went away again.  They are quite big and so you need commitment to eat a whole one.  Choux buns are sneaking up on the inside lane because they are cute and pretty and you can buy a couple as a treat for yourself or they look amazing on a platter if you buy a lot of them.
 What would be your desert island chocolate?
It has to be our cherry bakewell chocolate on our chocolate counter.  It's a really lovely almond marzipan covered in valrona dark chocolate with a big juicy dried sour cherry on top. I can eat bags at a time.
Reena Pastakia
Reena grew up thinking Indian cooking was a dark art where the quantities of spices required in each dish were innately known to a chosen few. It was only after she married an Englishman with a voracious appetite for Indian food that she started phoning home for cooking tips. She started her blog (coconutraita.com) in an attempt to document her family's recipes and make Indian cooking accessible to all.