Get resourceful with vibrant dragon fruit jellies that are gelatin free and vegan.
By Shannon Lim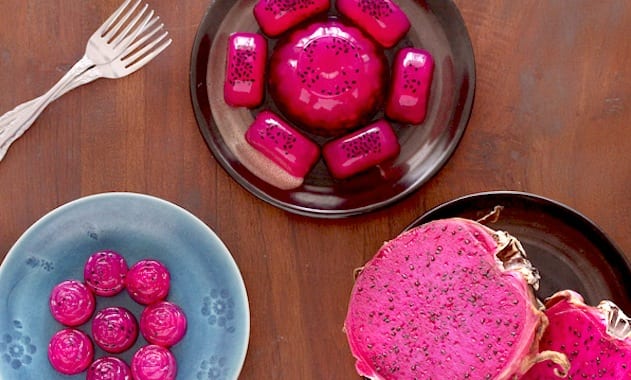 One of the things I love doing in the kitchen is experiment. To make agar agar dessert, the liquid is usually poured into pretty moulds or containers and cut into rectangular shapes. Not having any agar agar moulds. I rummaged through my kitchen ware and poured them in small bowl-like containers and the holder of popsicles. At that moment, what ran through my mind was the shapes looks pretty enough. It was only when I unmould them that I realised they would make a pretty flower design. The magenta agar agar makes it just in time for Chinese New Year and Valentine's Day. If you have never tried red dragon fruit, get a hold of one immediately. They are sweet and more flavourful than the white variety, which are pretty tasteless to me. I've recently come to know there's yellow variety too, but I haven't seen them here. Agar agar is one of the go-to Malaysian desserts, just boil and chill. What could be easier than that? Everybody loves them, especially on a hot sunny day. Agar agar (a plant based like gelatine) basically has no taste. Flavour it with favourite fruits, coconut milk like Pandan Agar Agar, chocolate, green tea, red bean. Oh the combination possibilities are endless. Imagine lycee with rasperberries… rosewater with pomegranates… Go on, give agar agar a try.

Dragon Fruit Jellies with Agar Agar
Get resourceful with vibrant dragon fruit jellies that are gelatin free and vegan.
Ingredients
1.5 Liters (6 cups) Water
15g (2 tablespoon) Agar Agar Powder or 20g Agar Agar Strips
200g Raw Honey (or sweetener of choice)
1 cup Dragon Fruit puree (1 medium size Dragon Fruit mashed with fork)
3 Pandan Leaves – tied into a knot (Optional)
Instructions
Add agar agar powder with 1 cup (250ml) water in a medium pot, stir well until well mixed. Add in balance of water and pandan leaves and bring it to boil. Make sure the powder has fully dissolve. Switch of the fire and remove pandan leaves.
Add the balance of the ingredients and mix well.
Pour into mould or (20cm x 20cm) tray. Once it has cool down, chill in the fridge for 30mins.
To release from mould, use a butter knife to run around the edges and gently squeeze the mould to release the agar agar. For the agar in the containers, use a butter knife to cut them into square or rectangular shapes.
Shannon Lim-de Rooy
Shannon's kitchen is her playground and creative outlet, where she loves to experiment with recipes. As a Malaysian, her food influences are mainly Malay, Chinese and Indian cuisine but her curiousity in other culture lead to cross cultural cooking. On her blog JustAsDelish.com, she pursue her mission in creating healthy and delish food.