Double Chocolate Nutella Cake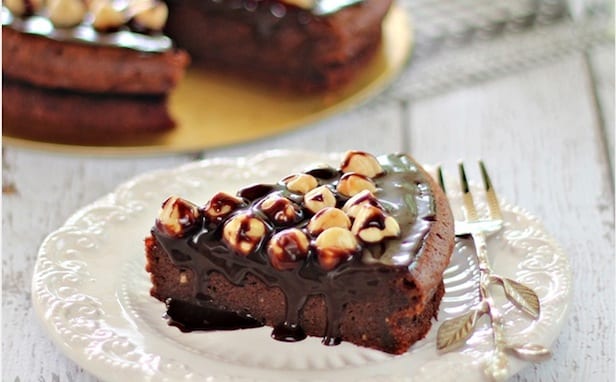 Chocolate Nutella cake teams up with a hazelnut and rum chocolate glaze. It stays delicious in the fridge for a couple of days and is even gluten-free.
By Ann Low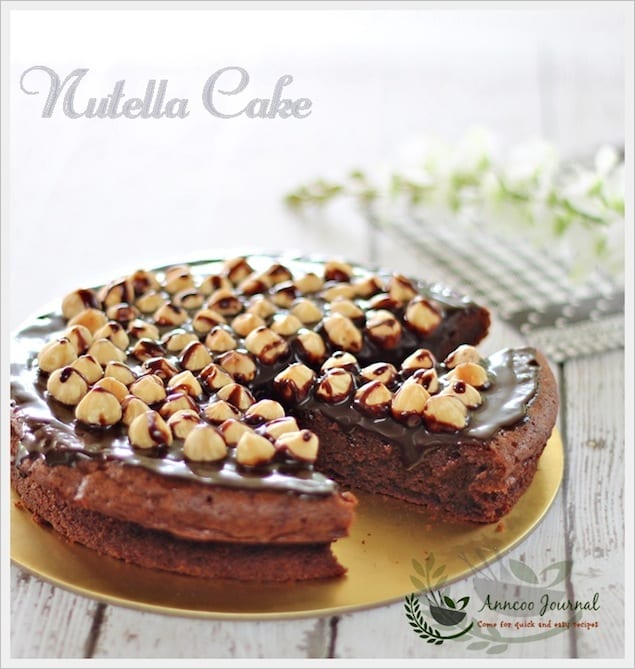 Look at this cake, it has a waistline but this gluten free Nutella Cake is utter, sinful indulgence. It is not only dense and chocolately, it's also moist at keeps for multiple days in the fridge. A quick and simple delicious cake for all occasions.

Double Chocolate Nutella Cake
Chocolate Nutella cake teams up with a hazelnut and rum chocolate glaze. It stays delicious in the fridge for a couple of days and it even gluten-free. recipe adapted from Nigella Lawson
Ingredients
Cake
3 Large eggs (separated)
a pinch of salt
65g Soft butter
200g Nutella spread
½ tbsp Rum or water
50g Ground hazelnuts
50g Valrhorna chocolate (66%), melted, cooled
Chocolate Icing
100g Hazelnuts, toasted (170C toast for 5 mins and cooled)
65g Whipping cream
1 tbsp Rum
65g Valrohrna chocolate or semi sweet chocolate, chopped
Instructions
Preheat the oven to 180C. In a large bowl, whisk the egg whites and salt until stiff but not dry. In a separate bowl, beat the butter and Nutella spread together with a hand whisk, and then add rum, egg yolks and ground hazelnuts.
Fold in the cooled, melted chocolate, then lighten the mixture with a large dollop of egg white, which you can beat in as roughly as you want, before gently folding the rest of them in a third at a time.
Pour into a 8 inch round greased and lined cake pan and cook for about 35-40 minutes or until the cake's beginning to come away at the sides, then let cool on a rack.
In a sauce pot, add whipping cream, rum and chopped chocolate together. Stir till melt under low flame. Remove pot immediately once chocolate melted and stir till smooth with 1 tablespoon extra Nutella spread.
As the cake is very delicate, gently remove it from pan. Pour icing over it and spread evenly. Lastly scatter toasted hazelnuts on top. Chill the cake for 1 - 2 hour before serving.
Ann Low
Ann Low is the author of Anncoo Journal, and loves to bake and cook for both family and friends. She acquired a strong passion for culinary skills from a very young age by watching her grandmother prepare delicious meals for the family. Ann believes that baking is an art and she wants to share her baking and cooking experiences with everyone in the world.