Sponsored Post: Who doesn't love free ice cream? Turkey Hill is hitting the road on their Good Mooed tour. Check out their tour dates so you can get a taste of their All Natural Ice Cream.
This no-bake double chocolate chip ice cream pie has a chocolate graham cracker crust and uses all-natural chocolate chocolate chip ice cream to create an incredibly easy (and delicious) filling.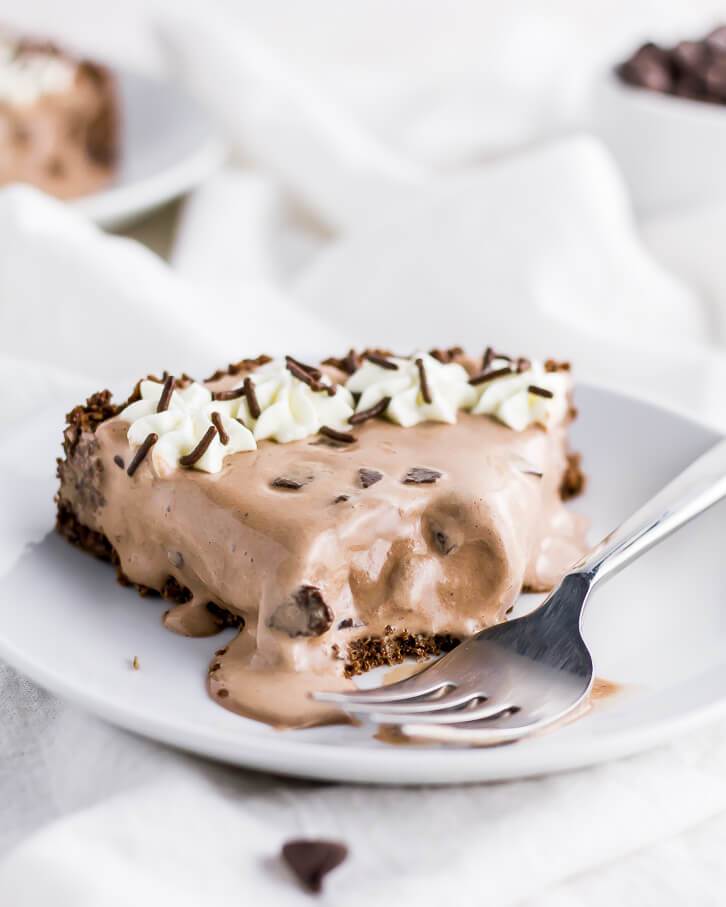 With summer officially in full-swing, I thought a simple, but stunning no-bake recipe would be just what we all needed. Believe it or not, there are days when even I need a break from my oven!
And that's where this chocolate chocolate chip ice cream pie comes in. The recipe is surprisingly easy, includes the simplest of ingredients, can be prepared ahead, and makes use of your freezer rather than the oven.
Since the filling for this pie is pure ice cream, you'll want to make sure you start off by choosing something good! I went with Turkey Hill's All Natural Chocolate Chocolate Chip Ice Cream, which is made with the simplest of ingredients so you get all of the goodness without any unnecessary additives! This flavor in particular is made with nothing more than cream, milk, sugar, cocoa, and dark chocolate chips.
Turkey Hill Dairy was founded in Lancaster County, Pennsylvania almost 90 years ago, which is exactly where Ben and I recently spent the weekend for a family wedding. We stayed in Amish farm country and I quickly fell for this beautiful, charming, and quaint region. I loved driving through the rolling fields all weekend, watching cows graze peacefully, and passing more horse-drawn buggies than I could keep track of!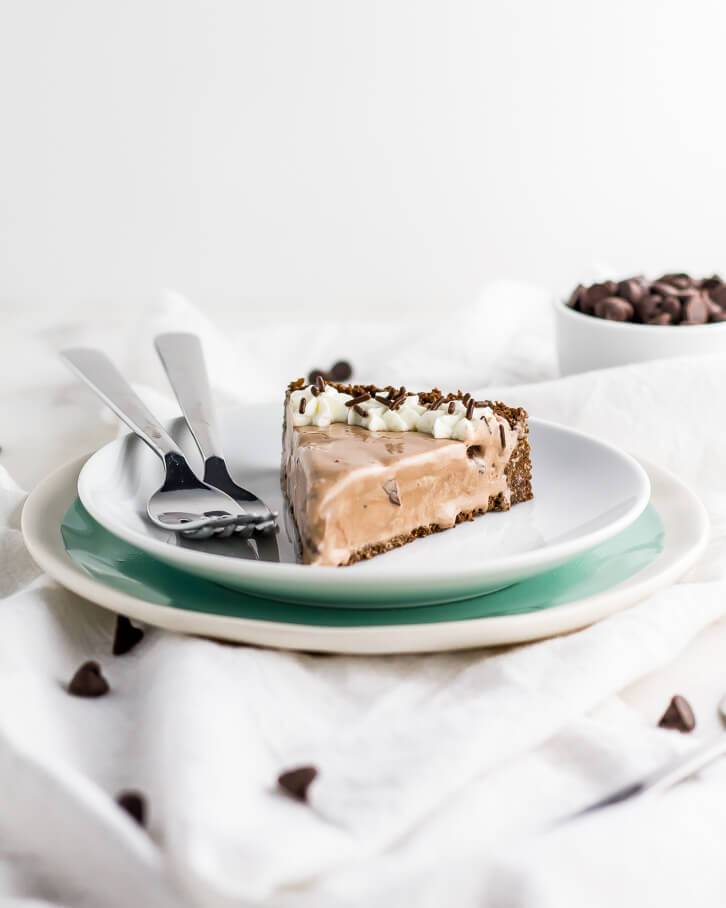 When I found out that Turkey Hill ice cream was made in this exact same spot, I knew it had to be good. And to prove me right, they brought their all natural ice cream right here to Chicago just last week. It was the perfect opportunity to get a taste of Lancaster County all over again!
The best part is that you just might be getting the chance to taste test their delicious ice cream in your hometown, too. Turkey Hill's Good Mooed Tour is making stops in cities all over the country along with their iconic Giant Cow and plenty of free samples to share. Stop by and try it for yourself!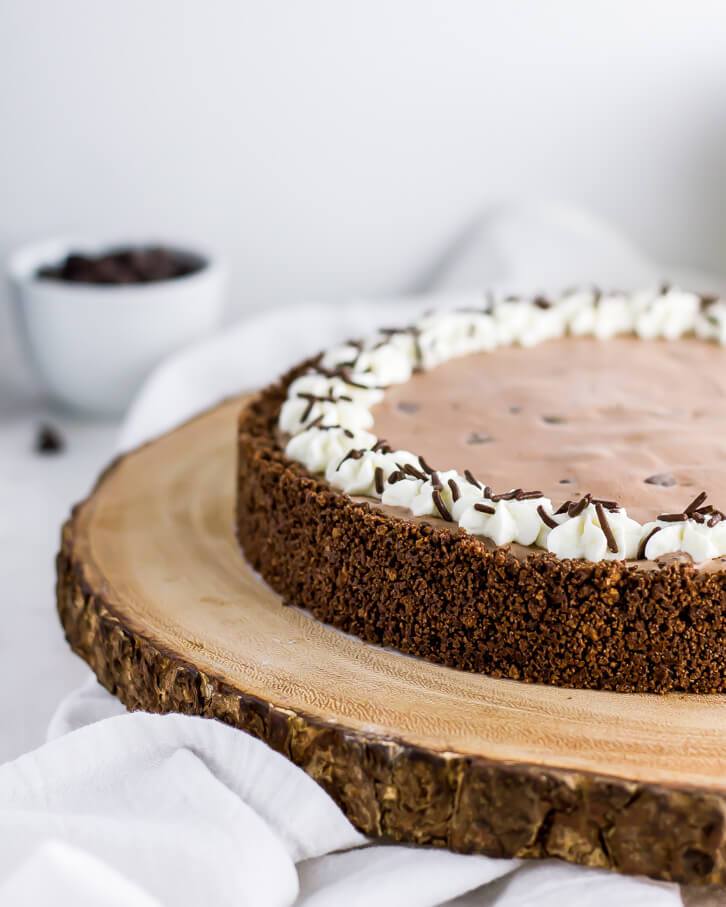 You can also use this store locator to find out where you can purchase Turkey Hill's All Natural Ice Cream at a store near you. You'll need just less than a full carton for this ice cream pie recipe, which means you can definitely dish out a couple scoops for yourself right after you bring it home from the store. ?
To pair with the chocolate chocolate chip flavor in this ice cream pie, I added a little cocoa powder to a classic graham cracker crust in order to give it a rich, chocolatey flavor. A good, stable graham cracker crust is such an important factor in many no-bake desserts and this crust recipe sets up beautifully, with just a short time in your freezer
See Also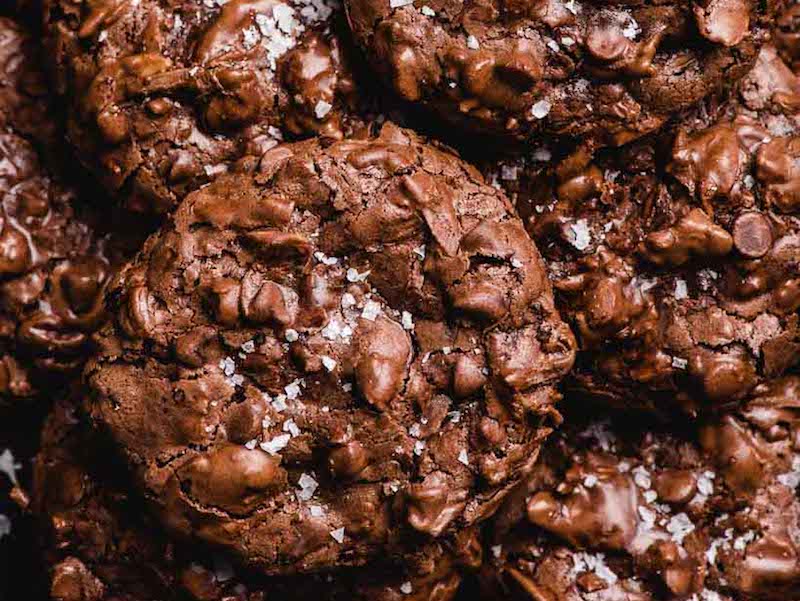 If need be, you can make this recipe in a standard pie plate, but I find that ice cream pie is easiest to slice and serve when made in a springform pan. To ensure the easiest removal, I line the bottom of the springform pan with parchment paper and the sides of the pan with a long strip of clear, plastic acetate. When it comes time to slice the pie, use a serrated knife dipped in hot water and quickly wiped dry with a towel.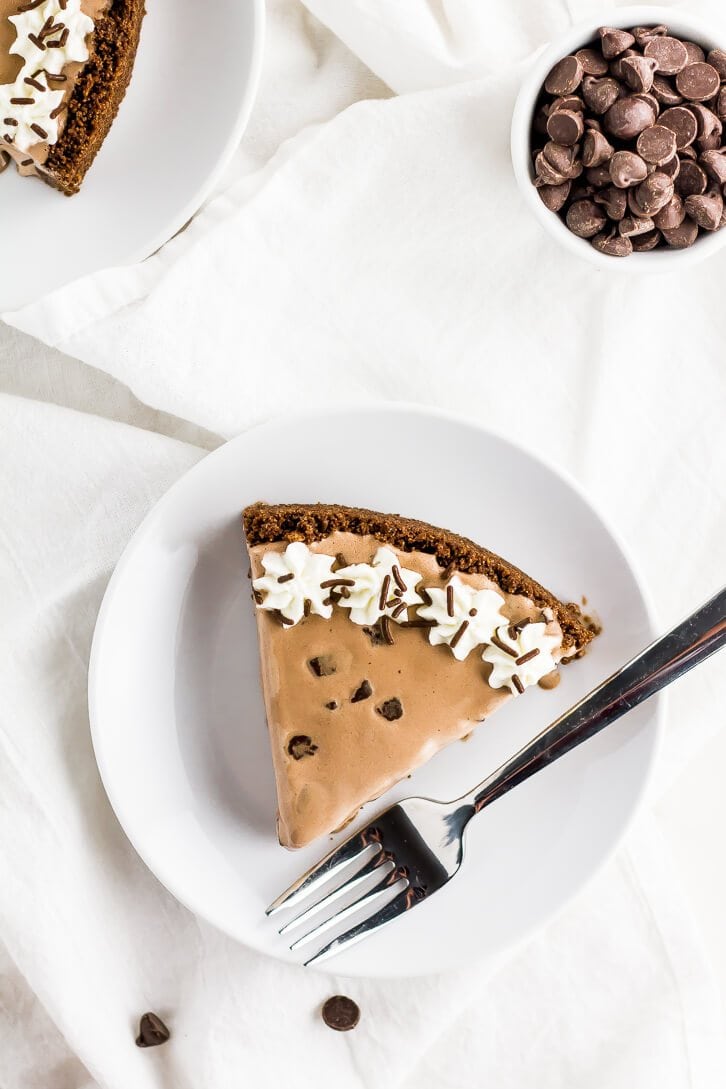 Finally, the toppings for this ice cream pie are simple: a two-ingredient whipped cream and a sprinkling of chocolate jimmies. The whipped cream is stabilized with powdered sugar so that it holds up nicely in the freezer. Feel free to make this dessert a day ahead, just keep it covered in the freezer until you're ready to serve it.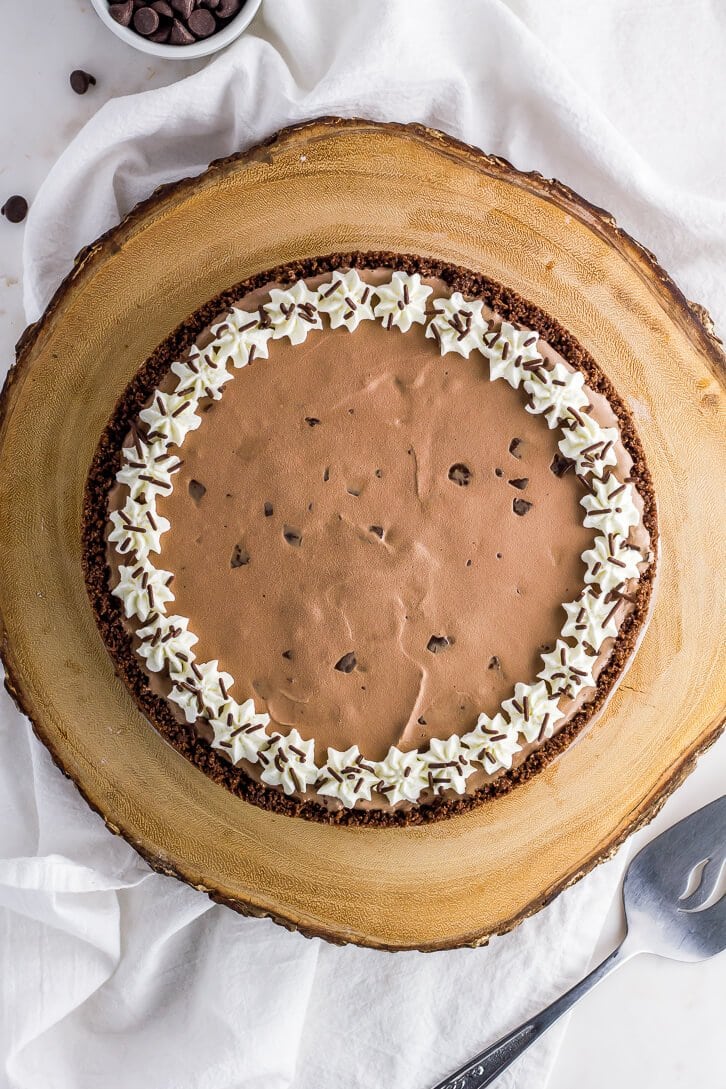 Click here for the recipe.
Hayley Williams
Hi there! I'm Haley, the recipe developer, baker, and photographer here at Flour Covered Apron. I love to bake, and most days, you can find me making a mess in the kitchen. My hope is that together we can find joy in baking and in sharing something sweet with the people we love.