Douala Coconut Shrimp Curried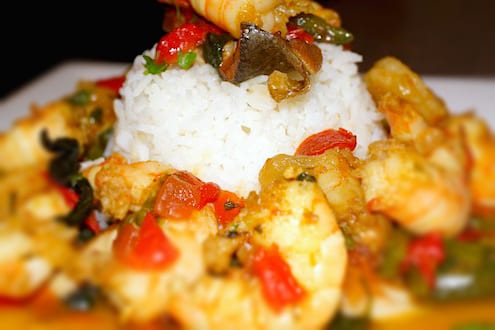 Douala Coconut Shrimp Curried is a Central African delicacy, from the coastal region of Douala in Cameroon.
By Yollande Deacon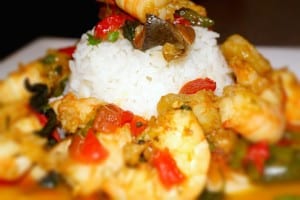 Douala Coconut Shrimp Curried is a Central African delicacy, from the Douala, Sawa people in Cameroon. I am excited to introduce you to a cuisine you may not already know from the coastal province of Cameroon, my homeland. In Douala Cameroon, a tribe of local fishermen called the Sawa have established a vibrant culinary industry and cuisine celebrated in the whole Central Africa region. Thanks to a covered access to the Atlantic ocean, the Sawa cuisine in Cameroon is based on all fresh and natural ingredients brought from the Sea directly to the kitchen. Douala Coconut Shrimp curried is a staple.
Douala Coconut Shrimp Curried
Douala Coconut shrimp curried is a Central African delicacy, from the Douala, Sawa people in Cameroon.
Author:
Yollande Tchouapi- Afro Fusion Cuisine
Ingredients
1 pound (450 g) of fresh raw shrimps deveined and cleaned
¼ pound (100 g) of smoked salmon roughly chopped
3 tablespoons of Afro Fusion Cuisine's Mama Deacon Curry seasoning
1 cup (240 ml) of Coconut milk
1 tablespoon of Afro Fusion's Mama Cita All purpose seasoning
3 bay leaves
1 stem of Thyme
1 tbsp of vegetable oil
¼ of yellow onion finely chopped
½ (60 g) cup of red bell pepper chopped
½ (60 g) cup of green bell pepper
salt and pepper to taste
Instructions
In a pot at medium fire, pour vegetable oil, then shrimps, onion, red bell pepper and the rest of the seasoning. Stir for 5-8 minutes until the shrimps are pink in color
Add the coconut milk slowly and keep stirring to coat. Add your salmon and cook for 5 minutes. Reduce heat to slow and cook for another 15 minutes
Taste salt and pepper...it is done...so easy!
Serve warm with rice, Yams, fried plantain or Fufu
Notes
With tons of love from my Kitchen to your heart! Yollande
Yollande Deacon
Yollande Tchouapi Deacon, is the founder of Afro Fusion Cuisine, a trusted passport to explore Central Africa culinary beauties. She is a cookbook author, African Chef and contributor to two foreign online lifestyle magazines including Goducamer in Cameroon and MamaMag in France.