Sweet and salty chocolate bark with cranberries, pistachios and pepitas – simple to make and absolutely delicious.
By Christina Soong-Kroeger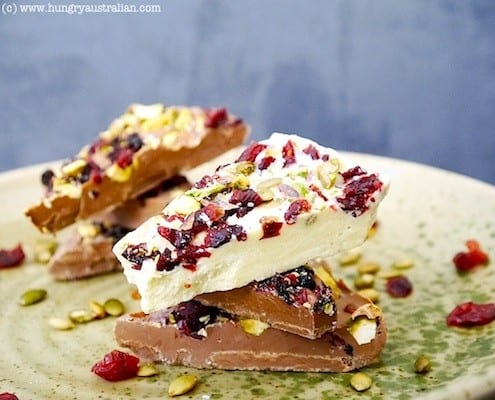 I've been meaning to make chocolate bark for months, ever since I saw Chocome's deluxe version at the Adelaide Good Food & Wine Show back in October.
Then Amy from Amy's Town made some lovely 'Chose Your Own Adventure' chocolate bark for our recent Festive Favourites Blog Hop. Her version looked so lovely and her recipe seemed so straightforward that I was out of excuses.
What is chocolate bark? Well, it's a slab of chocolate to which an assortment of toppings has been added. You can make chocolate bark with toppings like dried fruit, nuts, seeds, gold or silver leaf, crushed freeze dried raspberries or strawberries, and candy sprinkles.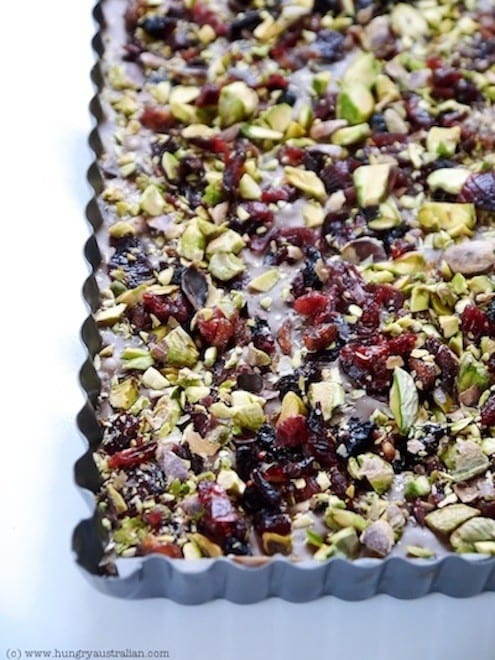 Chocolate bark is easy to make, and even more easy to eat. It's perfect to take to a friend's house to share, as I did last night, or to give as a gift, as I did on Christmas Day to multiple friends and family.
I've specified a combination of dried fruit and salted nuts and seeds below – the crunchy seeds and nuts add an interesting textural feature while their saltiness works marvellously with the sweet chocolate and dried fruit.
Sweet & Salty Chocolate Bark
Sweet & Salty Chocolate Bark with Cranberries, Pistachios & Pepitas - simple to make and absolutely delicious!
Author:
Christina Soong-Kroeger (www.hungryaustralian.com)
Ingredients
INGREDIENTS
250 grams (approx. 9 ounces) top quality chocolate melts (milk, dark or white)
20 grams (approx 1 ounce) salted, roasted pepitas (sunflower seeds)
50 grams (approx. 2 ounces) diced, mixed dried fruit (I buy a packet of mixed dried cranberries, blueberries, persimmons and pomegranates)
70 grams (approx. 2.5 ounces) salted, roasted pistachios, shelled and cut into pieces
White candy sprinkles (optional)
Instructions
Melt chocolate over stove in a double boiler. I put a ceramic mixing bowl into the top part of my two-piece steamer – it works fine. Stir occasionally.
Once the chocolate has completely melted, pour it into a casserole dish or baking tray that you have lined with baking paper.
Immediately sprinkle pepitas, dried fruit, pistachios and candy sprinkles on top. Give the tray a jiggle to encourage the toppings to sink in a bit.
Let cool for a few minutes and then refrigerate until completely set.
To serve, lift the whole piece of chocolate out of its container and place it onto a chopping board. Using a heavy, sharp knife, cut the chocolate block into small pieces – I think triangles look best.
You can either serve it on a plate with scattered pepitas and dried cranberries like below or in some funky container – a small paper box or basked lined with tissue paper would look great