These mini merry puddings are perfect for those who really don't have time to cook.
By Christina Soong-Kroeger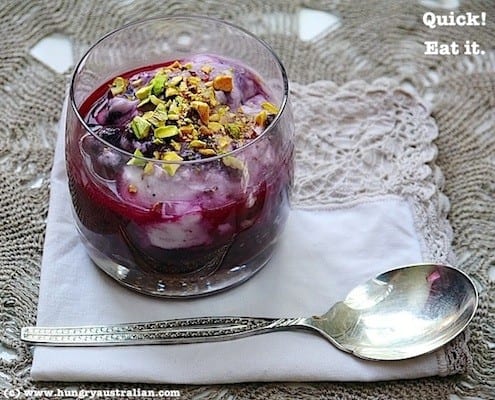 Too busy to cook? Or simply feeling lazy?
At the risk of sounding like a telemarketer, have I got the pudding for you!
This mini berry pudding only has five ingredients and takes 10 minutes to make. Two of the ingredients are merely bashed into pieces and there's hardly any cooking to speak of. You could serve this up at your next dinner party and people would ooh and ahh, little knowing that you whipped it up as they were pulling into your street.
I'm talking maximum pleasure for minimum effort.
It's a delicious pudding, too. The sweet chocolate base goes superbly with the tart stewed berries and the creamy blueberry yoghurt. It's rich but not too sweet – I didn't add any sweetener to the berries but you could add a teaspoon of sugar or honey if you have a real sweet tooth.
So get off the computer and toddle off to the shops. Buy some chocolate biscuits, berry yoghurt, frozen berries and roasted pistachios.
Make it. Eat it.
Now aren't you glad you cooked? Of course you are. Give yourself a pat on the back.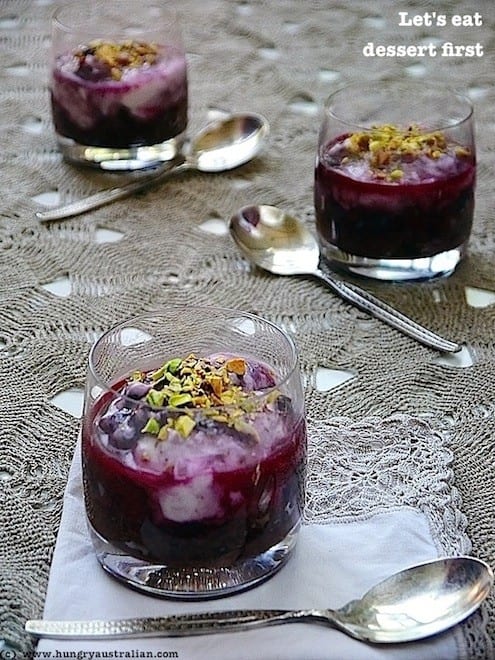 Mini Berry Puddings for Busy People
Gorgeous mini berry pudding for busy people - 5 ingredients, 10 minutes et voilà!
Author:
Christina Soong-Kroeger
Ingredients
2 cups of mixed frozen berries
½ cup water
1 packet of plain chocolate biscuits
3 x 170grams tubs of berry yoghurt
12 roasted pistachios, shelled and crushed
Instructions
Put frozen berries into small saucepan and ½ cup water.
Bring to boil and then simmer for 8 minutes.
Set aside to cool.
Meanwhile, put 18 chocolate biscuits into a small plastic bag and seal.
Bash biscuits with a wooden spoon or other heavy tool until smashed to rubble.
Spoon crushed biscuits into six glasses, distributing evenly.
Spoon cooled berry mixture onto the top of the biscuit layer and follow with half a tub of yoghurt in each glass.
Garnish with piastachios