Quenelles of poached meringue dusted with praline float dreamily on a vanilla custard. Love at first bite.
By Christina Soong-Kroeger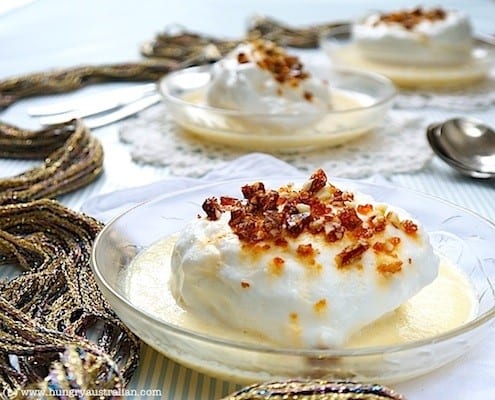 Sometimes one bite is all it takes for you to fall in love.
I should know. I fell head over heels the first time I tasted Floating Islands or île flottante.
I first experienced the delectable French dessert while holidaying in Paris with my dad in the early 2000s. I was working in London at the time and my dad had come to visit me. We spent 10 days travelling around the UK before taking the Eurostar to Paris.
It was my second visit to the eternal city and my dad's first so we did all the usual tourist activities: we visited the Musée du Louvre, La Tour Eiffel, Cathédrale Notre Dame de Paris, the Arc de Triomphe, the Place Vendôme and Fauchon. We shopped and we strolled happily around the streets, loving being in such a picturesque city.
And we ate. A lot.
We ate croissants, confit de canard (duck confit), soupe de fraises (strawberry soup), foie gras, plateau de fruits de mer (seafood platter), pommes frites (French fries), bouillabaisse (fish stew),macarons, mousse au chocolat, crème brûlée, coq au vin, boeuf bourguignon, cassoulet and Niçoise salad.
One day we were sitting in a bistro, having finished yet another wonderful dish when I spotted île flottante on the dessert menu.
See Also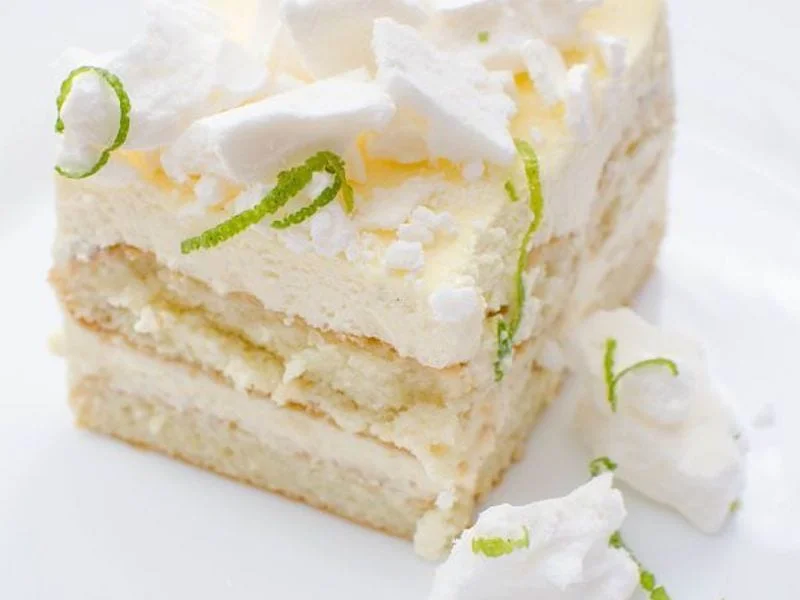 Île flottante. Floating island?
When the waiter bought the dish to the table I was immediately charmed. A large quenelle of poached meringue floated dreamily on top of a bed of vanilla custard or crème anglaise. Praline dust had been sprinkled over the top, like a pinch of magical fairy dust.
I dipped my spoon in the meringue and scooped up some custard for good measure. The contrast of textures – the lightness of the meringue, the silkiness of the custard and the crunchiness of the praline – was sublime.
After all these years, I still remember how good that very first Floating Island was. But these days, I don't have to travel so far to fall in love all over again.
Neither do you.

Dining Down Under: Floating Islands
Quenelles of poached meringue dusted with praline float dreamily on a vanilla custard. Love at first bite!
Author:
Christina Soong-Kroeger
Ingredients
Custard
2 cups milk
1 teaspoon vanilla bean paste or essence
5 egg yolks
½ cup caster sugar
Praline
⅓ cup natural almonds
½ cup caster sugar
Meringue
3 egg whites
½ cup caster sugar
2.5 cups milk
Instructions
Custard
To make custard, heat milk and vanilla in a saucepan until gently simmering. Turn off.
Meanwhile, whip yolks and sugar for a couple of minutes until emulsified.
Pour hot milk mixture onto the mixed yolk and sugar mixture and mix together thoroughly.
Quickly rinse out the saucepan and then pour the entire custard mixture back into the pan.
Heat over a low heat for around 10 minutes, stirring constantly, until custard thickens and coats the back of a spoon.
Turn off and leave to cool.
Praline
To make praline, put almonds into a plastic bag and bash with a rolling pin until pulverized.
Spread out on a baking tray lined with baking paper.
Heat sugar in a small saucepan for around 3 minutes until sugar starts to caramelise.
Pour over almonds and leave to set for around 10 minutes.
Reduce praline to small pieces and/or dust by breaking it down in a blender or putting into the plastic bag again and bashing it with a wooden rolling pin.
Meringue
To make the meringue, beat the egg whites with an electric mixer until peaks form. Then beat in the sugar, a little at a time, until meringue is glossy and stiff.
Meanwhile, pour milk into a large, deep frypan and bring to a slow simmer.
Using two large serving spoons, form spoonfuls of the meringue mixture into oval shapes by passing it gently from spoon to spoon.
Slide gently into the simmering milk and repeat three more times.
Poach meringue for 3 minutes on each side (use a slotted spoon to turn).
To serve, spoon custard into low bowls.
Gently lift an island out of the milk with a slotted spoon, tapping gently to remove the excess milk and avoid unsightly drips on the custard.
Place gently on top of the custard and garnish with praline.
Christina Soong-Kroeger
Christina publishes The Hungry Australian - a collection of recipes, reviews and stories about food - and is a regular contributor to Sumptuous. Her writing has appeared in the China Daily and That's Shanghai while her photography regularly appears on Foodgawker, Tasteologie and Photograzing. After eating her way around Shanghai, London, Hong Kong, Leeds and Melbourne, she now calls Adelaide, South Australia, home again.