When one is in Italy and perched upon the Adriatic Sea, take the opportunity to eat fresh seafood in an old fishing trabucco.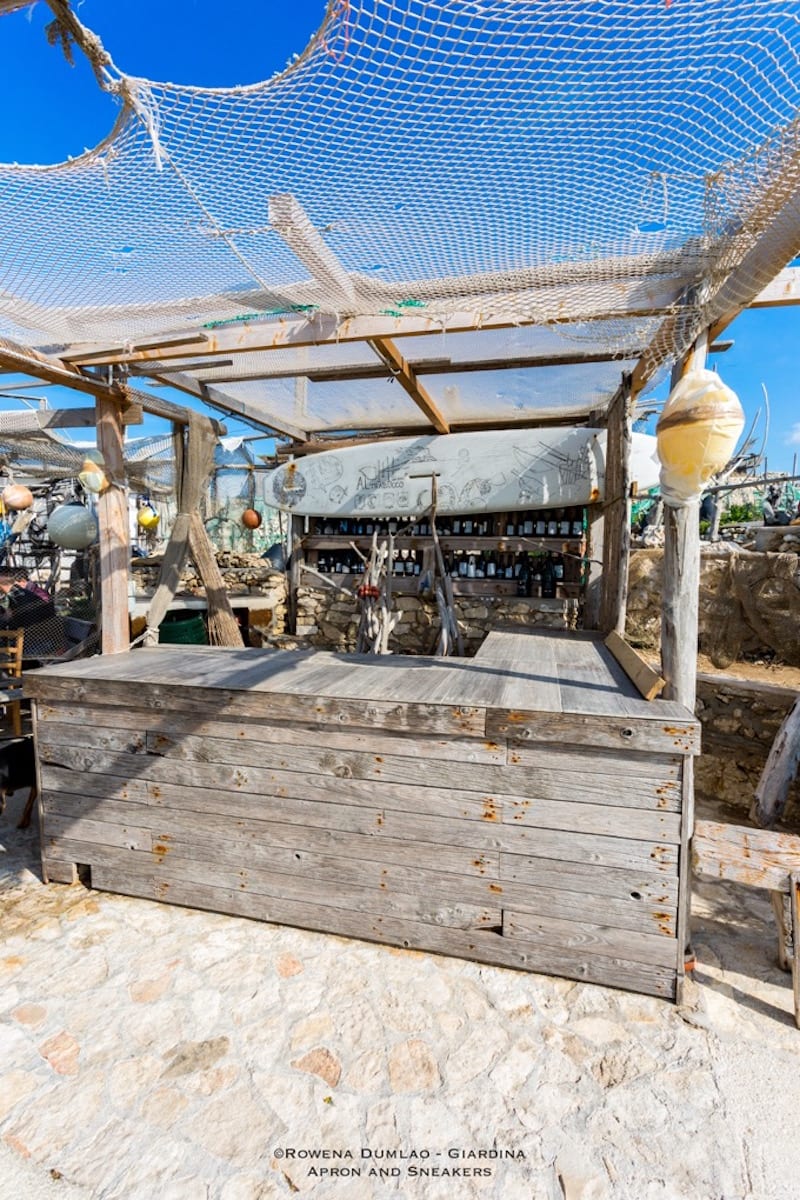 When I go to the Adriatic side of Italy with my family, we make sure that we get to eat at least once in a trabucco (or trabocco). What is a trabucco? It is an old fishing construction typical in a specific area called Costa dei Trabucchi or Coast of Trabucchi which lies along the Chieti area along the coast of the Abruzzo. The trabucchi (plural of trabucco) can also be found along the coast of Gargano, between the towns of Vieste and Peschici, in the Apulia region. They are large wooden structures that jut out into the sea and anchored to the rocks by big wooden columns made of Aleppo pine wood, a local pine that grows in the Gargano area. They have two wooden antennae that support a giant fishing net in the middle.
In the Gargano coastline, they are protected because they are considered as historical and cultural monuments. They were invented by the Phoenicians and the earliest document pertaining to them was from the 18th-century. Although they were built in such a way that they should withstand strong winds and water, some didn't endure the natural elements and had to be rebuilt. A few of them were converted to restaurants by their owners over the recent years and if you want your seafood to be as fresh as they can be, then book yourself a table at one of the trabucchi in Italy. I once had the chance to taste tiny fish that were caught right in front of us then went straight to the plate and just mixed with lemon, salt and extra virgin olive oil. It was incredible.
On a recent trip to Peschici, we had a great find. A jewel if I might say because not only was the panorama outstanding but the food was also excellent. Al Trabucco di Mimi has a casual and laid-back atmosphere that makes dining with kids (and a dog) really enjoyable.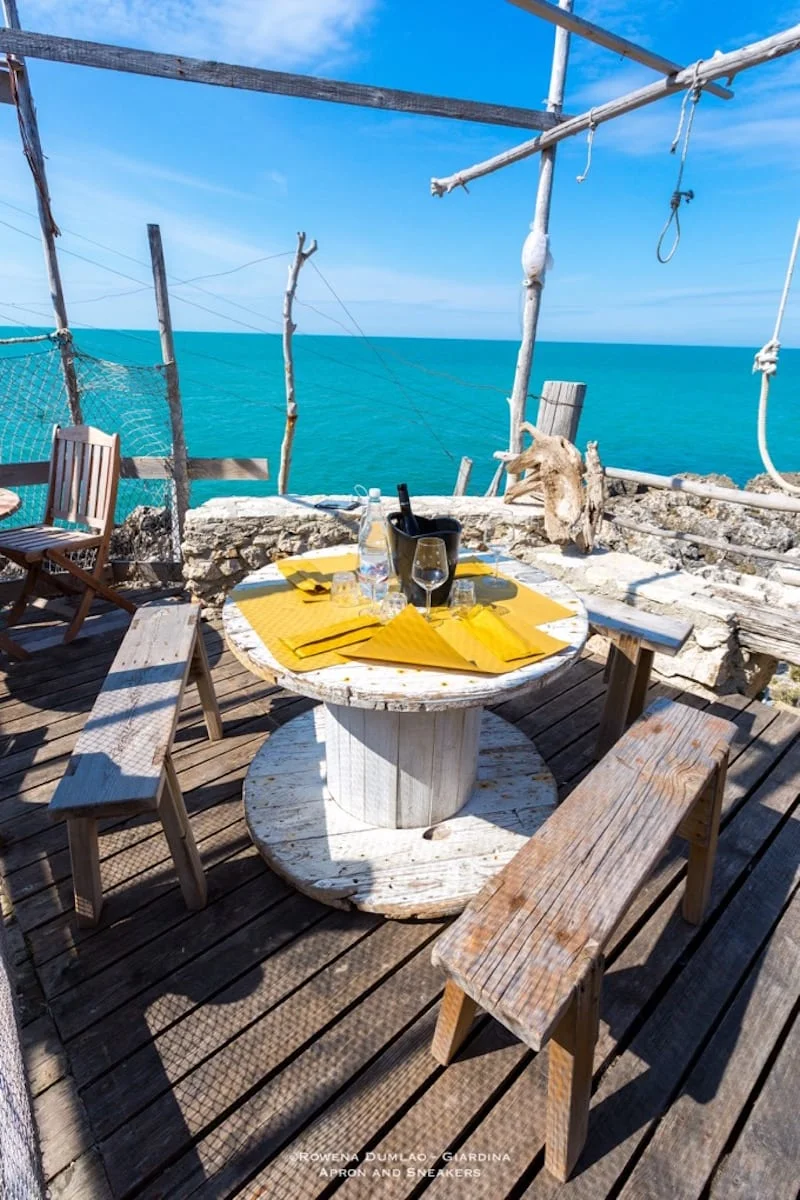 Al Trabucco da Mimi is spread out on the rocks with the trabucco itself positioned in the middle. There is a bar on the left side with tables positioned on the rocks. It wasn't summer yet when we were there but just the thought of having cocktails on those rocks while waiting for the sun to set made me yearn for summer to arrive quickly.
The restaurant is open from April to October for lunch and dinner and closed during the winter season. It is run by Mimi and his wife Lucia. The chefs are two of their sons, Mario and Carlo, and Carlo's wife Rossella. The service are is handled by the other two sons, Domenico and Vincenzo. The place is big but it can still get really packed like on the day we were there and being flexible with their hours, we were lucky to get a table for four (plus our dog who was most welcome) at almost two in the afternoon. With that late hour, we were not the only late-lunch strugglers even. Ordering is different. First, get your table and memorize its number then you go to the main restaurant window with the short menu written in the blackboard to order.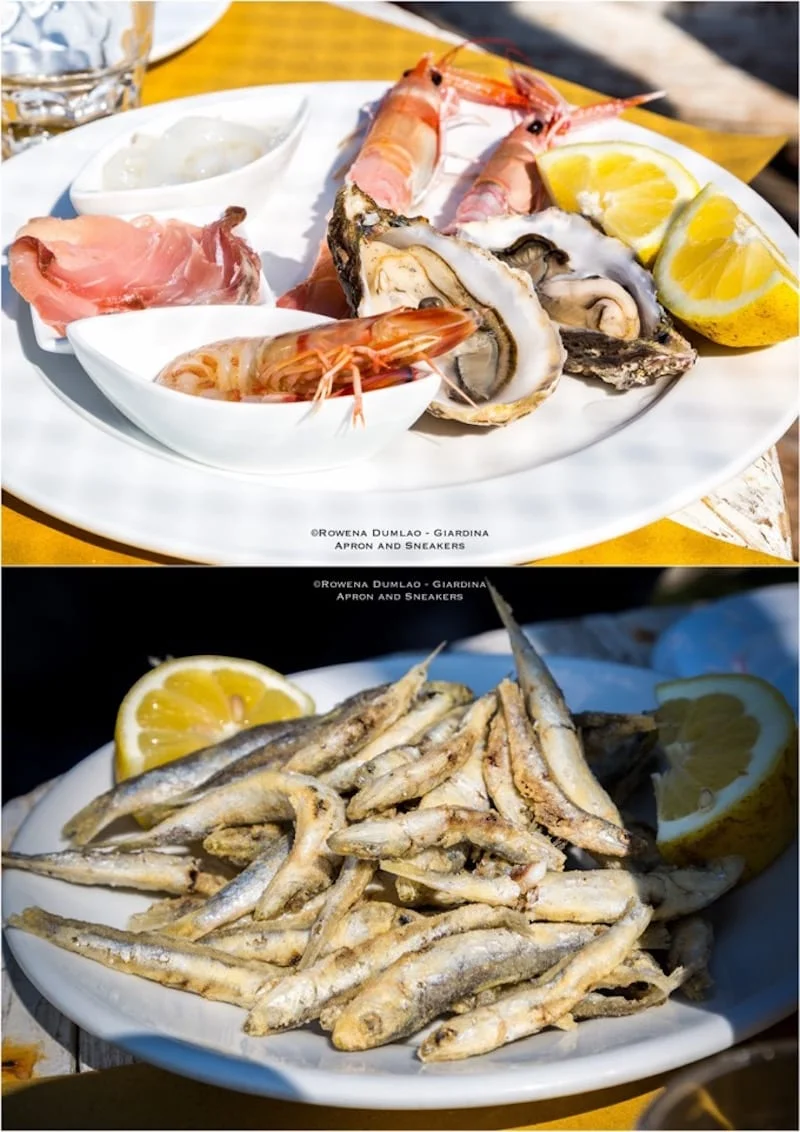 I love contemporary dishes but more than anything else, I still look for fresh and simple Italian dishes especially when the quality speaks in great volumes. That's what you get at Al Trabucco da Mimi and nothing less. Unadorned preparation is after all, the best way to enjoy fresh seafood.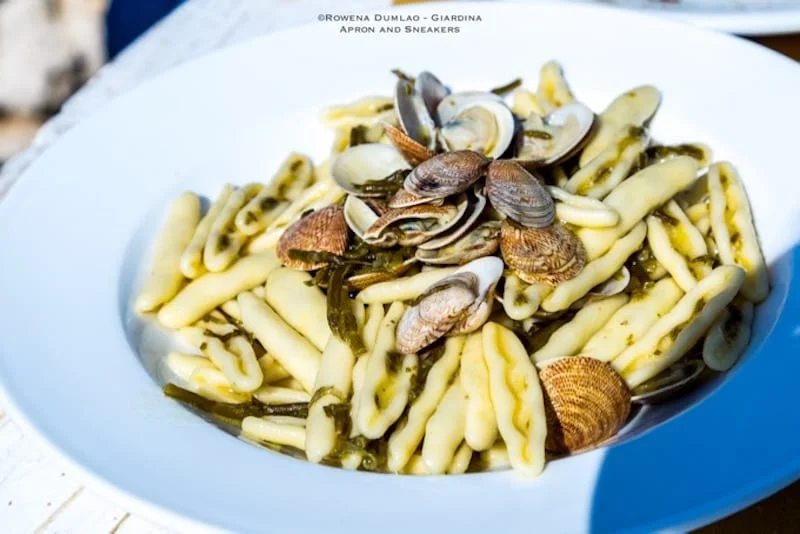 AL TRABUCCO DA MIMI
Localita Punta San Nicolà
71010 Peschici (Gargano)
Tel: +39 0884962556
Email: info@altrabucco.it
Rowena Dumlao Giardina
Rowena Dumlao - Giardina is the author and photographer of Apron and Sneakers and The Chosen Table. Besides her blog, she's also a recipe developer and a travel writer for other food and travel sites.