A review of the eclectic theater and dining experience at The Heath. Chef R.L. King creates British fare with a luxurious twist.
By Carly DeFilippo
You could call it an acquired taste, but those who dare enter the McKittrick Hotel have a hard time staying away. Hidden on an industrial stretch of West 27th Street, the "hotel" is best known as the home of Sleep No More, New York's most talked-about (and most mysterious) immersive theatre experience. But the critically-acclaimed play is only one of the McKittrick's many talents.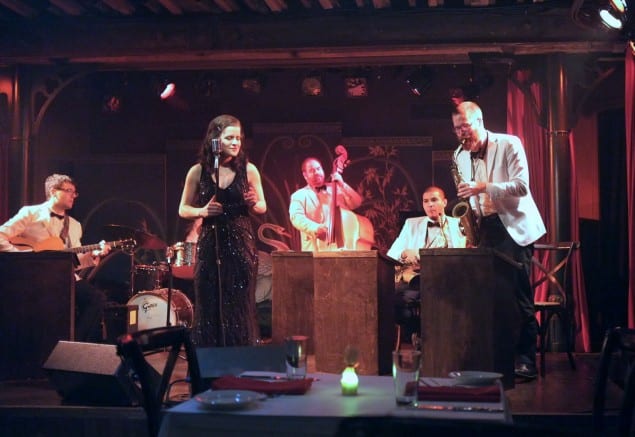 Avid patrons may already be well acquainted with the venue's rooftop bar, Gallow Green, and live music sessions at the HotBox. But the hotel's latest venture, a full-service restaurant called "The Heath," is sure to surprise even the most seasoned of Sleep No More veterans.
Housed inside the eerie, train-themed "Gallow Green Station," The Heath is helmed by Chef R.L. King, known for his work at Il Buco and Hundred Acres. Inspired by the upper crust nostalgia of the hotel, King's menu includes such traditional gems as pork pies, a "Yorkshire fry up" and roast cockles. No dish, however, comes without a twist, as the chef raises everyday British comfort food to a level of subtlety that's entirely unexpected.
At the suggestion of Liam, our white-suited server, I started the night with a Hull Executive. A back-straightening combination of akvavit, gin, vermouth and cocchi bianco, it was a surprisingly smooth white-on-white cocktail—and probably the stiffest drink I have ever enjoyed. My companion opted for a Night Ferry, which Liam called "an introduction to Mezcal." As smoky as the vapor-laden air, it was laced with the sweetness of summer apricot and a bright twist of citrus peel.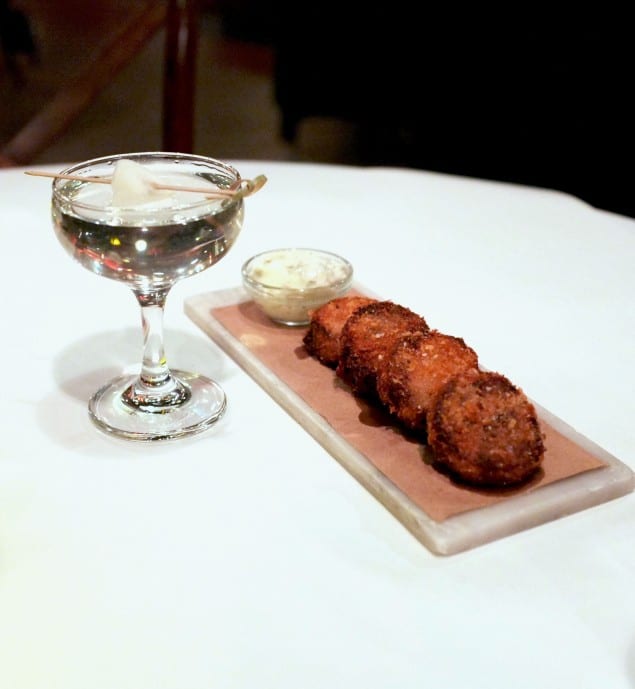 Accompanying our cocktails were Chef King's "crispy pig crunchies," a foursome of feather-light cakes whose crust shattered, offering up a rillettes-like filling. We also crunched on a basket of fall vegetable crisps: a more richly colored, spicy and flavorful version of the (already craveable) grocery store Terra Chips.
On a lighter note, we chose the persimmon salad, a pleasantly sweet mix of fruit, shaved fennel and sunflower granola. But as we dug in, we were interrupted by the waitstaff. Delivered on a silver tray, the note (accompanied by a shot) instructed my fellow diner to excuse herself from the table. She slid it to me, suggesting I follow its instructions instead. It's no fun to indulge the details, but let's just say that when the McKittrick delivers a message, it's specific to the recipient. To learn the darker secrets of this hotel, you have to play by the rules.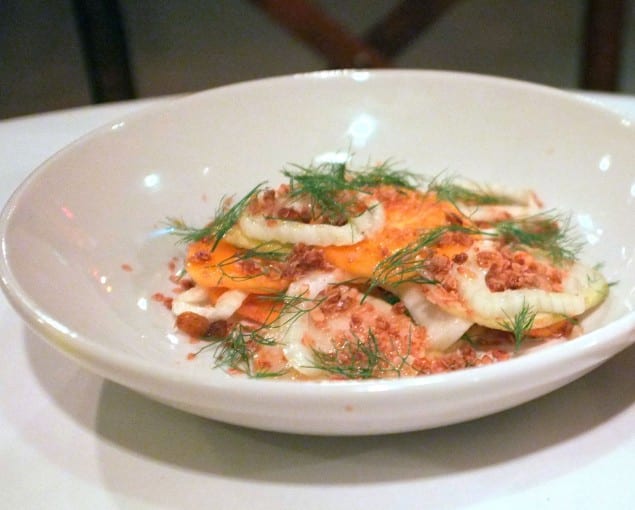 Back at the table, we moved to the seafood side of the menu: a grilled porgy special and indulgent fisherman's pie. The whole porgy was a gorgeous, flaky fish, layered with an eclectic mix of Mediterranean flavors. From crunchy parsley and al dente grains, to creamy yogurt and pickled mushrooms, it was one of the more intriguing dishes I've encountered of late.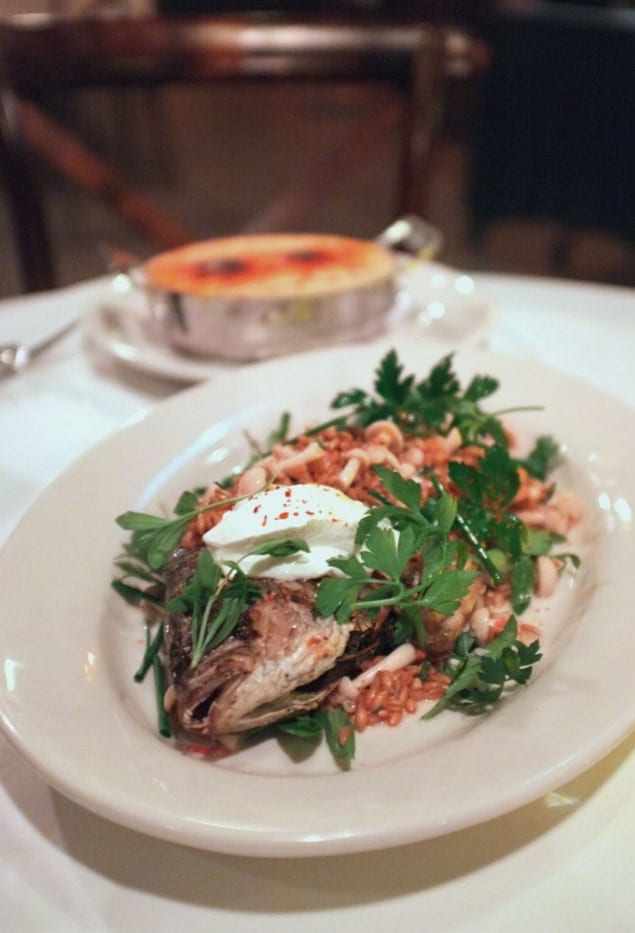 The fisherman's pie, however, was a masterpiece. Topped with mashed potatoes that tasted like a crusty buttermilk biscuit, it was chock-full of richly flavored fish. I challenge anyone to eat it without uttering audible praise.
Our last round of savory dishes featured the roast cockles and crab and farmer's cross pork chop. Served in a spicy tomato broth with shredded crab and nubs of chorizo, the cockles were a refreshing take on the genre of warming winter dishes. But those who appreciate the flavor of char should consider the pork chop, if only for a taste of the blackened seasonal squash.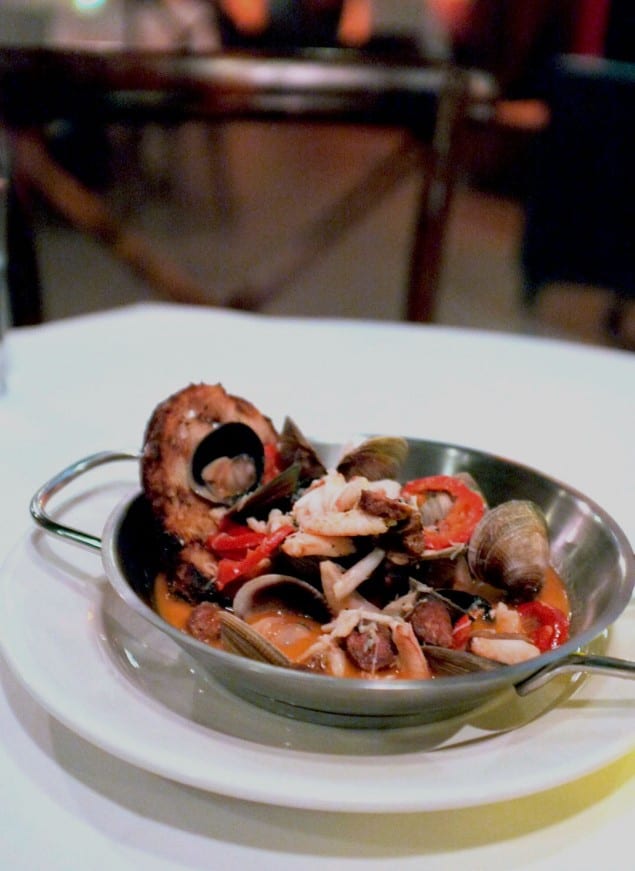 As a sultry vocalist joined the jazz quintet on stage, we indulged in Liam's dessert suggestions. First up, chocolate mousse: a creamy, crunchy, grown-up version of "dirt pie" (happily, without the requisite gummy worms). Equally satisfying was the custardy bread pudding, presented like a slice of French toast and topped with an addictive, spicy black pepper caramel.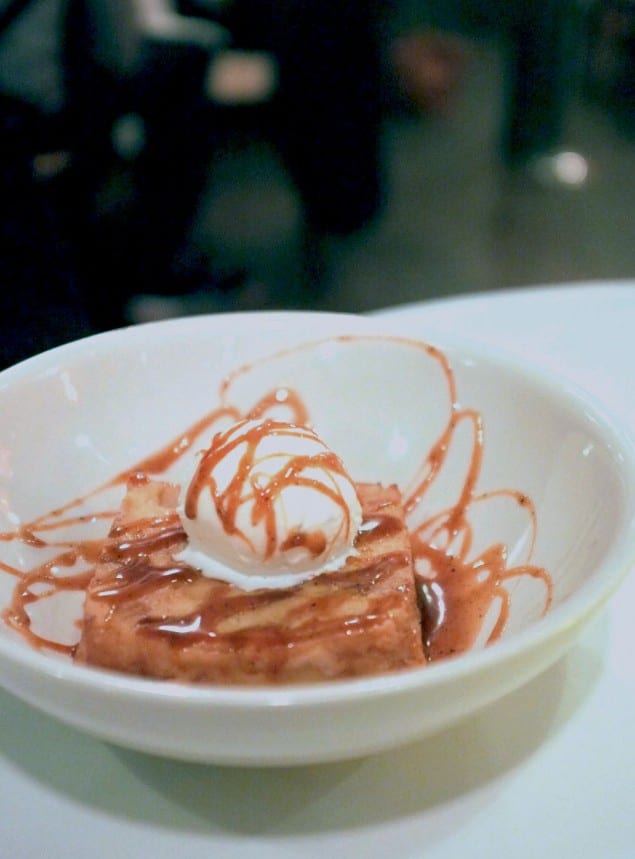 Swirling the last sips of my buttery pinot gris, I couldn't help but be in awe of what we had eaten at the Heath. A venue like this doesn't need award-worthy food. Stiff drinks, eye-catching ambiance and some of the best entertainment in town would be enough to keep any restaurant on its feet. But mediocre isn't in the McKittrick's vocabulary. The seduction—and success—is all in the details.

Carly DeFilippo
Carly is a Contributing Writer at Honest Cooking. Though the first line of her college application essay was "I love tunafish," it wasn't until she pursued graduate studies in Paris that she ever considered a future in food. Based in Manhattan, Carly is a freelance writer and the co-founder of Cognoscenti Creative, a boutique branding agency dedicated to establishing artisans as influencers.