This is Danish chef Adam Aamann's favorite recipe for rugbrød; the base of his delicious traditional open sandwiches: smørrebrøds. Once you've baked a loaf you can simply eat a slice with butter, or experiment with smørrebrøds recipes.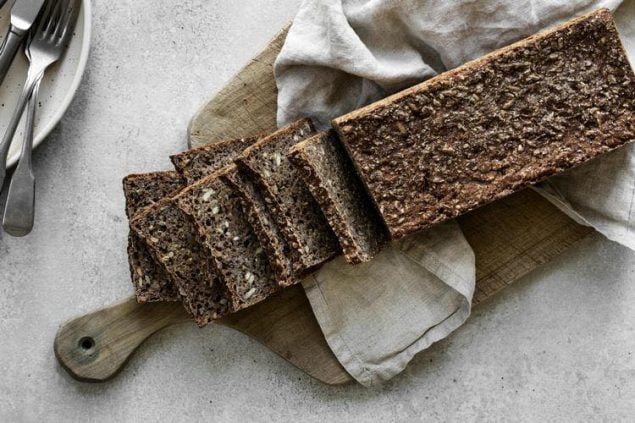 Denmark's Rye Bread – Rugbrød by Adam Aamann
Ingredients
12 oz dark rye flour (about 3 cups)
3.5 oz whole wheat flour (about 1 cup)
4 oz sourdough starter (about 1 cup), recipe follows
16 oz warm water (2 cups)
0.5 oz molasses (1 tbsp)
0.5 oz kosher salt (1tbsp)
6 oz seed mix (about 2 cups),equal parts sunflower, flax, and pumpkin seeds.
STARTER
6 oz dark rye flour (about 1.5 cups)
4 oz warm water (1/2 cup)
2 oz dark beer (1/4 cup)
0.5 oz molasses (1tbsp)
0.1 oz dry yeast (about ½ tsp), or 3 oz (3/4 cup) previous batch of starter
Instructions
TO MAKE SOURDOUGH
Mix all ingredients in a bowl until combined (about 1 minute on low speed in a stand mixer).
Let rise at room temperature until slightly bubbly, 2-3 hours.
Refrigerate for at least 24 hours, or up to 5 days (the longer the time, the more sour the mix will be).
FOR THE FINAL DOUGH
Mix all ingredients except seeds until thoroughly combined (about 5 minutes on low speed in a stand mixer).
Add seed mix and incorporate into dough (about one additional minute in a stand mixer).
Cover dough and let rise at room temperature until bubbly and nearly doubled, 3-4 hours.
Mix dough with a spoon or spatula to deflate; pour into a greased 2-pound bread mold.
Give the dough a final rise until bubbly and slightly risen, 1-2 hours. Optionally, refrigerate overnight for more complex flavor.
Bake loaf in a preheated 300 degree oven with a pan of water on a lower rack (for steam) for 90 minutes.
Remove bread from pan and return to oven, bake for an additional 30 minutes.
Remove from oven and let cool at room temperature for at least an hour before slicing.
Hungry for more?
Smørrebrød: Beef tartare with tarragon and crispy potato by Adam Aamann
Smørrebrød: Chicken salad, Potato and Grilled Sirloin by Adam Aamann
Smørrebrød: Marinated herring with orange and pumpkin