Delights of Dijon — Spring Asparagus and Fava Salad with a Mustard Vinaigrette
PARTNER POST — Discover the unique flavors of the Dijon region with Maille.
Spring flavors are light, fresh and simple. Showcase that in this green salad dressed in a bold flavorful vinaigrette that complements the season.
By Julia Gartland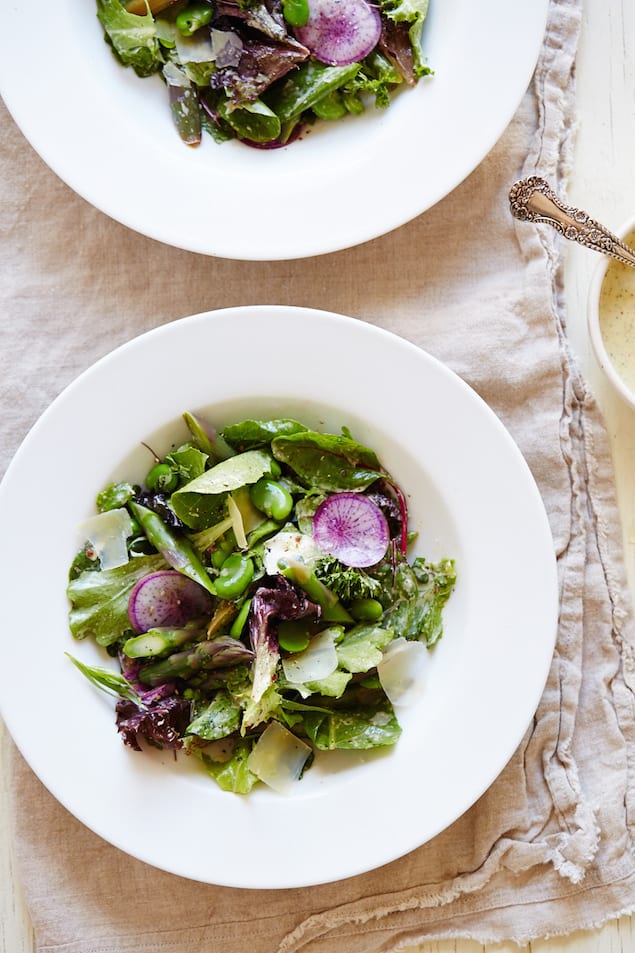 This spring I've been "cooking" a lot of simple salads – light, but hearty enough for a weeknight meal. For me, salads are the easiest meals to throw together, especially when you can just throw some leftovers over top (roasted veggies, lentils, quinoa, etc). But as we all know, a salad is nothing without its dressing. I always love a mustard dressing for salads – it's the easiest way to add instant flavor to something relatively simple. I've always used Maille's mustards (especially the whole grain mustard – I love the crunch of the seeds).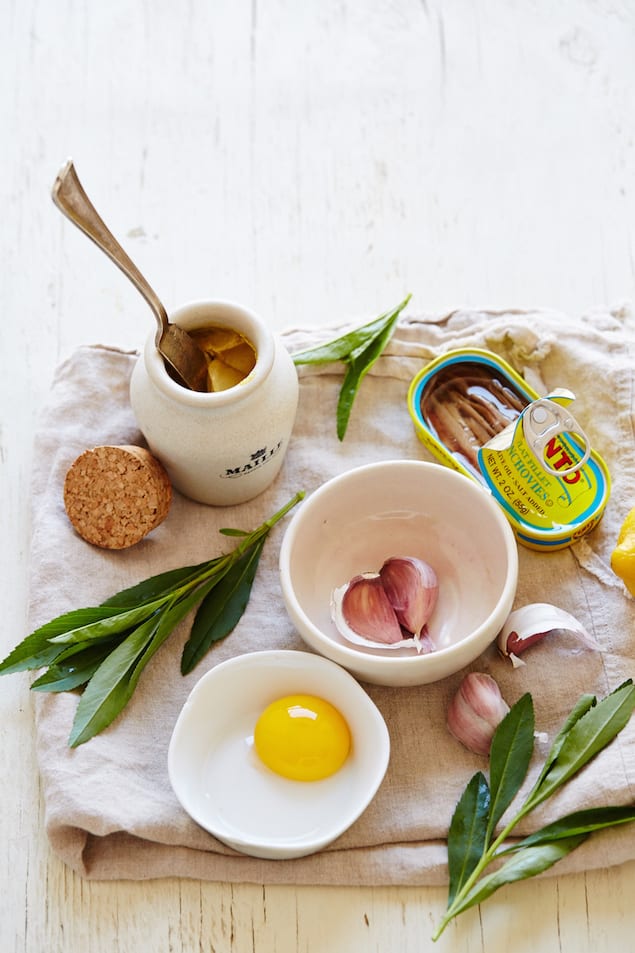 ASPARAGUS & FAVA BEAN SALAD WITH RADISH & MUSTARD ANCHOVY VINAIGRETTE
Spring flavors are light, fresh and simple. Showcase that in this green salad dressed in a bold, flavorful vinaigrette that complements the season.
Ingredients
1 lb. asparagus, trimmed & cut into 2inch pieces
1 lb. fava beans, removed from pods
A few large handfuls of mesclun greens
1 small korean purple radish, shaved thin
3 oz. pecorino, shaved
Kale Microgreens, to top
Flaky Sea Salt to taste
Freshly Cracked Pepper
MUSTARD VINAIGRETTE: (Adapted from Primal Palate)
1 egg yolk
1 tablespoon Maille dijon mustard shaved radish, pecorino, asparagus
2 garlic cloves
4 anchovy filets
1 teaspoon black pepper
1 lemon, juice
1 teaspoon sea salt
Instructions
Bring a large pot of water to a boil. Prep two large ice baths & set aside. Once water has come to a boil, blanch asparagus for about 2 minutes, remove with a slotted spoon and add to ice bath. Then, blanch fava beans for 1 minute, strain & add to ice bath. Once both have cooled to the touch, strain and set aside.
Using a food processor or immersion blender, blend together all dressing ingredients, until emulsified. Set aside.
Peel fava beans: Use your the nail to puncture the skin, then remove the opaque outer skin to reveal bright green fava bean. Continue until all fava beans are shelled.
Toss mesclun greens in a serving bowl with shaved radish, pecorino, asparagus, fava beans a drizzle of dressing, flaky sea salt and freshly ground pepper. Toss with dressing, flaky sea salt and freshly ground pepper. Serve immediately.
Julia Gartland
Food & Lifestyle Photographer based in Brooklyn, NY. I cook, shoot and eat (gluten-free). http://www.sassy-kitchen.com | http://www.juliagartland.com