PARTNER POST — Discover the unique flavors of the Dijon region with Maille.
Mustard lovers rejoice, this cream sauce combines cheese tortellini, asparagus and a creamy Dijon mustard sauce to wow your taste buds.
By Gayle Spice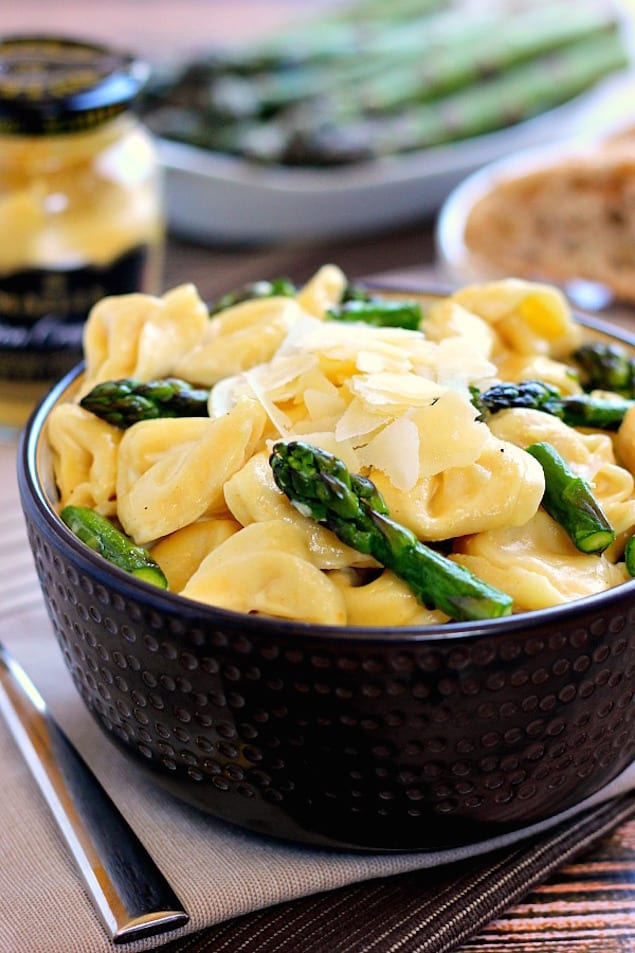 Say hello to this Tortellini with Mustard Cream Sauce. The name pretty much says is all. Fresh cheese tortellini is combined with
asparagus and a creamy mustard sauce that is suitable for every mustard (and pasta) lover. It's a deliciously different way to enjoy mustard!
So when Maille sent me some of their gourmet mustards to try, I could hardly contain my excitement. Since I love plain 'ole yellow mustard, I knew I would find a new favorite with their exciting flavors.
If you've heard of Maille before, then you know that they have been producing high quality products for over 267 years. They first opened a boutique last year in New York City and have been growing in popularity ever since.
As soon as I opened a jar, my senses were delighted. The Dijon mustard was creamy, delicious, and filled with a slight tang, perfect for my mustard-loving self. And since I love creating new recipes, my mind immediately begin to think of everything I could use this mustard on.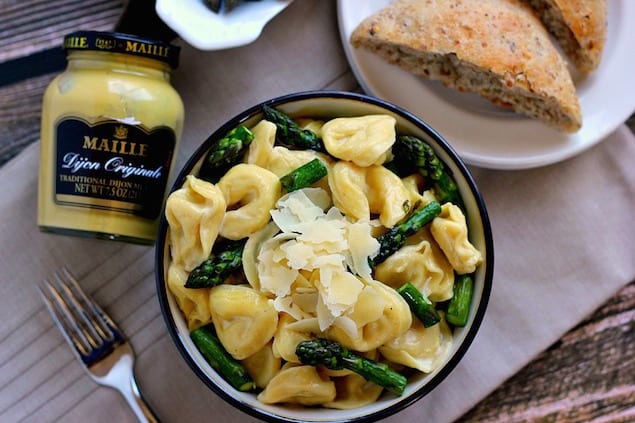 Besides being filled with the mouthwatering tang of Dijon mustard, this Tortellini with Mustard Cream Sauce is a breeze to whip up. It's the perfect meal to serve when the weather gets warmer or when your crunched for time, without sacrificing flavor. With minimal prep time and fresh ingredients, you can wow your dinner guests (or just yourself!) into thinking you spent all day in the kitchen. Sounds pretty good, right?
See Also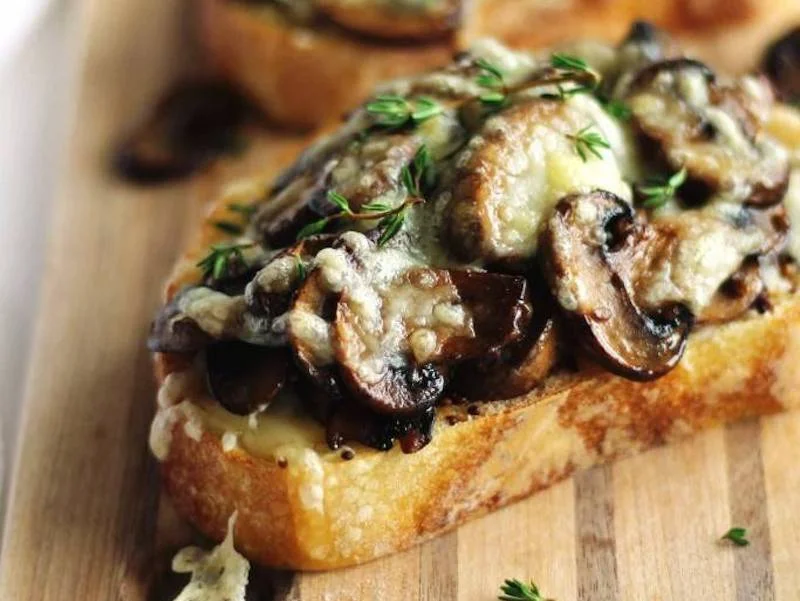 By using fresh tortellini, you'll ensure that you get the best flavor possible, which is crucial when pairing with the Maille mustard
collection. When the tortellini is cooking, simply whisk together some chicken broth, heavy cream, and Dijon mustard. As soon as it thickens, remove from the heat, toss it with the cheese tortellini and fresh asparagus, and your flavorful meal is ready to be devoured.
[fve]https://vimeo.com/126301319[/fve]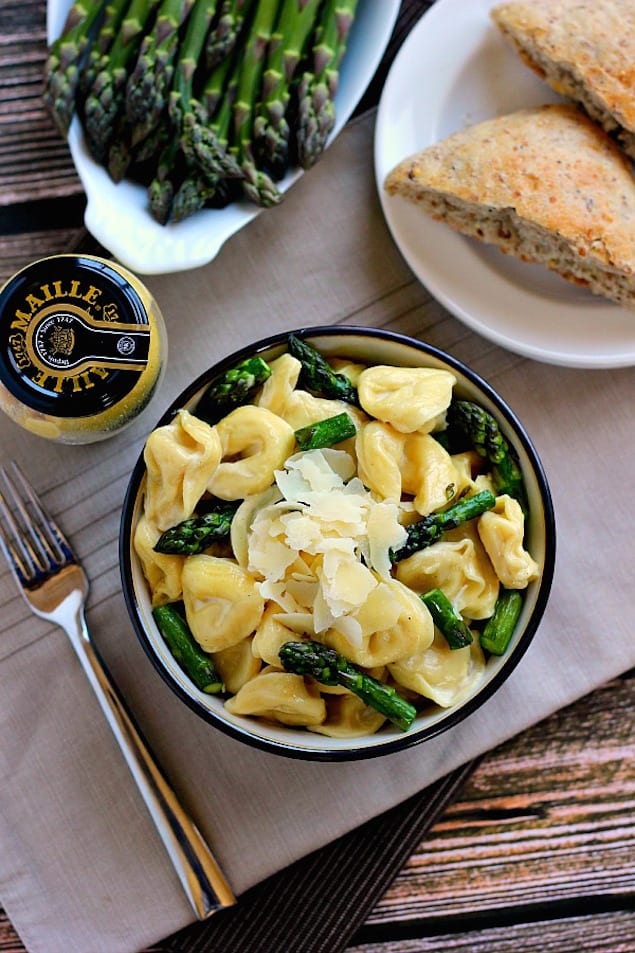 Delights of Dijon — Mustard Cream Sauce Tortellini
Mustard lovers rejoice, this cream sauce combines cheese tortellini, asparagus and a creamy Dijon mustard sauce to wow your taste buds.
Ingredients
1 (16 ounce) package fresh, cheese tortellini (I found this in the
refrigerated section of my grocery store)
2 tablespoons olive oil
1 bunch asparagus, trimmed into one inch pieces
2 cups chicken broth
¾ cup heavy cream
3 tablespoons Maille Dijon Mustard
Instructions
In a medium pot, cook tortellini according to packaged directions. Drain
and then toss with 1 tablespoon olive oil to prevent pasta from sticking.
Set aside.
While tortellini is cooking, heat 1 tablespoon olive oil in a medium
skillet. Add asparagus and sauté until tender, about 5-6 minutes. Remove
from skillet and cover to keep warm. Set aside.
In same skillet, combine chicken broth, heavy cream, mustard, salt and
pepper. Whisk together.
Simmer for about 10-12 minutes, or until thickened.
Remove from heat and pour over tortellini. Add in asparagus and toss to coat.
Serve immediately.
Gayle Spice
Gayle is the blogger behind Pumpkin 'N Spice, a bog dedicated to easy and delicious recipes, sweet treats, and comforting meals that can be whipped up in no time.