PARTNER POST — Discover the unique flavors of the Dijon region with Maille.
For a quick summer side dish, throw sweet potato wedges on the grill and then serve them with zesty honey mustard dip for the perfect dunking pair.
By Liz Harris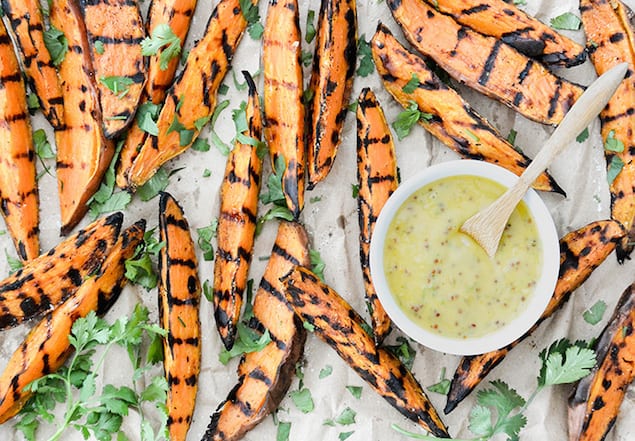 I just can't seem to pull myself away from the grill this year.
Today we are grilling up one of my favorite foods: sweet potato fries. And believe me when I say how easy and fast this recipe is to make. The trick is to first parboil the potato wedges. Then they just need about ten minutes of grilling time. No overcooked exteriors and undercooked interiors here! These grilled sweet potato wedges come out perfect every single time.
But of course we can't just eat plain sweet potato wedges. Nope. We need something to dip them in. And a zesty honey-mustard sauce is just what the doctor ordered.
If you've been hanging around here a while now, you know that I take my condiments pretty seriously. I say a big fat "no" to mayonnaise. And most other condiments (barbecue sauce, salad dressings, etc.) I try to make on my own whenever possible. So when I tell you that I'm hooked on Maille mustards, you know that they MUST be good. From their Traditional Dijon to their exquisite and unique flavor combinations (Pistachios, Orange and White Wine Mustard = mind blown!), I just can't seem to stop using Maille!
See Also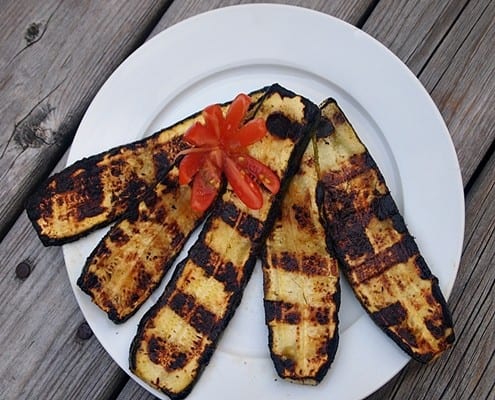 [fve]https://vimeo.com/126301319[/fve]
I just know that these Grilled Sweet Potato Wedges with Zesty Honey-Mustard Dipping Sauce are going to be your new summer staple. Let me know if you try them out!
Delights of Dijon — Grilled Sweet Potatoes with Honey-Mustard Sauce
For a quick summer side dish, throw sweet potato wedges on the grill and then serve them with zesty honey mustard dip for the perfect dunking pair.
Ingredients
For the Dipping Sauce
¼ cup Maille Traditional Dijon Mustard
3 tablespoons honey
1 tablespoon Maille Whole Grain Dijon Mustard
Zest from half a lime
⅛ tsp. salt
For the Potatoes
4 sweet potatoes
About 2 tablespoons extra-virgin olive oil
½ tsp. salt
½ tsp. black pepper
A few tablespoons fresh cilantro, roughly chopped
Instructions
Combine all of the ingredients for the dipping sauce in a small bowl. Set aside.
Pre-heat your grill to medium-high.
Cut each of the sweet potatoes lengthwise into 8 wedges. Add the wedges to a large pot and cover them with cold water. Cover the pot and bring it to a low boil over medium-high heat. Cook until the sweet potatoes are tender, but still firm enough to maintain their shape, about 5 minutes. Carefully drain the potatoes.
In a large bowl, gently toss the sweet potato wedges with the olive oil, salt and pepper. Add the wedges to your grill, cooking them about 2-3 minutes on each side.
Remove the sweet potato wedges from the grill. If desired, you can season them with additional salt and pepper. Garnish with the chopped cilantro. Serve immediately with the dipping sauce.
Liz Harris
Liz is a former scientist turned cook, baker, food photographer and writer. Her kitchen is her home "laboratory" where she creates recipes for her blog, Floating Kitchen, which features seasonally inspired dishes that are fun, inventive, sometimes healthy, sometimes indulgent and always delicious! Obsessed with all things nautical, Liz has lived in coastal towns on both the East and West Coasts.