Try this simple and delicious side dish!
By Tamara Novakoviç
Bread dumplings (knedle) are very much loved throughout Croatia. It's just one of those dishes that reminds you of Sunday lunches at grandma's house and that evokes childhood memories. With very few ingredients and steps involved, these are really easy to make.
Simple and humble, delicious, these dumplings are typical components of Central European cuisine and come in different forms. Most common are the round ones, but I decided to make a roulade, which you then cut into slices. In most versions, they are used as a side dish for meat stews (especially game) and are served with sauces. If you shape the mixture into balls, make sure you wet your hands, as you don't want it to stick, and it will allow you to form nice, smooth dumpling balls. I shaped mine like a loaf of bread, which is then boiled in a napkin. The mixture consists of  bread, parsley, some spices, milk, eggs, onion and bacon.

Try this simple and delicious side dish!
Ingredients
10.5 oz (300 g) white bread
0.7 oz (20 g) bacon
1 oz (30 g) butter
1 small onion
0.8 cup (200 ml) milk
2 eggs
salt
pepper
a bit of nutmeg
a bit of breadcrumbs
Instructions
Heat butter. Cut bread into cubes, place them onto melted butter and fry on low heat for 10 minutes.
In a different skillet, fry bacon, cut into small cubes and finely slice onion. Add bread cubes. Add finely chopped parsley.
Whisk milk with eggs, salt, pepper and some nutmeg. Pour over the bread mixture, knead and let stand for 15-20 minutes. Then knead once more.
Bring large pot of salted water to boil.
Take clean kitchen napkin and sprinkle some breadcrumbs over it. Place the mixture onto it and shape it into a loaf of bread. Place everything into boiling water and cook on low heat for about 20 minutes.
Let cool slightly, cut into slices, serve with gravy and meat.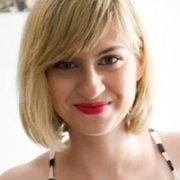 Tamara Novakoviç
Tamara Novakovic is a passionate self-taught cook, food blogger, freelance food writer and photographer behind bite-my-cake.blogspot.com. Her life journey has led her through Faculty of Humanities in Zagreb, Croatia to discovering passion for making cakes. She is currently a weekly food columnist for Croatian newspaper V magazine and food magazine Repete.