A rice bowl is sort of like the warm version of salad, with lots of steamed vegetables and plenty of texture, and this bright and tangy vinaigrette is delicious.
By Katherine Sacks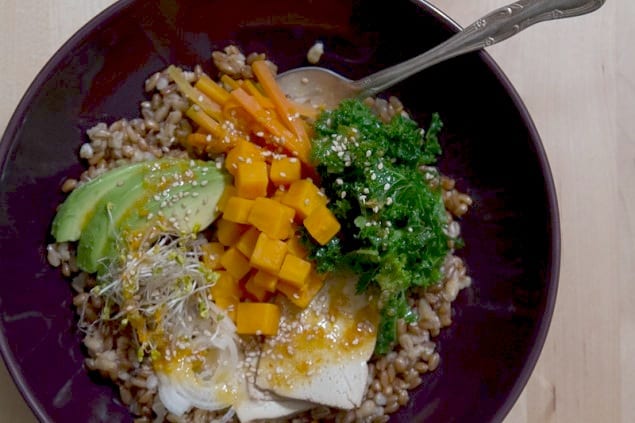 If you don't have smoked tofu, or can't find it, enhance the flavor of plain tofu by marinating it in a mixture of soy sauce and chili paste.

Delicious Whole Grains Vegetable Bowl with Miso Dressing
Ingredients
1 cup brown rice, wheat berries, barley, or desired grain, cooked
1 small white or red onion, thinly sliced and soaked in apple cider vinegar
½ sweet potato, cubed and steamed
1 small carrot, sliced thin and steamed
½ cup sliced kale, steamed
1 cube smoked tofu, sliced
½ avocado, sliced
Bean sprouts
Sesame seeds
For the dressing:
Small nub ginger
1 orange
½ tablespoon miso
¼ tablespoon honey
2 tablespoons vegetable oil
Instructions
For the dressing:
Grate the ginger and zest the orange into a bowl. Juice the orange into the bowl, then add the miso and the honey. Stir together with a fork until well combined, then whisk in the oil.
Bowl:
Spoon the grains into serving bowls, spreading flat to create a base. Lay the sliced tofu and sliced avocado on either side of each other on top of the grains. Lay the kale, onion, carrot, and bean sprouts around grains, and place the sweet potato in the center.
Spoon the dressing on top of the vegetables and sprinkle sesame seeds on top.
Katherine Sacks
Katherine Sacks is a Berlin-based freelance writer and recipe developer specializing in travel, food, lifestyle, and health topics. A graduate of Drexel University's culinary arts department and Northwestern University's Medill School of Journalism, Katherine combines seven years of restaurant experience with her reporting and editing background. Her work has appeared in Chicago magazine, the Chicago-Sun Times, and FoodandWine.com, among other publications. She also contributes to culinary trade publication StarChefs.com, Forbes Travel Guide, and Snooth Eats, and blogs at LaVitaCucinare.com.