Delicious Breakfast Sandwich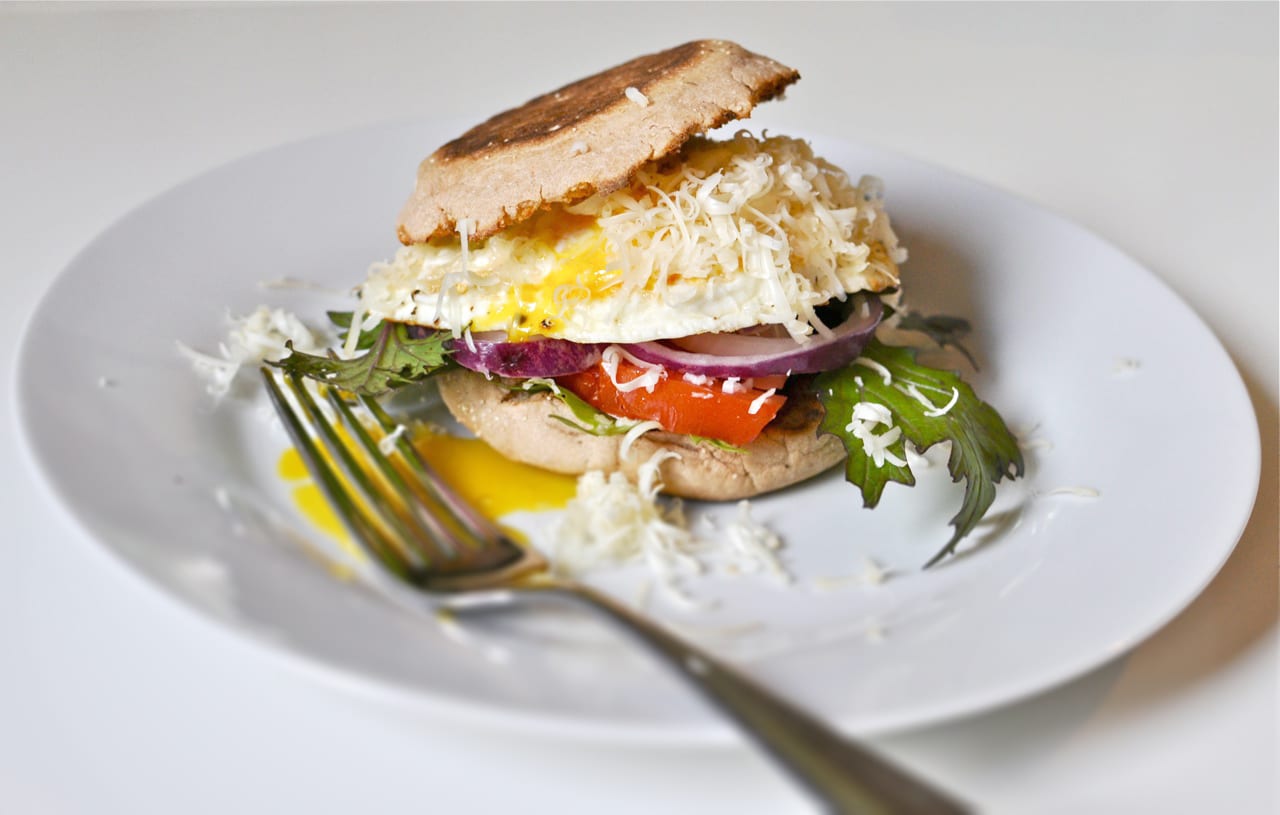 This sandwich is so substantial it could easily be a lunch. You are definitely gonna need a fork to finish it.
By Jerri Green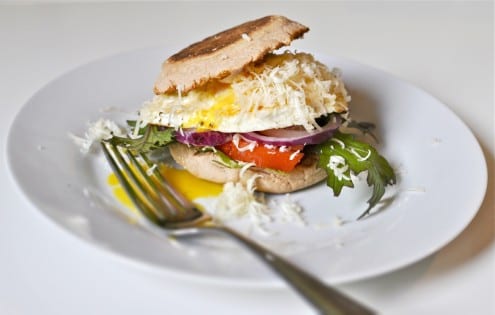 We eat real breakfast in my house. My kids are not satisfied with a fruit bar or a bowl of instant oatmeal. No, we have to have a substantial meal. Whether it is a croissant smeared with homemade apple butter or a piece of rye bread topped with strawberry honey jam from the berries we pick ourselves, I had better be prepared to also whip up some scrambled eggs or bacon too. And do forget some fresh fruit on the side. No wonder I stay so exhausted. The good news is once they have settled into their grub I am free to make my own fancy grown up breakfast. And you know what, I want something substantial too. Like this egg sammie which incorporated many treasures from my latest CSA.
Delicious Breakfast Sandwich
This sandwich is so substantial it could easily be a lunch. You are definitely gonna need a fork to finish it.
Ingredients
1 English muffin, toasted
1 organic egg, fried
micro greens, like mesclun
a thick slice of fresh tomato
½ red spring onion, sliced thinly
smoked gruyere cheese, shredded
Instructions
Toast your English muffin. Fry your egg. I like mine over easy, but you can change that as you like. Layer de-stemmed micro greens on half of bottom of muffin. Top with ripe tomato and slivers of onion. Add egg, then smother with finely shredded smokey cheese.
Jerri Green
Jerri Green is a vegetarian that lives with and loves a self-proclaimed carnivore. She makes meals work for everyone while juggling the mounting demands of motherhood. Nothing fancy but always fresh, she draws on her southern heritage to bring satisfying food to the table each and everyday.