A burst of tart lemon curd, the buttery, crisp crust, and smooth, fluffy meringue make this pie explosive in flavor and texture.
By Tamara Novakovic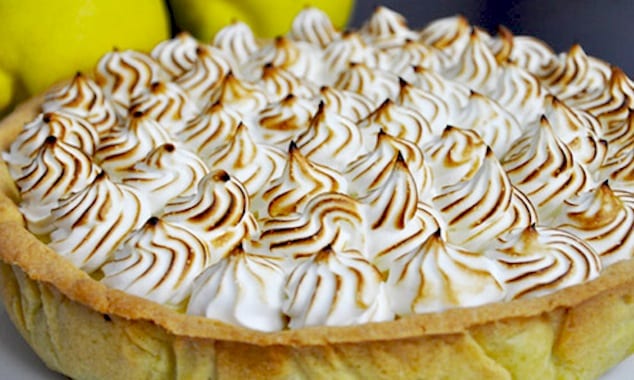 Lemon meringue pie is definitely one of my personal favorites when it comes to pies and tarts. It is the combination of buttery pastry, lemon curd and sweet, fluffy meringue.

Lemon meringue pie
Ingredients
For the pastry
4.4 oz (125 g) all-purpose flour
½ tsp salt
0.8 oz (25 g) powdered sugar
2.6 oz (75 g) butter, cold, cut into cubes
1 egg yolk
2 tsp cold water
For the lemon filling
0.8 cups (200 ml) freshly squeezed lemon juice
¼ cup (50 ml) freshly squeezed orange juice
finely grated zest of 1 lemon
5.2 oz (150 g) sugar
1 tsp vanilla extract
0.8 oz (25 g) cornstarch
3 egg yolks
0.8 oz (25 g) butter
For the meringue
4 egg whites
4.4 oz (125 g) sugar
Instructions
For the pastry, combine dry ingredients and rub butter into the mixture. Add egg yolk and cold water and knead for a short period of time, just until it all comes together. Wrap in plastic wrap and refrigerate for 1 hour. Roll out onto floured surface and transfer into tart pan (20 cm diameter). Place a piece of parchment paper on top and some dry rice or beans into it. Bake blind for 25 minutes at 338F (170C). Let cool completely.
For the curd, whisk lemon and orange juice with sugar, cornstarch, lemon zest, vanilla and yolks. Place on top of a pot filled with boiling water and cook, stirring constantly until it thickens. Add butter in the end. If the mixture contains any lumps, strain it. Let the curd cool completely and spread evenly into a baked pie shell.
For the meringue, whip egg whites until stiff peaks form and add sugar gradually. You will have to mix it until the mixture becomes glossy and smooth, without any sugar crystals in it (around 10 minutes). Spread over the pie and return to oven for around 25 minutes at 338F (170C), until nicely golden.
Let cool completely, cut and serve.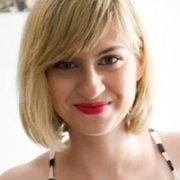 Tamara Novakoviç
Tamara Novakovic is a passionate self-taught cook, food blogger, freelance food writer and photographer behind bite-my-cake.blogspot.com. Her life journey has led her through Faculty of Humanities in Zagreb, Croatia to discovering passion for making cakes. She is currently a weekly food columnist for Croatian newspaper V magazine and food magazine Repete.