Easy recipe complete with sweet and tangy flavors. This slaw is an affordable and seasonal way to get some vegetables in to your winter routine on a budget.
By Kathy Gori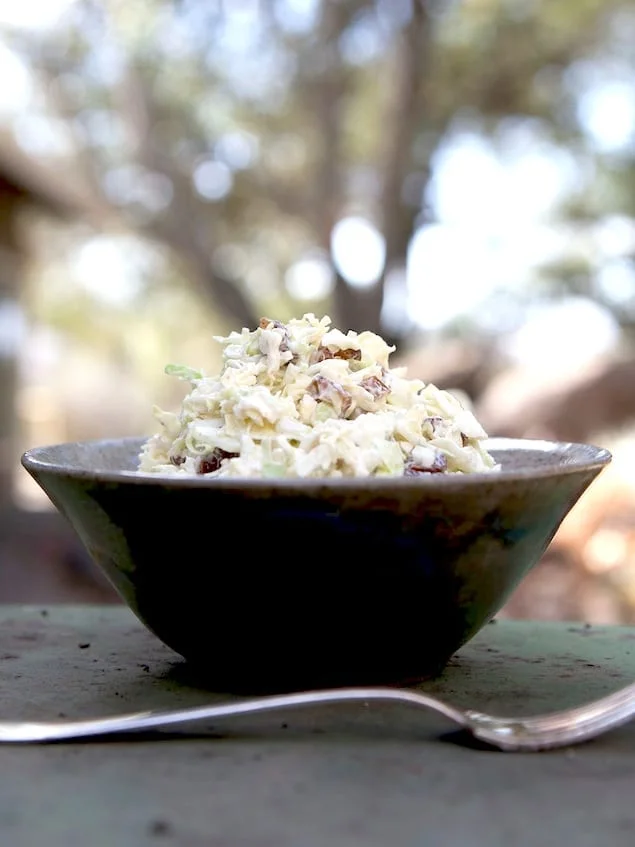 For such a cheap vegetable, cabbage has a lot going for it. High in fiber, full of glucosinolates (sulpher based compounds with anti-cancer properties), it's a great help in lowering cholesterol, and it's also high in antioxidants. This is a great dish for buffets. An easy cole slaw with a creamy sweet and tangy sauce, it works great with Indian food, but also with burgers or hot dogs. No matter what you're serving it's a perfect match.

Date and Cabbage Slaw
Ingredients
½ cup of dates, pitted and chopped.
1 cup of plain yogurt
1 16oz package of grated cabbage for cole slaw
2 Tbs of hot water
¼ tsp of salt
1 and ½ tsp tamarind paste
1 Tbs packed dark brown sugar
Instructions
Pit the dates and chop them into bite sized pieces.
Mix the chopped dates into the chopped cabbage and set them aside.
Put 1 and ½ tsp of tamarind paste into a small bowl.
Mix 2 Tbs of hot water into the tamarind paste.
Stir it together into a paste.
Put the tamarind paste into a bowl. Add in the salt, the brown sugar and the yogurt.
Add the yogurt dressing to the cabbage and date mixture.
Stash the cole slaw in the fridge for about 30 minutes or so to chill then serve it up.